Prosser's words left lasting legacy
The musings, quotes and anecdotes fade in and out, seep their way into consciousness, cascade into memory.
"Fatigue makes cowards of us all."

"If your game is illegal, then you got no game."

"You can't hunt the caribou sitting in the lodge."

"Our chief want in life is somebody who shall make us do what we can."

Bryan Bedder/Getty Images

Chris Paul, left, and David West bonded quickly over their common experience of having played for Skip Prosser in college.

"Life's not all hearts and flowers."
They are old saws, philosophical nuggets, the psychological fodder of coaches everywhere ready to be imprinted on the front of a T-shirt or Abercrombied on the back of practice shorts. But for Chris Paul, David West and Josh Howard, the words of Skip Prosser, who died at 56 of an apparent heart attack last summer, are more than just an expression of their former coach's ethos. Prosser's words, a torrent once phoned, text messaged and written, are a reminder of all he left behind.
"If you can't be on time, be early"
Chris Paul weaves through traffic like a mouse in a maze. He backpedals out of double-teams, reverse-pivots off screens and bounces off bigger opponents. The third-year point guard, who led the NBA in assists and steals this season, plays at a relentless pace, and yet he's always under control, like the ball is on a string. You wouldn't know it by his style of play, but Paul admits he has a problem with patience.
"My favorite thing that Coach used to say was, 'If you can't be on time, be early,'" Paul says. "I hate to have people wait on me, and I hate to wait for them."
Paul's MVP-caliber season has been perfectly timed for New Orleans. And while he might be awed by the byproducts of his stardom (hanging with MJ, his own shoe), he's certainly not shocked by his success. Part of that is because of the confidence he gained playing two years for Prosser at Wake Forest. "If it wasn't for Coach, neither D-West nor myself would be here," he says. "I'm forever grateful. I say a prayer before every game thanking God for putting Coach Prosser in my life."
Growing up just outside of Winston-Salem, N.C., Paul's route to Wake Forest was short, but Prosser faced a peculiar problem in recruiting CP3. Paul and his entire family were North Carolina fans. But UNC gave the point guard very little clock. By the time the Heels did, Prosser had won over Paul. "Me and Coach were so close because most of the schools, when they recruit you, an assistant recruits you," Paul says. "Coach Prosser recruited me himself. The letters that came were from him. He came to the games."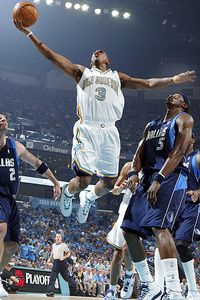 Layne Murdoch/NBAE via Getty Images
Prosser would be thrilled to see how Paul has blossomed into an MVP candidate.
In late 2002, on the day Paul committed to Wake, his granddad, Nathaniel Jones, was murdered. Paul, who had worked at Jones' gas station since he was 7, often referred to his grandfather as his best friend. Prosser played a key role in helping Paul deal with the tragedy. "That was a time when Skip and Chris got even closer on a personal level," says Wake Forest assistant coach Pat Kelsey, who played for Prosser at Xavier. "Charles Paul, Chris' father, is one of the finest people I've ever met and a great father, but Chris just gravitated toward Skip."
Once at Wake, it didn't take long for Paul to assert himself. The Demon Deacons were coming off a season in which they won the ACC regular-season title and Prosser claimed coach of the year. Wake had lost Josh Howard to graduation but returned its starting point guard, Taron Downey. But Paul let it be known early he was going to play. "The moment that kid walked in the gym, it was his team," Kelsey says. "We didn't say it. The kids didn't say it. Nobody said it. It was just his team."
Prosser loved to coach point guards. He said his dream game would be a game when he didn't have to say a word, where his point would take over from the opening tip to the final buzzer. The idea of a silent Prosser is a strange notion, because Skip loved to talk. But he came closest to his dream in coaching Paul, an All-American in his second year at Wake. It was almost fitting, then, that when Prosser died last July, Paul gave the eulogy at the memorial service in Winston-Salem, speaking about and for his coach.
During the eulogy, Paul spoke from his heart, scrapping what he had written down. He talked about when Prosser first took the job at Wake. Wanting the new coach at the local university to notice him, Paul had purposely bumped into Prosser at the AAU championships in Orlando. He didn't know at the time that Prosser would change his life forever. "He gave us a chance," Paul said. "He cared about us, and he helped us not only grow as basketball players but also as men."
"Carpe diem"
David West is Paul's safety valve, the guy CP3 finds when the shot clock is running down and the Hornets need a bucket. West might have entered college as a back-to-the-basket power forward, but he has developed a deadly face-up game. He draws bigs away from the hoop, freeing things up for Tyson Chandler, and he hits tough shots: runners, high-arching fadeaways that seem to softly drop from the rafters, game winners. So why is it that no one knows who he is? Shooting free throws in a late-season game against the Lakers, one knowledgeable fan tried to heckle West. "Go back to the D-League," the fan shouted. "Who are you?" Um, he was an NBA All-Star this season who averaged 20.6 points, 8.9 boards and 1.3 blocks.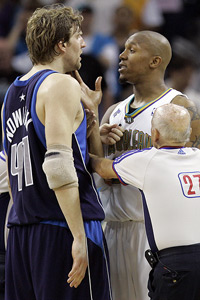 AP Photo/Alex Brandon
West, right, certainly hasn't backed down during his first playoff series.
Prosser never doubted D-West had the goods, but then, the coach always had an eye for talent. Tyrone Hill, Derek Strong, Aaron Williams and Brian Grant (all future NBA players) were among the underrated kids Prosser helped lure to Xavier when he worked as an assistant to Pete Gillen. And as head coach, Prosser developed current Celtics forward James Posey, who went from a little-recruited Proposition 48 player to a first-round pick. But Prosser's biggest find was West.
In high school in New Jersey, West swore off basketball after he clashed with a coach at the end of his sophomore year. After his family moved to North Carolina, his new school's coach eventually convinced him to play. However, even after he moved on to Hargrave Military Academy in Virginia, prepping alongside Howard, few colleges recruited him. West says Prosser believed in him long before anybody else was willing to give him a chance. "He really took a shot in the dark," West says. St. Bonaventure head coach Mark Schmidt, an assistant to Prosser at Xavier, says West was far from a finished product when he arrived at Xavier. "He was long and lanky with great hands," Schmidt says. "He was a good dunker, but he couldn't shoot the ball outside 5 feet."
West says he and Prosser had instant chemistry. And even though he didn't recognize his own potential, eventually Prosser's words rubbed off.
"Carpe diem," West says. "He'd say, 'You have to take advantage of this lifetime because when you die, you're dead for a long time.' He never held his tongue about anything, especially if it was going to make you a better player or a better person. When someone is going to be completely honest with you, you know they have your best interests at heart."
Prosser coached West for two seasons at Xavier, not long enough to see the big man named AP National Player of the Year as a senior in 2003. But he kept in touch, calling, text messaging, writing at least once a month. When the Hornets drafted Paul, Prosser called West to tell him how much he thought of the young point guard and how he could help West's game. Linked by Coach and their North Carolina roots, a natural friendship developed between West and Paul. "D-West still probably doesn't realize how much I look up to him," Paul says. "Even in the games, I look to him for his approval. When I was in college, Coach used to talk about him all the time."
Both players admit Prosser's death brought them closer, with West calling Paul nearly every day for a few months to see if he was OK. Paul knew Prosser's death was equally tough on West. "To see him cry, someone I had never seen cry before, lets me know how special Coach was," Paul says.
"That broke me," West adds. "I haven't felt that broken since my grandmother passed. It split me down the middle."
"Are you a 3-to-6 player or a 6-to-3 player?"
A photo hangs near the front door in Josh Howard's Dallas-area home, a shot of Prosser and Howard from an ACC tournament game with Josh in full emotive mode. "You can see the look on my face like I'm wanting to win," the Mavericks' small forward says. "And the look on his face is like 'Calm down.'" Howard likes to look at the photo every day when he wakes up and to think about the distance the two men traveled together. "I just try to keep his memory alive," Howard says. "That was my guy."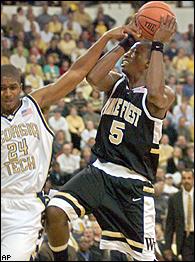 Josh Howard was a unanimous choice for ACC Player of the Year in his final season at Wake Forest.
Howard was among the players Prosser inherited when he took over the Wake Forest program in 2001. And though he was friends with West, having played a year with him at Hargrave, Howard didn't initially share the former Xavier standout's appreciation of Coach. "With any new coach, you're going to have guys that rebel," Howard says. "I was one of those guys."
Prosser never forgot his days as a high school history teacher in Wheeling, W.Va. Before every practice, he would read something, be it a philosophic aphorism of Ralph Waldo Emerson or a newspaper story Prosser felt was instructive. And though he was known for treating every player equally, certain sayings he would repeat when addressing specific individuals.
Howard might have been Wake's best player in Prosser's first year in Winston-Salem, but the coach thought he could be better. "Are you a 3-to-6 player?" he'd constantly ask Howard about the hours he was willing to invest in the game each day. "Or a 6-to-3 player?" Howard admits he was one of the last guys to practice and the first to leave. He wasn't devoted enough to the game. He says it came down to a matter of trust, of knowing Coach and his teammates had his back. "Coach taught me how to trust. I had trust issues when it came to playing like I wanted to play," Howard says. "I remember him sitting me down in the office after my junior year and telling me I was going to have to lead next year's team. That showed me he saw something in me."
J-Ho's senior year couldn't have gone much better. Behind his 19.5 points and 8.3 rebounds per game, the Deacons won the ACC regular-season title by two games. Prosser was named ACC Coach of the Year, and Howard became the first player to be unanimously selected ACC Player of the Year since David Thompson in 1974-75. He also became the first person in his family to graduate from college.
But the coach-player connection didn't stop after Howard was drafted by the Mavs and became an All-Star last season. A product of a single-parent household, Josh says he saw Prosser as a father figure. He valued the phone calls from Prosser. Not just the preseason wishes of good luck that Coach would make to all his NBA players, but the monthly calls when the two could just rap. That's why Prosser's unexpected death was so hard on Howard. "I'm still tripping that, you know, he's gone," he says. And it's why Howard decided to make the grand gesture of giving up some space on his right arm to honor his guy. While West is true to his school with an "X" tattoo on his left arm, Howard had "trust" inked on the inside of his right wrist and "Skip" on his right biceps. "I know Coach was the reason I got to the NBA," Josh says. "I'm always playing for him. He made the biggest impact on me."
The Miller Center, Wake Forest's practice facility, is awash with Skipisms. In the basement where players collect their clean practice unis a sign reads: "Playing time is not like Halloween. Just because you have a uniform doesn't mean you're going to get any candy." On the steps that lead to the floor a sign on the first landing asks Howard's favorite question, "Are you a 3-to-6 player?" while a sign on the second landing asks, "Or a 6-to-3 player?" And near the entrance there is a simple reminder: "The gym is the best place you'll ever be."
Words can't quite capture what Skip Prosser meant to Paul, West and Howard or to the game itself. But they do have a power all their own. In the end, Prosser's words are still heard in Winston-Salem, where this past season the Deacons had two players make the ACC's all-freshman team. And next fall, Prosser's final recruiting class will enroll. Considered to be a top-five class, it includes two 7-footers and one of the nation's best small forwards, Al-Farouq Aminu. "My dad wanted desperately to take a team to the Final Four," says Mark Prosser, an assistant coach at Bucknell. "I think they'll have the talent in a year or two to do that. The foundation is there. It will be their team. But he had something to do with it, and he'll be watching."
Until then, three of his favorite players will carry the banner in the Mavericks-Hornets series. They'll battle it out in the first round without receiving any pregame call from Coach, knowing he would have tried to catch a couple of the games in person. They play for New Orleans. And Dallas. And yet, still, they play for Skip.
John Gustafson is a freelance writer for ESPN The Magazine and ESPN.com.