LeBron James: More Than A Game
TORONTO -- Standing in a raucous, fully lit movie theater filled with squealing kids, Hollywood suits, flashing bulbs and roaming camera phones, LeBron James and his best friends -- all perfectly grown men -- are blubbering like teething babies.
Just call it another private and yet very public moment for the four boys from Akron, Ohio.
I'm at the Toronto International Film Festival, site of the world premiere of "More Than a Game," a documentary that examines the maturation of James and his former high school teammates Romeo Travis, Willie McGee, "Little Dru" Joyce III and Sian Cotton, to hang for the day with these five inseparable friends, one of whom just happens to be extremely famous. In the process, perhaps I'd even learn a bit more about the Cavs superstar, an immensely likable man who nevertheless remains media-resistant, even imperious, despite the breathless news coverage that has hounded him since his high school days.
Their tears and warm embraces suggest that James' fašade has indeed cracked. With my ears all but bleeding thanks to a standing ovation that would last nearly seven minutes, I find myself fighting back tears, too. "I told myself I wouldn't cry," James admits a few minutes later, his eyes still misty. "This is the first time I've cried for anything since we lost the national championship in the eighth grade."
Here are more private moments from a day these men won't soon forget.
---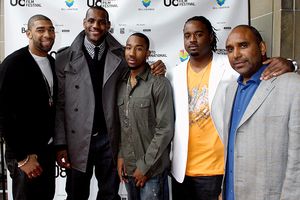 Benjamin Gitterman/WireImage.com
From left, Romeo Travis, LeBron James, Dru Joyce III, Willie McGee and coach Dru Joyce II enjoy the limelight at the Toronto International Film Festival.
12:15 p.m.: The screening begins. The documentary, directed by newbie filmmaker Kristopher Belman and executive-produced by James, follows the kids from the ages of 8 to 18, from the linoleum floor of the Salvation Army gym on Maple Street in Akron through their final game together as members of the St. Vincent-St. Mary High School hoops squad. Far from being an elongated hard-court highlight reel or a LeBron James vanity project, the flick is a deeply personal, warts-and-all examination of the bond between five youngsters who'd risen above their circumstances, egos and the perils of America's celebrity-crazed culture to create a star and forge a lasting union (and, you know, win three state championships and one national title on the side).
2 o' clock: Like the film, which spends equal screen time on the squad's lesser-known players and their coach-mentor, Dru Joyce II (Little Dru's dad), this day will not be dominated by Akron's most famous child. They arrived together (all except Cotton, who couldn't show as he was playing football for Walsh University in Ohio) and walked the red-carpet gantlet together, and right now, they're on the stage together for a question-and-answer session. "God blessed us to be together, and God blessed Kris to be in our life," Travis says. "Everything came together, like a puzzle." Then Travis tears up. So yeah, they're cool with crying together, too.
---
2:15: We're off to continue our planned-to-the-minute day, but there's bedlam outside. Savvy star seekers, hoops heads and a few highly aggressive mothers have wisely staked out the exit like paparazzi, jockeying to get at our celebrity friend, who's endangering all our lives by stopping to sign a few autographs.
"Happens all the time," says McGee, who as a boy left a tattered home in Chicago to live with his brother in Akron and, like the others, became James' early de facto press agent. "In high school, there was people damn near hanging from the balcony from a rope trying to get autographs, trying to get your attention. People come up with some of the craziest ways to get to Bron."
---
2:30: The pals and their posse of family members and former coaches pile into four chauffeured SUVs to head for the next event, a slam dunk competition conceived in part to help promote the film. Seems there's work to do, but this was expected. Filmmakers and buyers are here at the TIFF to check out its nearly 300 critic-friendly flicks -- featuring everyone from Brad Pitt to Paris Hilton -- so if James hopes to find his movie a distributor, he's gotta sweat a bit. Plus, when you're rolling with Brand LeBron, the days are never short. "Just a day in the life of LeBron, and it's been a part of our life, too," says Joyce, who's been dealing with the LeBron hype machine since scouts, sneaker companies and national media first began circling the future pro. "Bron's always into something, but this is different. It's not work. It's a moment, and you can't help but enjoy it."
LEBRON THE MOGUL
In 2006, LeBron James helped to create a new business model for athlete representation when he fired his agent, started his own management firm and created his own revenue-sharing endorsement pacts. In '07, he elevated his on-camera game at the ESPYS and on "Saturday Night Live." This year might be remembered as the year the Cavs superstar leveraged his brand to become a mogul.

In soaring where Michael Jordan did not, James is expanding his empire with several projects under his newly formed entertainment entity, Spring Hill Productions. After "More Than a Game": a two-book deal with publisher Thomas Nelson for 59-year-old Sul Ross State football player Mike Flynt, James' client at his LRMR management firm (which also reps Ted Ginn Jr.). "The Senior," the first entry from Flynt and co-author Don Yeager, is due later this year. "No matter how old he got or how many people told him he couldn't do it, Mike never gave up on his dreams," James said. "It's a story that needs to be told."

Twice, actually. Spring Hill and prolific sports flick producers Gordon Gray and Mark Ciardi -- whose Mayhem Films gave us "The Rookie," "Miracle" and "Invincible," among others -- have also secured rights to Flynt's story. Robert Eisele ("The Great Debaters") is writing the drama with an estimated $30 million budget, and Tommy Lee Jones and Bruce Willis are among those being considered for the role of the linebacker-grandpa. "The guys at Mayhem know the formula and they're good at making these films on a budget, so they always make money," Maverick Carter, James' business partner and a producer on the project, told me recently. "Every studio in town wants this."

That's beginning to sound like a theme. "It's the respect people have for LeBron," says Harvey Mason Jr., a producer on "More Than a Game," of all the interest in that film. "He not only turned out to be an amazing athlete, but he's a humanitarian and a super good guy. He's well received in all communities, so it's easy to see why people want to be in business with him, or around him."
--Sam Alipour
Easy for Little Dru to say. In one of the film's most rousing moments, the soft-spoken 5-foot-nothing guard drilled seven straight 3-pointers in the team's first state title victory. That performance clearly expanded his britches, because now the pint-sized, big-hearted point guard has finagled his way into the front seat with the bigger dudes in the back.
---
2:40: Despite threatening rain clouds, nearly 5,000 people have flocked to Yonge-Dundas Square for a chance to sneak a glimpse of James, who's judging the dunk contest with his pals. Just on the inside of the metal barricades is the flick's smiling director, Akron native Belman. He was a 21-year-old film student at Loyola Marymount University in Los Angeles when he received permission from coach Joyce to document the fab five's senior season for a short school project. But after gaining their trust and unprecedented access into their locker room, huddles and hotels -- access Joyce had denied local and national media -- he stumbled into something he did not expect.
"Their relationship is unlike anything I've seen before," Bellman explains. "I mean, I consider myself as having good friends from childhood, and after this experience, I kind of question myself. These guys are so close, they bought each other birthday gifts in high school. I mean, guys don't do that. These guys were very willing to express themselves to each other."
Six years later, the self-proclaimed "dorky white guy" is an honorary member of what's now the fab six because "we're just real people who like being around real people," McGee explains, "and that dude is real."
Belman counters, "I know for a fact that in some of their cell phones it still says 'cameraman' when I call. Up until two weeks ago, I don't think they knew my name."
---
3 o' clock: After the contest, James unveils a generous donation he's made to the local St. Alban's Boys and Girls Club. The rest of us head to a VIP tent just off the court. Already, the girls are circling, but James and Dru are taken, leaving Travis and McGee as the eligible bachelors. Big things are expected of Travis in particular. He joined the group, known then as the fab four, back in 2000, when he was a skilled but churlish transfer student from an itinerant family and had attended seven different schools. Hardened by his experiences and resentful of the boys' unique bond, Travis' arrival threatened the group's chemistry, but he eventually was accepted by the group in time for its senior season -- a development that became a key factor in the team's championship run that year.
"Rome's got the most game," James explains. "You single, right?"
"Single and ready to mingle, trying to stack them up like Pringles," Travis says.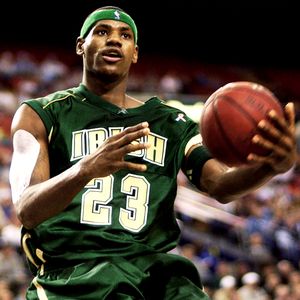 AP Photo/John Heller
As the film shows, even in high school LeBron was a team player.
"Don't worry, you'll get some love," McGee says.
---
3:10: As the guys gab, two men nearby feverishly tap on their BlackBerries, fielding inquiries from distributors. They are Endeavor Independent's Phil Raskind, the agent handling sales, and James' business partner, Maverick Carter, another childhood pal and CEO of James' new entertainment entity, Spring Hill Productions. (The doc is its flagship project.)
Meanwhile, James is crisscrossing the tent, splitting his time equally between these business associates and his laid-back pals, and this snapshot is a metaphor for the current state of the fab five friendship: There is no E or gopherlike Turtle among this bunch. They aren't hangers-on, just highly motivated dudes with enough on their plates as it is. As we speak, Cotton "is probably getting a few sacks," James explains. McGee, the former junior class president at SVSM, is applying to graduate schools after earning a computer science degree from Fairmont State University, where he also played football. Joyce and Travis, who went on to star at the University of Akron, flew in from Germany, where they play pro hoops for Ratiopharm Ulm. Currently, none are involved in James' businesses.
---
3:30: We head to their suite at the Four Seasons hotel for interviews with the Hollywood rags. "Let's keep it short and sweet," LeBron prods his pals, who are looking rather haggard at this point. They brighten, though, when they talk about the film they love. In fact, they can't wait to watch it again.
"'High school was your best days,'" LeBron explains. "Everybody always says that. People always say, 'I wish I could go back to high school.' Well, for us, this film allows us to go back to those days. Watching it today, it made us feel like we were back in those hallways, back in that gym, and back in those classrooms … having that sensation of playing for another state championship. We don't ever have to worry about saying, 'I wonder how it'd feel to be back in high school.' All we have to do is pop that movie in."
It seems these guys don't need any help in reverting to their high school ways. In between the interviews, the boys are boyz again -- and one of them just lets one go. "We all stink," LeBron later says of his giggling friends. This reminds me of a tip Belman had given earlier: "If you want to be in the fab five, you have to be willing to make fun of anyone, and you have to be willing to be made fun of."
Hmm …
---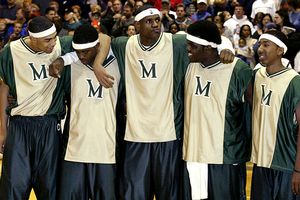 AP Photo/Scott R. Galvin
Back in 2003, the team celebrated senior night at St. Vincent-St. Mary.
4 o' clock: Why not target the 6-foot-8 250-pounder, and his nasty, much-documented little habit: Fellas, how long, exactly, has LeBron been biting his filthy nails?
"You know, I didn't notice it until he was in the NBA," Travis offers.
"Because they always put the camera on him when he's on the bench!" Joyce explains.
"I've seen him do it sometimes in practice …"
"… Yeah, but I didn't think it was that big a deal …"
"… Then Bron's out of the game and the Cavs are playing but, wait, what's going on with Bron? Wow, there he is! He's over there biting his nails … "
---
4:04: "… and they should be focusing on the game," LeBron says, "not me biting my nails on the bench." (Yeah, like sisters, they tend to finish one another's sentences.)
---
4:15: During an impersonation, James leaps from his couch onto the floor, stomach first, where he flails like a fish plucked from a tank of rum, screaming at the top of his lungs. Now, I'm not saying whom he's impersonating -- except to say that it's not Manu Ginobili -- but I can tell you it was funny and quite silly. Which brings me to this point: I've interviewed LeBron James maybe two dozen times. He's always been a pro and very friendly. But never have I come away from an encounter, be it in a locker room, club or charity event, thinking that I knew the real LeBron. And I'm not saying I know him now.
But when he talks about his friends, there's a sweetness in his face. This isn't the guarded LeBron James we've come to know, nor the gangly, nomadic grade-schooler yearning for constancy. (He moved nearly a dozen times with his cash-strapped single mother, Gloria.) Buoyed by the support of the men in this room, this James is the one who has no reservations about singing every word of 50 Cent's "In Da Club" to a busful of teammates, as he does in the movie. In a way, this validates one of the film's principal messages: LeBron James has never been, nor has he ever strived to be, a one-man team.
"These are the guys I grew up with since I was 8 years old, and not having brothers in my inner family, these guys became my brothers, and they became my inner family," James explained.
---
10 o' clock: We cap off our whirlwind day at Brassaii, a trendy King Street bar, for the movie's exclusive afterparty. Word is, Edward Norton's in the house, and Alicia Keys and the Foo Fighters are on their way. "We ain't no starstruck-type guys," James warns. "They may be happy to see us, but we've seen it all."
"Our best friend is one of the biggest stars on the planet," Travis explains. "You meet somebody like George Clooney, that's small potatoes to us."
OK, so Clooney = vegetable.
---
10:30: What about the deal-makers? Already, I hear that Lionsgate, a studio with a knack for selling streetwise flicks, will make a distribution offer in the neighborhood of $1-2 million, and a source who represents a major distributor says that he's come to sway LeBron to sign their film over to his company. Adam Yauch of the Beastie Boys, a promising director-producer, is here, too.
"Can you introduce me to LeBron?" Yauch asks.
---
11:15: Robin Thicke, the night's musical guest, makes his way through the bar, and there's a mad rush for the space near the courtyard's stage, which, in a case of unfortunate planning, is situated far from the VIP section -- LeBron & Co.'s sanctuary.
He summons his burly bodyguard, then leads a train of friends, hands-on-shoulders, out of the VIP area, through the massive throng and past the camera-toting groupies before settling at the foot of the stage. With a few finger points, James clears out some space, then yanks his pals to his side. Even from my perch, which is mostly a view of James' thick, gyrating neck, it's a cool moment.
---
Midnight: When Thicke finishes, there are big smiles and semimanly hugs. Then Travis puts his arm around my shoulder, and James slaps my hand, and McGee clinks my glass of fun juice with his, and I'm so stoked, I think I'm going to cry again.
No, it ain't a bad deal when you're rolling with Willie, Romeo, Dru and their friend.
Sam Alipour is based in Los Angeles. His Media Blitz column appears in ESPN The Magazine and regularly on Page 2. You can reach him at sam.alipour@gmail.com.