Commentary
I, Ochocinco, wanted better answers
Originally Published:
February 2, 2010
By
Chad Ochocinco
| Special to Page 2
I had an awesome Super Bowl media day. I loved it. It was really cool being on the other side of the microphone for a change.
One thing I didn't like was all the politically correct answers I heard. It was kind of boring. We need something to spice things up.
I know preparing for the game is important, but it's pretty boring for us media. It was too subdued.
As a journalist, I didn't have much ammunition to use. They didn't give me much about the excitement of the game. I know these are two great quarterbacks, but I want some fuel to start the fire. I blame some of the media for that too.
On Twitter Tuesday afternoon, I wrote, "Please mainstream media, don't be mad at me for doing the job you guys have failed to do correctly, giving the fans what they really want."
I tried really hard to get good answers.
I spent a lot of time getting with Peyton Manning. I wanted to ask him three questions. Everyone was surprised that I was walking up and asking him something. Thankfully, when I walked up, he looked straight at me. I asked him about the formula for success.
OCHOCINCO REACHES OUT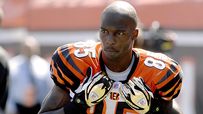 Chad Ochocinco's connection with a fan through social media holds significant meaning for surviving family, friends.
• Amy K. Nelson: Connecting with Chad
Peyton gave a simple answer explaining all that's needed.
Then I reiterated that question and he said, "We need to establish the run." I didn't get a chance to ask my third question because all the other media people were asking stuff.
I wanted my third question to be, "With the NFL being a pass-happy league, are you really serious about establishing the run?" But I didn't get to ask it. You know good and well the Colts aren't going to establish the run.
I wanted to fire another question, but didn't get a chance. There are so many reporters there. It was so much fun.
I can't say it was too hard, but it might be easier for me because people know me. And I have a certain way of getting people to talk. My personality probably helps me out. I'm extremely comfortable asking questions.
I've got so much going on for OCNN. I'll talk to you guys tomorrow.
---
Other OCNN reporters' thoughts on media day:
Darnell Dockett: "Chad asked me to do this and I did. I wanted to be part of it. But it's so strange being in the media. If I wanted to reach out to these players, I'd normally just call them on the cell phone. It's crazy in here. I walked up to a lineman for the Colts and forgot to hold my microphone, so whatever he said wasn't in my mike. It's not as easy as I thought. And, no, I don't want to do this for a living."
Ray Rice: "I've been talking with my buddies. I'm so short that I have to barrel my way through the crowd. It's a totally different experience than I was expecting. I have to sneak up around the outside of the media and hold my mike in the middle. And I have to hope they can hear my questions."
Chris Cooley: "I didn't really know what to expect. It's so strange. You have to go through the middle of all these people and hope the athlete makes eye contact with you. I love to talk, so asking questions isn't hard. It's just hard to get in front of them to ask the questions."
The Ochocinco News Network (OCNN) , powered by MOTOBLUR social media technology, is the first athlete-driven social news network. Check out all the OCNN team coverage from Super Bowl week at Motorola.com/ocnn.