Commentary
What was your favorite commercial?
Originally Published:
February 7, 2010
By
Jerry Greene
| Special to Page 2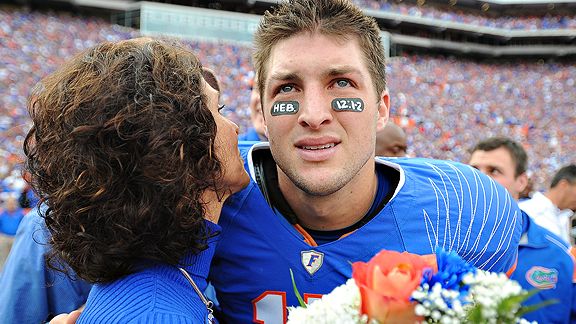 AP Photo/Phil SandlinTim Tebow and his mom, Pam Tebow, were showcased in a Super Bowl TV commercial.
Did your favorite win?
No, silly, not the New Orleans Saints (who did win) nor the Indianapolis Colts (who did not). We're talking about the important stuff for this morning's coffee-break gabfest. Who produced the best commercial for Super Bowl XLIV?
Was it one of the annual powers such as Budweiser, Doritos or GoDaddy.com? Or did an underdog sneak to the top, such as 2009's "Crazy Pets" spot for Pedigree Food For Dogs -- its first attempt at cashing in on Super Bowl fame.
You can decide for yourself, or find numerous rankings Monday. In our opinion, we're still looking for the next "Terry Tate, Office Linebacker." But if nothing else, there were a lot of them.
The most pregame hype went to Tim Tebow and his mother, Pam, for their 32-second statement on abortion. The controversy was that the (actually quite subtle and, truthfully, a little cheap-looking) message was against abortion, as Pam Tebow had been advised by some physicians to have an abortion to protect her health. She (and all Florida Gators) were glad she chose to give birth. Tim Tebow made it clear that he was happy, too.
The spot was the third to air during the first break. Perhaps CBS deemed it wise to get it out there quickly. The postgame debate will center on the various commercial rankings to see whether the public did or did not appreciate what the Tebows had to say. In all likelihood, no opinions were changed.
Super Bowl commercials are a high-stakes, all-in game, as CBS reportedly charged from $2.5 million to $2.8 million for 30 seconds of air time. Granted, that was a slight bargain compared to the $3 million NBC charged in 2009, but a far cry from the $42,500 that CBS asked for Super Bowl I in 1967. Failure is costly. In fact, the risk was too pricey for Pepsi, as it pulled out after 23 consecutive years of Super Bowl advertising.
Tebow was hardly the only sports figure featured during commercial breaks.
• McDonald's paid tribute to its famed 1993 shootout between Michael Jordan and Larry Bird. This time it was LeBron James and Dwight Howard shooting it out for a Big Mac and fries, dunking instead of making the fantasy shots from '93. Fortunately for Howard, free throws were not involved. Bird steals the spot and the food at the end.
• Hyundai filmed more than five minutes' worth of a faux news conference in 2020 involving a totally gray Brett Favre talking about another MVP award and whether he would be back in 2021.
• Boost Mobile re-enacted the 1985 Chicago Bears' "Super Bowl Shuffle" with Jim McMahon center stage in his mobile chair. Funny -- if the viewers are old enough to remember the original.
• TruTV gave us Troy "Punxsutawney" Polamalu, who saw his shadow but didn't promise six more weeks of actual football. No word on whether PETA will protest.
• One look at Charles Barkley and it's easy to see why he's working for Taco Bell.
• "Sex sells" seems to be an old advertising maxim that has been abandoned during the Super Bowl by everyone except GoDaddy.com. We saw Danica Patrick. We saw a lot of Danica Patrick.
• Dockers and CareerBuilder.com had spots involving men in their underwear. Not sure what demographic was their target.
For trivia fans, Bud Light's "House of Blue Cans" was the first spot aired, followed by a Snickers-sponsored pickup football game that included a spry Betty White. That made them the leaders in the clubhouse.
But the first-half victor may have been Doritos' award-winning amateur effort showing man's best friend getting karmic revenge by placing his shock collar on the dude that has been teasing him with a bag of chips. It certainly beat the tasteless spot of a man stuffing his face while in a coffin.
Doritos may have held on, as most of the "power presentations" were in the first half. Did the U.S. government get a discount from CBS for its fourth-quarter census spot that featured the "Christopher Guest Players?"
Personal overall favorite was Coke's use of a destitute Monty Burns from "The Simpsons." Special bonus points for a cameo by Spider-pig.
The numerous beer spots seemed to have an odd message: that young beer drinkers will do absolutely anything for their brew, including forming a human bridge so the beer truck can make its delivery. Will beer drinkers respond favorably to essentially being called idiots?
The commercial that may have the strongest delayed response belonged to Denny's. After announcing a free breakfast last year, this time it's a free Grand Slam on Tuesday from 6 a.m. to 2 p.m. -- get in line now.
Jerry Greene is a retired columnist for the Orlando Sentinel. He can be reached at osogreene@aol.com.