Commentary
Losing is hard on city of Indianapolis
Originally Published:
February 7, 2010
By
Matthew Glenesk
| Special to Page 2
INDIANAPOLIS -- Losing Super Bowl XLIV hadn't really been suggested much among Colts fans leading up to Sunday's big game.
Sure, Dwight Freeney was banged up and Reggie Wayne slightly hobbled, but the Colts had Super Bowl experience and a trump card in four-time MVP Peyton Manning.
So when Manning threw a game-sealing interception that was returned for a touchdown late in the fourth quarter, shock swept Colts Nation. They expected Manning to save them -- like he usually does.
[+] Enlarge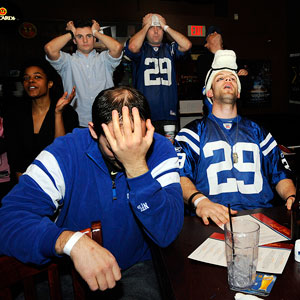 AP Photo/Tom StricklandJust because the Colts won the Super Bowl three years ago doesn't mean their fans didn't badly want their team to win again.
"I can't believe it," a dejected Liz Rettig said from Indianapolis' Beer Sellar. "Of all the ways to lose a Super Bowl, this one really, really hurts."
The hand-ringing high-fives and euphoric saliva-dripping screams that followed the Colts' second-quarter defensive stand inside their own 3-yard line were replaced with fists pounding tables, nail-biting and loads of profanity in the game's second half.
Eric Yarbrough managed to remain upbeat with 10 minutes left in the fourth quarter and the Colts trailing by one.
"We've won close games all year," said the 27-year-old Indianapolis native.
Not this one.
"Up 10-0 and after that defensive stand, I thought we were on our way to Super Bowl win No. 2," Scott Collevechio said. "It's kind of like a shot to the gut."
Bre Miller, 26, lived in Buffalo for the Bills' four Super Bowl defeats in the 1990s. She lived in Chicago three years ago when the Bears fell to the Colts. And now an Indiana resident, she brought that losing charm to Indianapolis.
"How come you didn't tell us this earlier?" a friend asks Miller after learning of her Super Bowl misfortune.
"Who brought the jinx?" another queried.
Miller was one of the 249 Colts fans packed inside the Beer Sellar on Indianapolis' north side. Scott Cook stood alone. Cook, 25, bravely donned a Saints Reggie Bush jersey. Cook isn't from New Orleans; he just loves Reggie Bush.
"People have told me, 'Don't cheer too loud,' 'Remember where you're at' and 'You wore that for attention,'" Cook said.
After the razzing, his friends weren't so sure why they brought him.
Luckily for Cook, after the game he left the bar in one piece.
But unfortunately for Colts fans, he left happy. He was the only one.