Commentary
Be my Sunday Brunch Valentine
Originally Published:
February 14, 2010
By
Jerry Greene
| Special to Page 2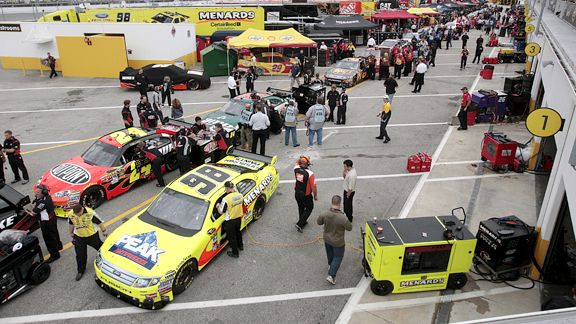 AP Photo/Dave MartinWhat a perfect way to celebrate Valentine's Day by spending it at the track.
On this Valentine weekend there are three kinds of guys in the world:
1. Those who will spend all day watching cars go in a circle.
2. Those will spend all night watching a meaningless basketball exhibition in which one blocked shot gets you kicked out the game.
3. Those who have a woman.
Here's hoping you fall into that third group. But in case you don't, we have the Sunday Brunch to help you get through a day filled with bad poetry, overpriced flowers and way too much chocolate.
Before we get to the links, a few thoughts about the week:
• Wouldn't it be great if NASCAR had pari-mutuel wagering? Think about how much more fun you would have watching the Daytona 500 if you were clutching a Tony Stewart-Mark Martin perfecta.
• Bet you didn't know that in the 1953 NBA All-Star Game, the West beat the East 79-75. That's right. Back in the early days of the NBA, the baskets had lids on them. It didn't work out.
• Best quote of the week by a mile: "She's got her legs crossed and I've got my fingers crossed." That's from NASCAR driver Carl Edwards because his wife could go into labor during the Daytona 500.
• Your Sunday early leaderboard at the AT&T Pebble Beach National Pro-Am: Johnson, Goydos, Molder, Holmes and Jones. And you thought the PGA Tour needs Tiger Woods.
• Did you have Slovakia in the Day 1 Olympic pool?
• Let's be honest. The Chinese retired the trophy for Best Olympic Opening Ceremony, so there's no sense in anyone else trying. Our tip for all future host countries: Frisbee-catching dogs. They're cheap and everybody loves 'em.
• ABC has ordered another six episodes of "Shaq Vs." for the Cavs' Shaquille O'Neal. One episode will be about Shaq in a spelling bee and another will be about Shaq in a competitive eating contest. Gee, wonder which one will work out best for him?
• What will be the most terrifying site in the rearview mirror for any NASCAR driver in the Daytona 500? That's easy -- a Toyota.
Now, on to the links for the meat and potatoes of your Valentine Day Sunday Brunch:
• Joe Posnanski of the Kansas City Star bats leadoff because of two intriguing polls attached to his blog. He asks you to vote for the funniest athlete and, using the same list, the least funny. Here's a hint -- Bob Uecker and Charles Barkley lead one list while Shannon Sharpe and Terry Bradshaw lead the other.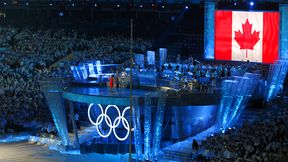 David Hecker/Getty ImagesYou might be surprised, but not everyone loves the opening ceremonies at the Olympics.
• See what you think about the Olympic blog of Filip Bondy of the New York Daily News. He hates all opening ceremonies and, to prove his point, he rips the French synchronized swimming team from 16 years ago for apparently working the Holocaust into their routine. (We missed that.) But three paragraphs later, he makes a Mussolini joke about an Italian reporter. Odd.
• Chris Erskine of the Los Angeles Times is at the Olympics and seems to be having a fine time. He lists 25 things about it that we probably don't know including: "Among the many ways the torch traveled on its 106-day journey -- aboard a Zamboni." Here's a tip for getting mentioned in the Sunday Brunch: Mention a Zamboni. We are suckers for Zambonis.
• Dan Shaughnessy of The Boston Globe contributes a fine notes column in which he wonders: "Did Cuban lefty Aroldis Chapman sign with the Cincinnati Reds because he thinks they're communists?"
• Mike Bianchi of the Orlando Sentinel closes the Brunch with a Valentine poem for NASCAR in hopes it will not present another Dulltona 500: "Roses are red, Violets are blue, Bump-drafting is legal, Bigger restrictor-plates, too."
Jerry Greene is a retired columnist for the Orlando Sentinel. He can be reached at osogreene@aol.com.