Commentary
Party patrol at NBA All-Star Weekend
Originally Published:
February 15, 2010
By
Chris Palmer
| ESPN The Magazine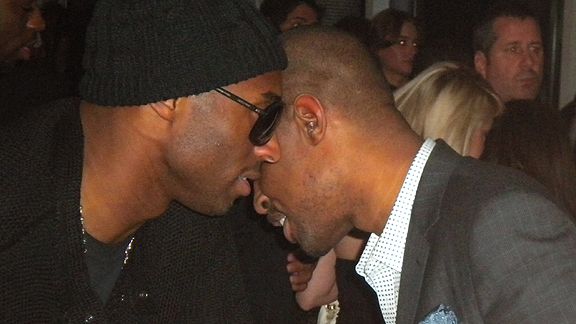 Chris Palmer for ESPN.comKobe Bryant chats with a buddy during the NBA All-Star Weekend in Dallas.
Another All-Star Weekend comes to a close, and as groggy-eyed celebrants return from whence they came we're left to sift through the memories.
Fit For A King
The most coveted party invite in Dallas during All-Star Weekend was without a doubt Bing's 4th Annual Two Kings Dinner and After Party held at the W Hotel just across the street from the American Airlines Center.
Two Kings is the ultra swank affair co-hosted by LeBron James and Jay-Z, with a guest list that's guarded tighter than Oscar envelopes.
This year the shimmering Ghostbar on the top floor of the W served as the playground for the rich, famous and beautiful to get together and tell one another how awesome they are and party like maniacs on the eve of the All-Star Game.
Early in the evening, despite the fact the dinner ran long downstairs, Oscar winner Jamie Foxx seemed to entertain the entire penthouse club himself by shaking hands, taking pictures with fans and dancing on a white sofa.
Around midnight, Oklahoma City Thunder wonder twins Kevin Durant and Russell Westbrook strolled in and clicked off a couple laps to get their party legs. Shortly after, Rookie Challenge MVP Tyreke Evans arrived and promptly posted up at the bar.
Pistons rook Jonas Jerebko (I know, who?) asked Durant to take a picture with him. Rookies. KD, of course, obliged.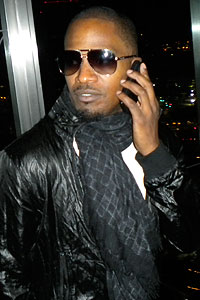 Chris Palmer for ESPN.comJamie Foxx partied at the Super Bowl, then partied at NBA All-Star Weekend. What a good life.
Then without warning a force of nature swept through the chic lounge and threatened to spin the joint out of the lower atmosphere.
The elevator doors swung open, and what happened next was perhaps the best entrance in All-Star party history.
LeBron, flanked by a single-file entourage 10 deep, strides through wall-to-wall partiers, who part the way and bounce off him like positively charged ions.
The deejay stops the record and shouts, "LeBroooon James is in the building!"
Nose-tackle-sized security guards lead him to a spacious VIP area at the far end of the club, which is big enough to get a two-on-two game going. Cameras flash and people reach out to touch him as he walks by. James nods coolly as half the club seems to gravitate toward a velvet rope they're not getting past.
The only thing that could have made it better would have been slow motion, a wind machine and Brett Ratner at the helm.
Once inside his lair -- safe from the beautiful, adoring masses -- LeBron lets out a breath, seemingly to acknowledge the overwhelming moment. With James comfortably situated, Durant, Evans and Westbrook are allowed to make use of the space as well.
In a VIP booth next to James' roped-off kingdom was decidedly lower-key Kobe Bryant, his wife, Vanessa, and Clippers guard Eric Gordon. Seeing Kobe at a party is like seeing a ghost. It rarely happens and most people won't believe you. But it was the Mamba, all right. And in a rare moment -- heavily influenced by Cameo's "Word Up!" -- Bryant stood up and danced a little two-step jig complete with a shoulder shimmy. Vanessa covered her eyes in embarrassment.
Kobe's security guard stood there stone-faced. "This is not a party for me," he said. "This is work."
Moments later Jamie Foxx, back on a couch, this time in a booth next to Kobe's, urged everyone to throw their hands in the ayer. About two dozen complied while jumping up and down in unison, causing the floor to shake. Causing me to move to another part of the club.
I circle back to the main bar and see Mark Cuban (still smiling) for the fourth time this weekend.
So what do you think?
"This is crazy!" he said. "Absolutely the craziest."
I was about to ask him about the Caron Butler trade but decided to leave that to Marc Stein, who was not in attendance. Besides, Cuban was quickly accosted by a mass of camera-wielding Barbie dolls.
When Jay-Z walked in, the deejay feted him with a 20-minute block of Jigga's best and the crowd chanted "HOVA! HOVA!" You would think the man just retired. Well, actually he did.
"No more basketball for me," Jay-Z said. "I'm finished. I'm retired. LeBron just helps make me realize how far away from being a baller I am."
LeBron didn't seem too worried about Jay-Z hanging up his high tops.
"He's given a lot of time and commitment to the studio, so he's all right to retire from basketball," LeBron said. "And it's not like his retirement from music."
Ironically, when the bar shut down at 2 a.m., the knob on the intensity level snapped off. Foxx was sweating bullets, now with one foot on a table and one on the couch. Women swooned over Drake. Cuban busted out dance moves man has likely never seen before. Even Kevin Durant was dancing, his long, spidery limbs akimbo.
LeBron held the Roc sign high and sang the lyrics to every Jay song at the top of his lungs.
Truly a night fit for a King.
Royal Feast
No event is complete without good eats. Check the menu from the Two Kings soiree.
Appetizer: Pumpkin Agnolotti with braised chestnuts and black truffle.
Entrées: Roasted & braised beef with black garlic, salsify and black trumpet mushroom, and guinea hen wrapped in pancetta with roasted cabbage and wild mushrooms.
Dessert: Lavender crème brulee with candied lemon and chocolate grissini.
Royal Swag: Guests who were lucky enough to attend the Two Kings dinner before the party at the W, including our own Sam Alipour, walked away with two handmade Padron cigars in a wooden case and a crystal game ticket with Jay-Z's and LeBron's signatures.
Swing Away, Jet, Swing Away
It wasn't all basketball, parties and hip-hop royalty down here in Big D this weekend. At least one player used the time to get away from basketball and concentrate on his other favorite sport: golf. On Saturday afternoon Jason Terry hit the driving range simulator at the PGA Superstore in Frisco, Texas, and talked about why he can't stop playing the game that drives him crazy.
Q: How did you pick up golf?
A: I first played at an Arizona alumni tournament and just loved the challenge of trying to learn the game. When I got to the NBA, Darrell Armstrong started taking me to courses he played. I'm self-taught, but I'm not sure if that's good or bad.
Q: Is there anything similar about golf and basketball?
A: Fundamentals. You have to have the basics down. My jump shot has perfect fundamentals. My golf swing? No.
Q: What is your mental approach to the game?
A: I try not to think too much. If you're worried about your shoulders and your waist and the tempo of your swing, you're thinking way too much and going to mess up. It's a frustrating game to be sure. It can drive you mad, but I always keep coming back.
Q: Why?
A: Because, to me, golf is about being out there on the course with friends and having a good time. Take some food out there, drive the cart, make fun of each other, it's just a great time. But, all the while you want to hit the perfect shot, because it gives you such an incredible feeling that stays with you until the next time you play. It's similar to hitting a game-winning shot.
Q: So what's your skill level?
A: I'm pretty good, but I got a lot of room for improvement. Jason Kidd is much better than I am so that gives me something to shoot for. I still lose a lot of balls, but I'm getting better. If you finish with the balls you started with, that's a sign you're getting pretty good. I'm not there yet.
All-Star Shout-Out
"I gotta plug a special plus I got it made
"If Jeezy's paying LeBron, I'm paying Dwyane Wade."
-- Jay-Z, "Empire State of Mind"
The weekend was so epic it only seems right to end it with Shawn Carter. There are few spaces in the world where you can get LeBron, D-Wade and Jay-Z in the same room. All-Star Weekend is one of them. The other is one of Jigga's more puzzling lyrics. It may not be Carly Simon's "You're So Vain," but it's a mystery that had a few players scratching their heads. Naturally, we had to see if any of the self-professed hip-hop aficionados knew what they were talking about. Your street cred is on the line, fellas.
Shannon Brown, Lakers
"I have a clue, but I can't tell you what I think. No way. I can't go there. I won't even give you the G-rated version, no sir. Let's leave it at that and forget about it."
Breakdown: Didn't want to let on that he hasn't got a clue.
Stephen Curry, Warriors
"I've heard from a pretty experienced guy that it's some kind of slang from the drug world. Then again people might take the stereotypes of rap and think it's all about the street but it might be something else."
Breakdown: Nice guess. Say hi to the suburbs for me, Steph.
Russell Westbrook, Thunder
"I'm kinda sorta a Jay-Z fan and I'm familiar with the lyrics, but I honestly have no idea what it means. None whatsoever."
Breakdown: Kinda sorta a Jay-Z fan? Wow.
Dwyane Wade, Heat
"I don't know exactly what it means. It could mean a lot of different things. He's never told me. I didn't know I was going to be in it. I found out when the song came out. To me it's just an honor to be mentioned by someone so great. To get that kind of respect is something that I can appreciate."
Breakdown: He's telling the truth. D-Wade would never lie to us.
Daequan Cook, Heat
"Jeezy has a song called Kobe LeBron where he says he used to play Kobe now he plays LeBron. So Jay-Z is saying if Jeezy's paying LeBron, I'm paying Dwyane Wade. He means LeBron was his guy but he's got a new one. Being a fan of Jeezy I knew right away what it was about. A lot of guys have no idea but once you explain it to them they get it right away."
Breakdown: I'm satisfied. I think we have a winner. Tell 'em what he's won.
Chris Palmer is a contributing writer for ESPN The Magazine.
ESPN the Magazine
Chris Palmer has been a frequent contributor to ESPN The Magazine and ESPN.com's NBA coverage since 1999.