Commentary
Fortune teller predicts NCAA winner
Originally Published:
March 18, 2010
By
Andrew Astleford
| Special to Page 2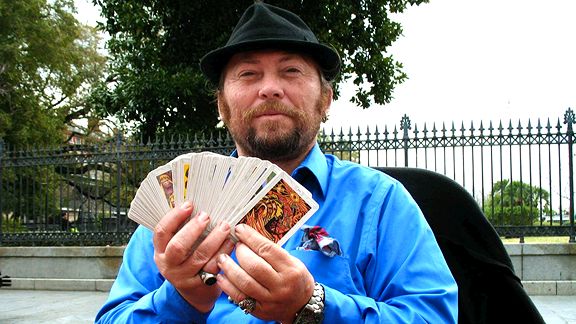 Andrew AstlefordDruid priest Oscar D. Brock of New Orleans has made NCAA tournament predictions.
NEW ORLEANS -- The universe favors West Virginia.Are you searching for inspiration before scratching out a last-minute NCAA tournament bracket? Druid priest Oscar D. Brock spent 2½ hours casting ogham sticks in New Orleans' Jackson Square to receive the stars' reading on each of the 64 games.
His results revealed plenty of surprises. Three of the No. 1 seeds will fall in the first round, with only Syracuse advancing in the West Regional. East Regional No. 16 seed East Tennessee State will reach the Elite Eight before losing to eventual champion West Virginia. South Regional No. 15-seed Robert Morris will create flashbacks of George Mason's one shining moment in 2006 and make the Final Four.
To select his picks, Brock -- who has spent parts of the past decade giving readings in New Orleans -- participated in an ancient practice. He held 24 ogham sticks to his chest with his right hand before tossing them onto a card table. After landing, the sticks -- which are a little larger than a toothpick and include carved Gaelic letters and inscriptions -- were observed, with the pile's left side given prominence. For each reading, Brock took the names of schools competing and paired a numeric value to a team's name and the letters present on the sticks. The team with the best total won a particular game.
"Albeit, it's not an exact science, it's one of the most ancient sciences known to man among us druids," Brock said.
"People are going to be surprised how it turns out with each game and who will play for the national championship. … We have a lot of strong competitors out there. It's going to be a great tournament all around. Definitely a tournament worth watching."
[+] Enlarge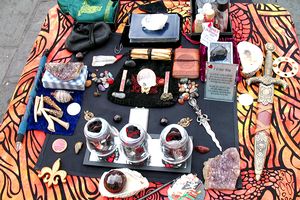 Andrew AstlefordCheck out some of these items that helped Brock decide the winners in the NCAA tournament.
Are the skies smiling upon your school? See how your favorite fared.
MIDWEST REGIONAL
Pick: Georgia Tech
Surprise: Houston (No. 13 seed, reaches Sweet 16)
Universe says: "Georgia Tech is a great team. They have wonderful people. Let's face it, at times, they have been known in the past to lack a little bit of long-range endurance. They are going to play a great tournament this year. But it's not my call. It's the universe's call. I'm just interpreting what the universe reveals in the ogham."
WEST REGIONAL
Pick: Brigham Young
Surprise: Brigham Young (No. 7 seed, wins region)
Universe says: "What I really liked about [Brigham Young] is that they have a very strong defense. They really keep a game together. They keep it tight. They don't just come out strong. They lay back and wait and see what the other guy is going to do. After they get done watching what the other guy is going to do, they see where the weak points are, and then it's like, 'Boom, dynamite! It's time to hit them.'"
EAST REGION
Pick: West Virginia
Surprise: East Tennessee State (No. 16 seed, reaches Elite Eight)
[+] Enlarge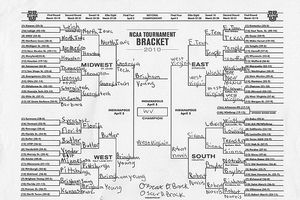 Andrew AstlefordHere's the bracket.
Universe says: "In times past, [West Virginia] has really had it tough. They have worked really hard this year to try to build a better ball team. … Right now, this year, I believe they have a really great ball team. They are really trying to do something different this year. So they have some big plans and some big upsets and surprises coming for them, and the universe is going to bless them."
SOUTH REGION
Pick: Robert Morris
Surprise: Robert Morris (No. 15 seed, wins region)
Universe says: "Admiral Morris has always been favored when it comes to wading through things, whether it be deep waters or high tides. Definitely, right now, Robert Morris is a ball team that is looking forward to getting through the thick of it this year."
FINAL FOUR
Georgia Tech-Brigham Young
Pick: Brigham Young
Universe says: "It will be a very tight game. They both have some wonderful players on either side -- really talented young men. I see them going at it like real gladiators in Rome. You will want to watch this game. It's going to be a tough call, and it's going to be very close. But the last and final point will be granted to Brigham Young."
West Virginia-Robert Morris
Pick: West Virginia
Universe says: "I hope West Virginia comes through. I am always in favor of West Virginia. There are a lot of good folks there. And, well, I have some family there. They would turn over in their graves if they found out Robert Morris won."
NATIONAL CHAMPIONSHIP
Brigham Young-West Virginia
Pick: West Virginia
Universe says: "West Virginia, folks, all the way this year. Good luck, West Virginia. You had a great year. You have a lot of upsets and beautiful changes coming your way. Many blessings to all."
Andrew Astleford is a freelance writer. Check out his Web site at AndrewAstleford.com.