Commentary
Card companies get creative
Originally Published:
March 19, 2010
By
Chris Olds
| Special to Page 2
In the past few years, Topps has inserted a few surprises in its baseball card sets just to see whether collectors would notice -- and to get a few non-collectors to take notice, too, and pick up a pack or two.
In 2007, it was a Derek Jeter card with Mickey Mantle digitally placed in the dugout and George W. Bush in the stands. In 2008, it was Yankees fan Rudy Giuliani celebrating in the Red Sox's World Series dogpile, a no-hitter highlight card for Johan Santana (a no-no that never happened) and more. Last year, it was a card of President Barack Obama throwing out a ceremonial first pitch and a smattering of rare cards of legends like Babe Ruth and Ty Cobb.
When the New York City-based company released its 2010 baseball card set in January, collectors started finding cards with pictures of New York Yankees who had been pied in the face (a tradition the team started last year after walk-off home runs) and last month Topps teased the fact that a short-printed variation card existed in the set featuring Abraham Lincoln.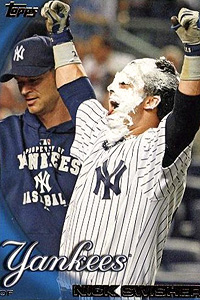 ToppsNothing is funnier than a pie in the face.
These types of cards typically aren't easy finds -- they're not one per pack or one per box. They're found more like one in 10 boxes … if that.
While the pie cards caught the attention of collectors -- and the prices paid for them (the Nick Swisher pie card seen here sells for as much as $150) -- the Lincoln cards had gone unnoticed by many, if they had them at all, until just last week.
The first Lincoln card found features Milton Bradley, and it was discovered by a 33-year-old New York collector who had just returned to the hobby recently after collecting when he was younger.
Brian Lalonde said he found the card in a jumbo pack he bought at a Walmart in Ogdensburg, N.Y. It's No. 306 in the set and has "Baseball Abe" and Lincoln's face digitally placed into the image on the scoreboard instead of the standard card's "baseball notes" seen in the photo behind a diving Milton Bradley.
"I have contacted Topps, and they assured me that it is a super-rare card, and they will not give me any more information about it," Lalonde said. "They won't give me a print run or anything. It seems that they are being very secretive."
Part of the mystery with projects such as the Lincoln cards is letting the collectors discover them and letting the secondary market react to the finds, said Topps director of product development Clay Luraschi.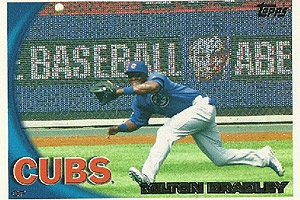 Courtesy of ToppsLook who's watching...
"It was all in fun," Luraschi said. "Since Chicago is in the 'Land of Lincoln,' we thought it would be fun to throw Abe on a couple of Cubs cards."
And, has that added mystery added to the fun for Topps?
"Without a doubt," Luraschi said. "People are really enjoying them."
Since Lalonde's discovery, collectors on message boards like Beckett.com and other hobby sites have found three more rare Lincoln versions featuring Cubs players -- Tyler Colvin's card has Lincoln watching from the dugout, Jeff Samardzija's card has Lincoln watching from the stands and Ryan Dempster's card has Lincoln as an umpire in the background.
"You got the four," Luraschi said, replying to a question asking whether all of the Cubs variation cards had been discovered. (It's worth noting that wasn't a yes-or-no answer, so the mystery could continue …)
The discoveries have had collectors digging through their 2010 Topps commons (hobby-speak for lesser-name players) looking for the Lincoln cards, as they've been fetching some decent money. The Bradley card has sold for as much as $150, though prices have been falling since more have been found (around $50), while the standard version of his card sells for about 60 cents.
"Once one was found, it became somewhat of a treasure hunt," Luraschi said. "Looking for Lincoln has become something fun to do, and trading cards should be fun."
Chris Olds is the editor of Beckett Baseball magazine. Check out Beckett.com -- and be sure to get the latest news on sports cards and memorabilia at The Beckett Blog. You can also follow him on Twitter.