Commentary
Kiffin vs. Mirren key to 'Sunday Brunch'
Originally Published:
March 21, 2010
By
Jerry Greene
| Special to Page 2
Do you read Esquire?
If you do, the Sunday Brunch does not understand you.
Don't get us wrong: We salute Esquire for having its own bracket elimination to determine "The Sexiest Woman Alive." What we don't get is the taste of the folks who are voting at Esquire.com.
In the sports division, golfer Natalie Gulbis is the No. 1 seed, and she's losing to the No. 16 -- roving football coach Lane Kiffin. Losing bad. With more than 100,000 votes counted, Ms. Kiffin has a 58-42 percentage lead.
Really?
[+] Enlarge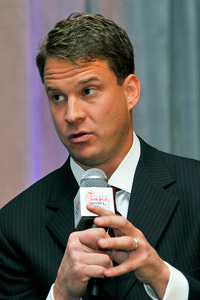 AP Photo/Gregory SmithCould Lane Kiffin actually face off against Helen Mirren?
And that's not the only 16 that's beating a 1. In the Hollywood division, No. 1 Megan Fox is getting trounced by No. 16 Helen Mirren. Granted, Mirren looks fine at age 63, but she's leading by a 62-38 percentage.
Seriously?
Will Kiffin face Mirren for the championship?
Of course, Northern Iowa might take on Washington for the men's basketball championship, so maybe those Esquire voters know what they're doing after all.
Some more bits of tid before we get to the main courses in Sunday's Brunch:
• The Tampa Bay Rays plan on selling a rum-based frozen tropical drink this season. Good idea. If baseball won't draw fans, maybe getting them plastered will help.
• Apparently the BBC will use Jean Van de Velde as an on-course reporter for the British Open. Oh please let him criticize someone's club selection.
• President Obama says he gets 20,000 letters a day calling him an idiot. That's about how many we got last week after writing our tips for filling out your brackets.
• When we heard Animal Planet will have a show involving Mike Tyson and pigeons, we immediately assumed Tyson would be eating them. Turns out he'll be racing them. Trust us, eating them would be better.
• During a news conference about the Montreal Championship on the Champions Tour, golfer John Cook said: "We've gone five minutes and haven't had a Tiger question." Probably because there was nobody there.
Now to the main courses in this serving of the Sunday Brunch:
• Let's get started with Scott Ostler of the San Francisco Chronicle, who wonders why Mike Singletary thinks of quarterbacks like most men think of their mother-in-law. Does that mean if the quarterback drops by, Singletary is never there?
• Someone has to explain March Madness and Chris Erskine of the Los Angeles Times turns to Coach, er, Edgar Allan Poe for as good an explanation as any. Quoth the Jayhawks: "Nevermore."
• We can't stay on the West Coast, so let's go way east to the London Telegraph for something a little different -- a "game story" about cricket. Here's a typical moment in the story: "The ninth-wicket stand soon raced to 50 and Shafiul, who had started the morning on eight to Naeem Islam's 33, overtook his partner with a risky chip over mid-off." Got that? Now you know how the girlfriend feels when you start talking about "red zones" and "shooting the gaps."
• OK, we've got to have someone from Kansas attempt to explain what happened to the Jayhawks. Nobody better than Joe Posnanski of the Kansas City Star, who finds a clue to the Jayhawks' defeat in "Casablanca." No, he doesn't compare the team's effort Saturday to a "hill of beans," but he could have.
• We started our main courses in San Francisco, and let's return for dessert as John Shea of the Chronicle discusses much about baseball including what the Cubs, Indians and Giants have in common. Yes, "futility" is a correct answer, but we're actually looking for Tim Lincecum.
Jerry Greene is a retired columnist for the Orlando Sentinel. He can be reached at osogreene@aol.com.