Commentary
John Goodman talks sports, HBO series
Originally Published:
March 29, 2010
By
Andrew Astleford
| Special to Page 2
NEW ORLEANS -- Early in college, John Goodman chose to abandon his goal of joining Southwest Missouri State's football team. His decision proved to be one of the best he ever made.
Shortly after, Goodman became involved with the university's theater department and began shaping an acting career that includes a Golden Globe award and two People's Choice honors. The longtime "Roseanne" star lives in the New Orleans area and has shifted his football passion to the Super Bowl champion Saints. He will play an English professor in the HBO series "Treme," a drama created by David Simon and Eric Overmyer and scheduled to premiere April 11. The series will depict post-Hurricane Katrina New Orleans through the eyes of residents trying to remake their lives.
Goodman spoke with Page 2 about "Treme," life in New Orleans during the Saints' Super Bowl run, his short football career and the city's continuing recovery.
Since you live in the New Orleans area, what does it mean to be involved with a project like "Treme"?
[+] Enlarge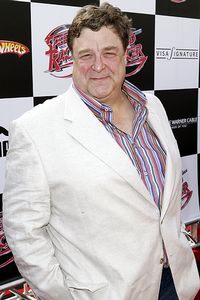 AP Photo/Gus RuelasJohn Goodman has a love for New Orleans and its sports.
Some of my feelings coincide with my characters -- angry rage, impotent rage. Five years later, it's still hard to imagine the stupidity that went into [the Hurricane Katrina aftermath]. David Simon and Eric Overmyer love this area. They love the culture. They love the music. They want to do something positive because the city has been run down and kicked around a lot, and now it's starting to turn around. It's good to see.
What was it like experiencing the Saints' Super Bowl run?
It started during the season. There was something going on. Each week, the local television stations built it up. It was just a crazy confidence. They were always a fourth-quarter team. That's kind of a tradition. You knew they would pull it out some way or another. It was just amazing, and the party kept going. The good part of the party is that [Drew] Brees has taken the city on his shoulders and has done amazing work in the community -- [coach] Sean Payton as well. I just think that reflects on them and the team. It makes the NFL look good. But I think it's a testament to those guys. Brees was on a second chance from San Diego. He made the best of it. That's what sports is supposed to do. It's an inspiration. It really is. He picked it up and ran with it. Just through sheer determination and guts, he carried the city out of a bad time.
Why do you think fans' passion is different in New Orleans?
It's a sporting town. It always has been. In the old days, they rigged semi-illegal heavyweight fights here. There's always fishing, cockfighting, gambling, anything you can bet on. They're sporting people. They come from all over the Gulf Coast to see this underdog franchise. It wasn't pretty for a long time. I didn't grow up here. I grew up in St. Louis. The [NFL's St. Louis Cardinals] left town, so I shifted allegiances. I didn't go with the Rams. … I dig the Saints. It's unbelievable. This city would blindly root for them anyway. It's a huge NFL city, whether the NFL knows it or not. Fans get what it is supposed to be about down here. This is what professional football franchises and their communities are supposed to be like. It means a lot to this city. Going to the Super Bowl was just insane good.
You played a short football career. What was it like?
I played high school ball. We won one game in four years. I went down to Southwest Missouri State [now Missouri State] to try to walk on to the football team. My grades were so bad. I would have had to wait another year. By that time, I had found the miracle of women in the theater department.
How would you describe New Orleans' progress?
There are kids starting to come back. Smart kids. There is nothing like this city anywhere in the United States. It's different. There are artistic miracles that happen every day down here. It's really going to be something. These smart kids are going to be leading tomorrow.
Andrew Astleford is a freelance writer. Check out his Web site at AndrewAstleford.com.