Commentary
Cards predicted WrestleMania winners
Originally Published:
March 26, 2010
By
Chris Olds
| Special to Page 2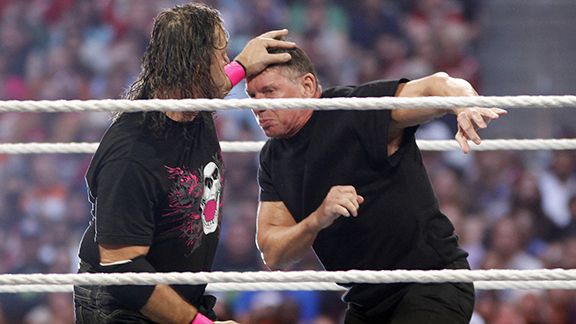 AP Photo/Rick ScuteriBret Hart and Mr. McMahon go toe-to-toe in WrestleMania XXVI on Sunday.
The annual showcase event for sports entertainment, WrestleMania, came and went Sunday evening at University of Phoenix Stadium in Glendale, Ariz., with some slight twists and turns -- but not too many as the Topps Slam Attax gaming cards really only got one prediction flat-out wrong when compared to the in-ring outcomes.
Fan reactions are still popping up all over the Internet and some story lines should still shake themselves out Monday on Raw, but we'll quickly recap WrestleMania XXVI here and see just how Topps' WWE gaming cards stacked up.
The Undertaker vs. Shawn Michaels: The showcase match truly was main-event material as The Undertaker ended the 26-year career of Michaels in a rematch of their classic fight from last year's WrestleMania, a match many consider to be the greatest match in Mania history. (This writer will wait until the DVD arrives in early May to decide whether this year's version topped it.) It was the first time since WrestleMania XI in 1995 to have a non-title match in the main event and the loss served as a fitting good-bye for "The Showstopper," who has had many a classic Mania match since his return from a legitimate spinal injury suffered at the hands of Undertaker in 1998.
Slam Attax said: Undertaker would win.
Vince McMahon said: Undertaker won.
WWE Champion Batista vs. John Cena: No surprises here as Cena picked up yet another win to become the WWE Champion, though the match might not have gone the way some fans might have expected. A previous neck injury Cena suffered at the hands of Batista was played up heavily during the match, but the face of the WWE somehow pulled out the victory.
Slam Attax said: Cena would win.
McMahon said: Cena won.
World Heavyweight Champion Chris Jericho vs. Edge: It didn't take long for Jericho to be screaming "ASK HIM" in this match. And at one point, Jericho even used a foreign object that isn't allowed in Slam Attax cards the World Heavyweight Championship. He whacked Edge on the head with the belt when the referee was knocked down (convenient, eh?) but that didn't finish off "The Rated R Superstar" completely. Jericho won via pin not long thereafter, but Edge's "Spear" was felt at WrestleMania as Jericho was laid out through a wall at ringside following the match.
Slam Attax said: Edge would win.
McMahon said: Jericho won.
Triple H vs. Sheamus: This one was a mismatch for sure, but many fans believed that Triple H might "put over" the Irish bruiser. (That's wrestling jargon for "make him look good.") Whether that happened might be up to fans' opinions, but that didn't stop the 13-time champ from oddly putting Sheamus over in a most-fight video on WWE.com
Slam Attax said: Triple H would win.
McMahon said: Triple H won.
[+] Enlarge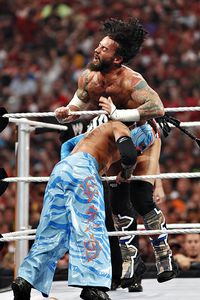 AP Photo/Rick ScuteriCM Punk and Rey Mysterio battle it out during WrestleMania.
CM Punk vs. Rey Mysterio: This was one of the shorter matches of the evening at just six minutes and change, but like the Slam Attax cards noted, it could have gone either way. The high-flying masked man got the best of the trash-talking Straight Edge heel, who cut yet another crowd-riling promo while on his way to the ring. (Seriously, Punk is one of the best talkers the WWE has.)
Slam Attax said: Either way.
McMahon said: Mysterio won.
Randy Orton vs. Ted DiBiase Jr. vs. Cody Rhodes: This one started slow, but things picked up when Orton's cohorts decided to start fighting with each other instead of taking on the veteran. Orton capitalized on that, punting Rhodes in the skull and dropping his finishing move, the RKO, on DiBiase for the three-count.
Slam Attax said: Orton would win
McMahon said: Orton won.
Money in the Bank Ladder Match: The spectacle that is a 10-man free-for-all had some serious falls and hits from ladders (legal weapons) and didn't disappoint in providing highlights. But the match's winner -- "The All-American American" Jack Swagger -- might have been a disappointing one for some. Among the highlights? Evan Bourne doing a Shooting Star Press off of a ladder onto an opponent and Kofi Kingston attempting to use a broken ladder as stilts to reach the briefcase hanging from high above. Looking back at the Slam Attax cards, the outcome shouldn't have been a surprise as Swagger had the highest defensive code of all competitors in the match. That means he could have outlasted even Christian's attack but he couldn't have taken out Captain Charisma by himself. (A ladder or two helped on Sunday.)
Slam Attax said: Christian would win.
McMahon said: Jack Swagger won.
Unified Tag Team Champions Big Show and The Miz vs. John Morrison and R-Truth: Morrison and R-Truth threw out some dazzling moves, but the 7-foot, 485-pound Big Show proved why size matters as he tossed them around and saved his tag-team partner from being hit by Morrison's finisher, Starship Pain (a split-legged corkscrew moonsault off the ropes). What's that? Watch the movie in slow-mo.
Slam Attax said: Big Show and The Miz would win.
McMahon said: Big Show and The Miz won.
Bret Hart vs. Mr. McMahon: This one wasn't going to look pretty as McMahon's 64 years old and Hart isn't the same as he was in the 1990s -- particularly after suffering a stroke a few years ago. However, Hart got his revenge as the fight turned into a lumberjack match with the entire Hart family surrounding the ring. The newest generation of Hart wrestlers -- Natalya Neidhart, David Hart Smith and Tyson Kidd, aka The Hart Dynasty -- helped get Bret the revenge he wanted along with the help of a steel chair. Of course, the match ended with McMahon tapping out to Hart's signature move, the Sharpshooter.
Slam Attax said: Nothing as neither appeared on a card.
McMahon said: Hart won.
The 10-Diva tag-team match: This match wasn't even announced until Friday night when WWE's Smackdown show aired, so there wasn't a Slam Attax prediction in our previous piece. However, the heel team of Maryse, Alicia Fox, Vickie Guerrero, Layla and Michelle McCool took out the babyfaces: Mickie James, Kelly Kelly, Gail Kim, Beth Phoenix and Eve Torres. How'd it end? With Guerrero -- in her first (and hopefully last) WrestleMania match -- executing a frog splash (her late husband Eddie's signature move) on Kelly Kelly. Guerrero doesn't even appear on a Slam Attax card -- and we'd bet the result is an upset overall as the faces are popular and are represented well in the game. (Phoenix has the highest codes of any of the female competitors for starters.)
Eh, there's always next year …
Chris Olds is the editor of Beckett Baseball magazine (and obviously is a WWE fan). Check out Beckett.com -- and be sure to get the latest news on sports cards and memorabilia at The Beckett Blog. You can also follow him on Twitter.