Commentary
A view from West Virginia campus
Originally Published:
March 31, 2010
By
Brian Gawthrop
| Special to Page 2
MORGANTOWN, W.Va. -- It was nearly 1 a.m. Sunday morning, but local basketball courts had seemingly never been busier.

Kids of all ages, with excitement to release after their West Virginia basketball team had just advanced to the Final Four, found their way to the nearest court and began to do their best Da'Sean Butler impersonations, imagining they were the All-American leading his team to victory that night.
Most courts had to be lit by dim spotlights and the headlights of passing cars. But there were plenty of lights that night as traffic lined the streets to the Harrison-Marion Regional Airport in Bridgeport, W.Va., where the Mountaineers were scheduled to arrive two hours after clinching the East Regional championship with an upset win over No. 1 seed Kentucky.
PAGE 2 ON CAMPUS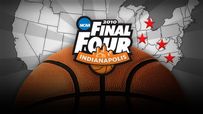 Page 2 taps a student journalist on each Final Four campus to paint a picture of March Madness.
• Emily Newell at Butler
• Gabe Starrosta at Duke
• Brian Gawthorpe at West Virginia
• Joey Nowak at Michigan State
There, more than 600 fans gathered outside the airport gates in hopes of getting a glimpse of the team as it returned to the Mountain State and boarded its transport bus en route to Morgantown.
Nearly an hour later, more than 1,000 people were on hand at the WVU Coliseum. Although it was 2:30 a.m., screaming fans still dressed in their Old Gold and Blue apparel held signs and banners while a local radio station broadcasted the team's arrival live throughout the tri-state area.
The entire team, including head coach Bob Huggins, addressed the crowd, with much of their statements expressing their appreciation of the fans.
"You don't know how much these guys love you all," Huggins told the crowd.
It wasn't the first time the team has been welcomed home with such a reception. The night the Mountaineers won the program's first Big East Conference championship, fans flocked to the now-traditional meeting sites.
Times such as those help the team appreciate whom they are truly playing for.
"It's an amazing feeling knowing you have this kind of support from everybody," senior forward Wellington Smith said. "The state has become a family to us."
Through their hard work as an underdog, pursuit of perfection, and pride in what they do and where they come from, Huggins and his team have become an ideal representative for their followers. Those are three characteristics West Virginia University prides itself on. It's what the state is all about.
The run has transformed the university into "a basketball school," one player stated. It's not farfetched to see why that just might be the case.
Since that night, fans can't seem to escape the constant celebration. They wouldn't want to, anyway.
Sound bites from the Mountaineers' Big East and East Regional championships have filled the airwaves of almost every radio station within reach. People from all walks of life call in to radio and television shows hoping to share with fellow fans where they were and what they were doing when Devin Ebanks launched the basketball into the air as the final buzzer sounded, signaling the program had punched its ticket to the Final Four for the first time since 1959.
The university itself is on spring break, but there's still a continual buzz surrounding the team on campus between all the ticket searching and trip planning. Banners proclaiming the school's support for the team wave throughout the university grounds while Morgantown businesses and restaurants have decorated their buildings with the Old Gold and Blue.
Messages written by fans on a school-sponsored Web site read: "This means the world to us," "You make me feel a part of the team" and "Your heart and spirit is infectious."
It's a time to cherish if you're a Mountaineers fan. After a previous 51-year Final Four drought, fans never know when the program will have this much success again.
The team's followers have grabbed on, held tight and made sure not to forget a second of the Mountaineers' run at what could become the school's first national championship in a top sport.
Win or lose, the team can rest assured it won't be taking this journey alone.
Brian Gawthrop is a junior at West Virginia University, majoring in business management. He is the sports editor of the school newspaper, the Daily Athenaeum.