Commentary
A view from the Duke campus
Originally Published:
March 31, 2010
By
Gabe Starosta
| Special to Page 2
DURHAM, N.C. -- There was no bonfire, no celebration on the quad, no massive outpouring of joy after Duke's win over Baylor put the Blue Devils into the Final Four. Sunday evening was a serene, rainy night in Durham -- but the stark image of a deserted campus could not have been less representative of a fan base ecstatic about the prospect of a trip to Indianapolis.

If you listened quietly, you could hear the faint sounds of fingers bashing keyboards all across Duke, as students were trying to find out exactly how far the drive from Durham to Indy would take (it's almost 10 hours, farther than any other of the Final Four teams will have to travel for a chance at the ultimate glory in college sports). Flying was almost out of the question -- plane tickets to Indy were at $750 and rising Sunday night, and contrary to popular belief, money does not grow on old Gothic buildings. But no matter: Those students making the trek to the Midwest, myself included, won't feel a bit sorry for themselves in the time it'll take them to cross the Indiana state line. Ten hours? No sweat. That's 10 hours of reliving the great times Jon Scheyer & Co. have given Duke fans -- the dismantling of North Carolina in Cameron, the undefeated record at home, the ACC tournament title -- and also recounting nightmarish memories, like that Eric Maynor jumper in the first round of the NCAA tournament three years ago and the crushing defeat to Georgetown two months back.
PAGE 2 ON CAMPUS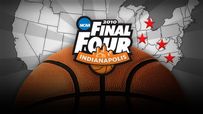 Page 2 taps a student journalist on each Final Four campus to paint a picture of March Madness.
• Emily Newell at Butler
• Gabe Starrosta at Duke
• Brian Gawthorpe at West Virginia
• Joey Nowak at Michigan State
Those memories are things of the past. What has really taken hold of this campus and its students, though, are expectations, and not in a bad way. Based largely on confidence in the Blue Devils' Big Three and a straightforward draw in a weak bracket, lots of Duke fans picked their team to go to the Final Four in their own pools. And unlike in previous seasons, that pick wasn't just a show of extreme favoritism. The mood on campus suggested the Blue Devils belonged in this season's Final Four -- not that they might get there if they got a few lucky breaks -- and now, here they are, perhaps the favorites among an unlikely set of national semifinalists.
Unfortunately for Duke fans, the Blue Devils ended up on the same side of the bracket as two-seed West Virginia, which proved its title credentials by throttling Kentucky on Saturday night. It's not that Duke can't beat the Mountaineers; a good Blue Devils shooting night against West Virginia's zone defense could be enough to get a W, just as it was against Baylor. It's that there's a lingering feeling that this set of West Virginians, like the 2008 incarnation that took down mighty Duke in the second round, just has it, that flexibility and killer instinct needed to finish off teams of similar quality. The Blue Devils might have it, and they showed real fortitude in beating the impressive Bears on Sunday. But Duke fans know the Mountaineers have got it, as they proved in the Big East tournament and again on poor Syracuse's home floor last weekend.
So no, Duke fans aren't assuming their squad will win Saturday and advance to the national championship game. Current Duke students were just teenagers at the time, but they still remember that '04 national semifinal, the time a wonderful Blue Devils team was upset by Connecticut, or the '06 Sweet 16 game in which J.J. Redick's train ride to triumph abruptly ended. This crop of Duke fans, for the first time in a long time, doesn't know what it's like to win at this level, and the edginess on campus reflects that.
But if there's one thing Duke students are good at, it's being quick learners. And you can bet that if the Blue Devils are still playing Monday night, students who have experienced only NCAA tournament heartbreak will remember what it's like to root for Duke in the Final Four.
Gabe Starosta is a senior at Duke University, majoring in political science. He is sports editor of the school newspaper, the Chronicle.