Commentary
Andy Roddick thinking of gift for wife
Originally Published:
April 3, 2010
By
Sandra Harwitt
| Sports Media Exchange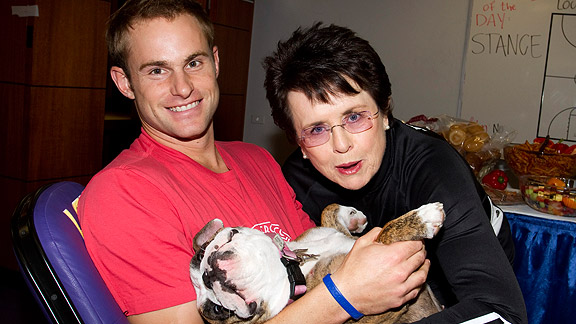 Susan Mullane/cameraworkusaAndy Roddick hangs out with his bulldog and its namesake, Billie Jean King.
Tennis star Andy Roddick and model Brooklyn Decker were serenaded by Elton John at their nuptials April 17, 2009, at their Austin, Texas, home.
And now they are closing in on their first anniversary.
Their marriage is one of occasional forced separation because of career demands -- for example, Roddick is playing this week in Miami while Decker is working in Los Angeles.
They maintain three places -- a house in Austin, an apartment in New York, and a house in Boca Raton, Fla., where he grew up -- but Austin is the place they call home.
"I think one of my favorite things about Brooke is how independent she is," Roddick said. "I like that she has her own stuff going on. I like that she's motivated. In a way, that almost makes it easier for us."
But one member of the family is not quite so independent. Though Roddick and Decker don't have kids, they do have an English Bulldog, Billie Jean.
Named after the former tennis great, the well-traveled pooch is too big to fit under the front of an airline seat, which Roddick joked has caused a few emotional issues for the dog.
"You know, we've had to keep up her self-esteem, because the airlines have deemed her too fat to fit on a plane," Roddick said. "So we have to constantly shower her with love and build up that self-esteem and tell her she's beautiful."
Of course, showering a girl with love and compliments is only half the battle. With his first anniversary approaching, Roddick is well aware that tradition calls for the first anniversary present to be something of paper, but doesn't quite get the romance of that type of gift.
"Yeah, we were talking about it the other day," Roddick said. "Stupid paper. What do you buy? Stationery?
"We had the conversation, like, 'we don't need gifts', and now I don't know if that's code for, 'You better get me a gift.'"
Though Roddick knows he'd be ill-advised to arrive home without an anniversary present the suggestion that money could be a plausible paper gift received a chuckle.
"Oh, yeah, money," Roddick said. "No. she better give me money. She's had a better year professionally than I have."
Sandra Harwitt is a freelance writer for Sports Media Exchange, a national freelance writing network.
Sandra Harwitt is a freelance tennis writer for ESPN.com.