Commentary
'Fear the Deer' highlights 'Brunch'
Originally Published:
April 4, 2010
By
Jerry Greene
| Special to Page 2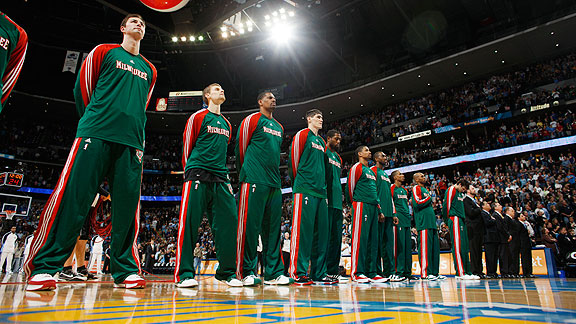 AP Photo/David ZalubowskiMilwaukee center Andrew Bogut is out indefinitely, so are you less likely to 'Fear the Deer'?
We're a jaded bunch at Sunday Brunch, so we rarely admit to being excited about any sporting slogan -- especially one from the Milwaukee Bucks. But our fancy is tickled by the Bucks' current slogan:
"Fear the deer."
That just sounds cool. So cool that it should be borrowed by a film that's just begging to be made -- right, a remake of "Bambi."
Listen to the voice-over:
"This in not your grandparents' Bambi. Directed by Quentin Tarantino, this is the story of a child who watched as they burned his home and butchered his mother. But revenge would be his as he stalked them down and taught them a lesson they would repeat with their dying breath: Fear the deer!
"Starring Sandra Bullock as Mom, Mel Gibson as Dad, Sarah Palin as the huntress, and in a career-defining role, Shia LaBeouf is Bambi! (Special cameo appearance by Megan Fox as, uh, the fox.)"
Hey, wouldn't you rather watch that than the Milwaukee Bucks?
And now some Brunch appetizers before we turn to the master chefs for our main courses:
• We're confused. Before "Joe Buck Live" was officially put to sleep by HBO, Buck showed his connection with the rest of us by saying he wouldn't particularly miss it. But now he says he's talking to FOX Sports about developing a similar new show. Isn't that like designing a new ship similar to the Titanic?
• Math class: The Jacksonville Jags proudly announced they have 6,000 new season-ticket sales while 20,750 of last season's 27,000 season-ticket holders have renewed. Uh, pardon us, but doesn't that mean season-ticket sales are down 250?
• Stephen King has written a novella about a baseball superstar whose name was erased from history because he had a secret worse than any drug scandal. Spoiler alert! Sunday Brunch has learned the terrible secret -- he actually liked the Magic Johnson late-night show.
• You know, TMZ is one thing, but could you ever imagine being trashed in Vanity Fair?
• Tweet of the week: "Obama to throw out first pitch in Nationals season opener, instantly moves to frontrunner to be Mets' eighth-inning man." -- New York Post's Joel Sherman
• There's going to be a TV series covering 35 demolition derbies around the country. Insert your hybrid car joke here.
Now let's taste what the master chefs have prepared for our Sunday Brunch:
• Let's start the Easter Sunday Brunch with a quick look at what will be happening this week in sports, provided by Ray Ratto of the San Francisco Examiner. Take particular note of Thursday, when, according to Ratto, "Tiger Plays, and the cherubim and seraphim sing!"
• "Cherubim and seraphim" sound appropriate for an Easter Sunday Brunch but not so much this report that instead of eggs, the folks at Pimlico Race Course are hunting for the perfect way to bring spectators back to the Preakness and think they've found it. Unlimited beer! Yes, a 16-ounce cup will cost 20 bucks -- but you can refill it as many times as you can stand. So sayeth Kevin Cowherd of the Baltimore Sun, who is not our Colin Cowherd, just to keep the record straight.
• To most of us, the Kentucky Wildcats men's basketball team is just a distant memory as we are all following Butler versus Duke, but to Dan Shaughnessy of the Boston Globe, the Wildcats fans are still relevant -- and a little scary.
• Hey, Knicks fans, are you looking forward to getting rid of Tracy McGrady? Well, if McGrady returns to the Orlando Magic, Mike Bianchi of the Orlando Sentinel says that would be like Benedict Arnold trying to triumphantly rejoin the continental army after Cornwallis surrendered at Yorktown. (Never heard of Arnold or "Coach" Cornwallis? No sweat. There won't be a test, as we are on spring break at the Brunch.)
• Sticking with pro basketball instead of the semipros playing in Indianapolis, T.J. Simers of the Los Angeles Times takes a serious look at Kobe Bryant and wonders, "Is there a better example of lost perspective in sports, fans assuming that great talent also makes for a great human being?"
• With baseball upon us, let's close this Sunday Brunch with Kansas City's Joe Posnanski explaining the rules for his proposed Bad Baseball Hall of Fame, including that "there should be a minimum 6 seasons and 843 plate appearances for hitters [The Bob Uecker Rule]." As they say, Bob Uecker, we kid because we love.
Jerry Greene is a retired columnist for the Orlando Sentinel. He can be reached at osogreene@aol.com.