Commentary
So glad Arena League has returned
Originally Published:
April 6, 2010
By
Tracy Hackler
| Special to Page 2
A tree fell in the sports forest over the weekend. I'm assuming you missed it. Most of the rest of America did, too.
Not me. I heard it fall because I knew it was coming; heck, I was anxiously awaiting its arrival. The 2010 Arena Football League season kicked off Friday night.
Four more games followed suit on Saturday and you can bet there are at least a few other folks on the planet -- a precious, precious few -- who were beside-themselves giddy at the AFL's return after an almost 20-month hiatus.
Indeed, Easter weekend presented a long-overdue rebirth for the AFL following the cancellation of the 2009 season and the eventual bankruptcy announcement last August.
Undaunted, new league commissioner Jerry Kurz spearheaded a group that purchased most of the original AFL's assets in December.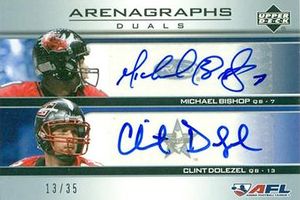 Upper DeckMichael Bishop and Clint Dolezel are on a card.
Less than four months later, a new 15-team AFL was born. That doesn't mean much to most folks, but to those who do care, it means an awful lot.
Confession: My over-the-wall obsession with the AFL started as little more than casual curiosity six years ago; simply a way to while away the months until the NFL started back up.
But a funny thing happened on the way to September. I got hooked by an uncannily entertaining product that's profusely offensive and point-laden. At its core, the AFL is a blast to behold: Imagine the NFL mainlining Vivarin on a field that's half as small and almost half as wide. Offense takes priority, defense is largely an afterthought, and the league's most potent teams average more than 60 points per game.
AFL action takes place at a breakneck pace seemingly tailor-made for the ADD crowd spoiled by the expediency and gaudy numbers of today's sports video games.
I fell for the players and the teams and the game and the funky rules and the fact that it was football during the dead of spring. It's exciting, it's fun, it's affordable, it's easily accessible.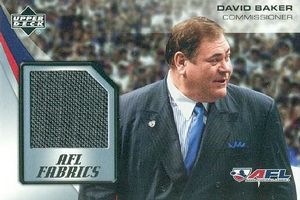 Upper DeckCheck out former Arena League commissioner David Baker.
I say all of that to say this: I've got my fingers crossed that this new AFL is just as captivating as the old one; one week in, my optimism is tempered.
But just to prove that there's no limit to my dorkdom, I hope the new league eventually gets a trading card deal like the old league had with Upper Deck. Yes, even the Arena Football League had trading cards … for two years, at least.
Which brings me, at long, merciful last, to my point. As this new upstart AFL attempts to find its footing -- using many of the same players and the same teams we last saw almost two years ago -- here's a quick description of five classic AFL cards to get you in the mood.
1. Will Pettis is largely regarded as one of the greatest iron men in AFL history, that rare player who shines on offense, defense and special teams. Initial reports had him returning to the Dallas Vigilantes (formerly the Desperados) in 2010; unfortunately, that didn't happen. I consider this the best card of the old AFL's best player.
Value: $20
2. AFL legend Clint Dolezel is professional football's all-time leader with 931 career TD passes. He likely would've surpassed 1,000 if there had been a season last year. Today, Dolezel is the head coach for the San Angelo Stampede Express of the Indoor Football League. This card, which he shares with Michael Bishop, arguably the greatest running quarterback in AFL history, is his most valuable.
Value: $60
3. Former AFL commissioner David Baker remains the only sports league executive with a "front-office-worn" memorabilia card -- and this is it.
Value: $25
4. Without the AFL, country music megastar (and former Nashville Kats co-owner) Tim McGraw wouldn't have an autographed trading card.
Value: $150
5. This is one of the most valuable AFL cards ever produced and it features two league luminaries -- former Colorado Crush co-owner John Elway and former Crush Damian Harrell, one of the greatest arena football receivers of all time. Today, most die-hard AFL fans blame Elway for expediting the league's demise. Harrell, now with the AFL's Milwaukee Iron, began his 11th season indoors Friday night by catching 10 passes for 103 yards and two TDs in a 74-62 victory over the Spokane Shock.
Value: $300
Tracy Hackler is the editorial director for Beckett Media. What are your sports cards worth? Check out Beckett.com -- and be sure to get the latest news on sports cards and memorabilia at The Beckett Blog.