Commentary
Trainer to stay on spin bike for 12 days
Originally Published:
April 9, 2010
By
Paul LaTour
| Special to Page 2
When George Hood climbs aboard his yellow LeMond RevMaster spin bike on Sunday, he pledges to remain on it for 300 hours. He'll take the periodic short breaks allowed by the Guinness Book of World Records, but otherwise he will be there pumping his legs through 1.7 million rotations.
He'll be chasing something without ever moving from the stage set up in a former furniture store in west suburban Chicago. Hood hopes to recapture the Guinness mark for the "longest static cycling marathon," which sits at 192 hours, set in January 2009 in Belgium by Mehrzad Shirvani.
[+] Enlarge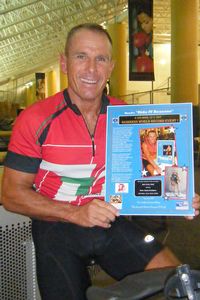 Courtesy George HoodGeorge Hood hopes to set a world record on a spin bike.
A 52-year-old personal trainer in Aurora, Ill., Hood already broke the record twice. His first record ride lasted 111 hours, 11 minutes and 11 seconds, and his second was a personal-best 177:45, which he did in May 2008.
But now he wants to obliterate the mark by staying on his spin bike for 12½ days as part of the Ride IV Reasons event.
"All those rides did before was condition me to be able to pull this one off," said Hood, an ex-Marine officer and former Drug Enforcement Administration agent in Chicago. "They were just glorified training rides."
As Hood prepares for the attempt, he knows he'll fight not only physical fatigue, but also mental impairment as his mind slowly succumbs to sleep deprivation. Guinness rules permit him to take a five-minute break for every hour of riding, and that time can be accumulated.
But that's not much rest. He knows his mind will try to fool him. It will make him think the supporters surrounding him wish to do him harm. It will tell him to stop pedaling.
To help overcome that, Hood has consulted with Christopher Arns, a mental conditioning coach whom Hood befriended March 28. Arns is trying to condition Hood's mind so he can better handle the mental roadblocks his brain will set up.
"When you get in these longer, extended workouts, it isn't about your fuel for your body anymore," Arns said. "Now it's about what you've got between your ears and how you're working with it."
Before his most recent attempt, Hood said it would be his last. But a 2008 trip to Afghanistan -- as a civilian law-enforcement professional embedded with a U.S. Marine unit -- changed his mind. While Hood did not participate in combat, he did see the effects of battles, which often left soldiers dead or maimed. That inspired him to get back on his spin bike.
"It just rips your heart up," Hood said. "I'm trained to deal with that kind of crisis management, but these are 18- and 19-year-old kids thrown in the middle of chaos. It's powerful stuff. That moved me."
Hood's motivation includes trying to do something to help the soldiers and their families. So just like his previous rides, this one is to benefit charitable organizations. Hood hopes to raise $200,000 for the Injured Marine Semper Fi Fund and the United Way of Fox Valley.