Commentary
UFC's Shane Carwin collects cards
Originally Published:
April 16, 2010
By
Tracy Hackler
| Special to Page 2
How could the marketing masterminds over at Apple possibly have overlooked UFC interim heavyweight champion Shane Carwin while promoting their latest gift to gadget-heads?
The guy has hands as big as iPads themselves and they're touch-sensitive, too. After all, if he touches you with them, you fall.
Just ask Gabriel Gonzaga or Frank Mir, both heavyweight title contenders who in the last year have succumbed to the Nyquil-knockout power of Carwin's oversized, bad-intentioned bombs.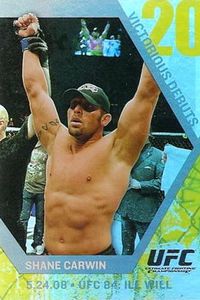 topps incUFC champion Shane Carwin loves this Topps card of himself.
Indeed, at 6-5 and 265 pounds, Carwin is a massive man with massive mitts and a massive agenda. He's expected to battle UFC heavyweight champion Brock Lesnar on July 3 in a true clash of the titans that's guaranteed to deliver fireworks.
But Carwin's not all face-breaking brawn, regardless of what his 12-0 record -- including nothing but first-round victories -- might lead you to believe. He's a mechanical engineer by day and a methodical mauler by night. He's also a big-hearted doting dad who collects sports cards with his 9-year-old son.
It's fitting that the Colorado native recently inked a sponsorship deal with an online sports card distributor named Blowout, seeing as how that's what most of his fights end up being. The company is currently auctioning off Carwin's walkout hat from his UFC 111 victory over Mir to help him raise money to benefit a 3-year-old girl battling a rare form of spine cancer.
Recently, the 35-year-old former NCAA Division II wrestling champion and two-time college football All-American took time away from his day job to discuss, of all things, his heavy-hitting UFC trading cards.
To date, Carwin has appeared on 36 of them, including one that's valued at $300 and four more that are worth at least $50 apiece. Not bad for a guy who had exactly zero cards seven months ago.
When you started in this sport five years ago, there were no mixed martial arts trading cards. Back then, did you ever envision appearing on one?
"You know, I don't know if I ever did. Now that the opportunity is here and they're out, I think it's awesome. It's something I get to enjoy with my family and especially my 9-year-old son right now, because he's into collecting cards. I was excited about it. For all of the other professional sports, as kids, having a card is something that they dream about. For this to happen for MMA, it's unbelievable. I don't know if all this stuff has even really hit me yet."
What did he say when you showed your son some of Dad's first cards?
"He just grinned ear to ear. He thought it was pretty cool. He didn't say a whole lot. You could just see it in his eyes."
When it comes to your own trading cards, is there a type of photo that you like the best?
"Yeah, there's one that's got both of my arms raised and it brings back some great memories. There's a lot of pride that goes into being on one of those cards. When you look at it, you see all of your hard work and dedication. It brings some gratitude to you."
Topps' first UFC trading cards in February of 2009 really took the sports collectibles industry by storm as some of the most popular cards of the year. Did the fighters themselves realize how popular those cards were?
"Absolutely. The whole thing is exploding in every facet out there -- with marketing and media -- and just becoming more of a worldwide sport. I think that's the ultimate goal of it."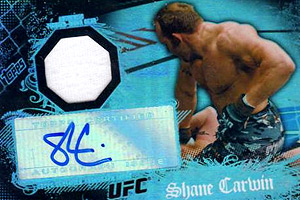 ToppsShane Carwin's shirt was used in a trading card.
What was your reaction when Topps asked for one of your shirts or a pair of your trunks so they could cut them up and put them on cards?
"Well, my son has collected football cards and his most exciting cards to get are those relic cards. So when they asked, I thought that was pretty cool and I was pretty excited about it. That's awesome that they take something like that and are able to put it on a card. It's exciting for [my son] to get one of those, too."
If you had to guess what your most valuable trading card was worth, what would you say?
"[Laughing] Oh, I don't know. I wouldn't even have a guess."
It's $300.
Tracy Hackler is the editorial director of Beckett Media. Check out Beckett.com -- and be sure to get the latest news on sports cards and memorabilia at The Beckett blog. You can also follow him on Twitter.