Commentary
How does Jerry Rice stack up?
Originally Published:
April 17, 2010
By
Patrick Hruby
| Page 2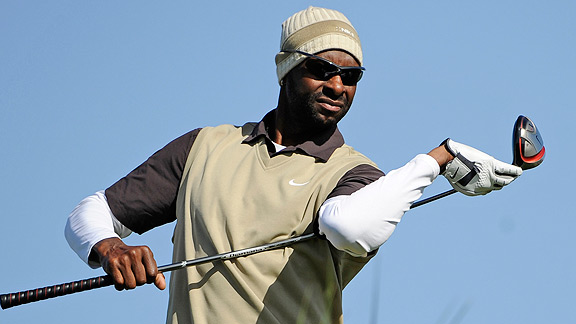 Chris Condon/PGA TOUR/Getty ImagesNFL Hall of Famer Jerry Rice struggled on the golf course. And we mean struggled.
After a dismal first day, Jerry Rice joked about melting down his putter. Might have been a sound idea. Making his professional golf debut on the Nationwide Tour, the pro football Hall of Famer missed the cut, finishing 17-over and 151st among the 152 players who completed two rounds.
How does Rice's nascent effort to forge a second athletic career compare to other sports stars' attempted career crossovers? Page 2 takes a quick look at the good, the bad and the ugly:
The Good
John Brodie: The 1970 NFL MVP and longtime San Francisco 49ers quarterback -- yes, the Niners actually had a good signal-caller before Joe Montana -- spent three seasons on golf's Senior Tour, tallying six top-10 finishes and winning one tournament.
Althea Gibson: The first African-American woman on the world tennis tour, Gibson earned a No.1 ranking and won five Grand Slams -- and then joined the LPGA, playing for seven years and tying for second place at the 1970 Buick Open.
Herschel Walker: Heisman Trophy winning running back at the University of Georgia dominated the USFL and went to two Pro Bowls as a member of the Dallas Cowboys; post-football, made the U.S. Olympic two-man bobsled team (finishing seventh in the 1992 Games) and won his MMA debut fight at age 47.
Danny Ainge: Former college basketball star batted .220 with two home runs during a three-year stint with the Toronto Blue Jays; left baseball for pro hoops, where he helped the Boston Celtics win two championships and Portland and Phoenix reach the NBA Finals.
Scott Draper: Athletic Aussie won tennis' Australian Open mixed doubles title in 2005 before capturing golf's New South Wales PGA Championship in 2007.
The Bad
Jose Canseco: Baseball slugger-cum-PEN/Faulker award wannabe failed at both Celebrity Boxing -- getting TKO'd by former NFL'er Vai Sikahema and drawing with one-time child star Danny Bonaduce -- and actual MMA, losing to a 7-foot-3 Korean fighter in 77 seconds. On the plus side, Canseco was a "Surreal Life" natural.
Johnnie Morton: Former NFL receiver KO'd in just 38 seconds during MMA debut; adding insult to injury, was suspended by California State Athletic Commission for failing to provide drug testing urine sample.
Justin Gatlin: Gold medal-winning sprinter at 2004 Olympics received four-year drug suspension from track and field, was unable to follow in the speedy footsteps of Willie Gault and Bullet Bob Hayes -- or even earn an NFL roster spot -- despite workout with Houston Texans and rookie camp invite from Tennessee Titans.
Michael Jordan: Curveball-chasin' minor league baseball sojourn following first NBA retirement best summarized by "Bag It, Michael!" Sports Illustrated cover.
The Ugly
Herschel Walker: Fired during "Celebrity Apprentice" for failing to create a new meal for a frozen food company … even though Walker owns a food service company in real life. Fail!
Carl Lewis: In a crowded lineup of failed sports-to-music crossovers, Lewis' epochal butchering of the National Anthem before a 1993 Chicago Bulls-New Jersey Nets game stands apart. Voice cracking, Lewis promised to "make up for it." Nearly two decades later, the world is still waiting.