Commentary
Hogan, Flair autograph cards
Originally Published:
April 22, 2010
By
Chris Olds
| Special to Page 2
Although Hulk Hogan and "The Nature Boy" Ric Flair are pretty much household names, there's some professional wrestling history to be made next week that involves both of them.
Well, professional wrestling trading card history, that is.
When the next set of Total Nonstop Action wrestling cards from Houston-based TRISTAR arrives next Wednesday, it will include the first certified autograph cards featuring both Flair and Hogan together.
[+] Enlarge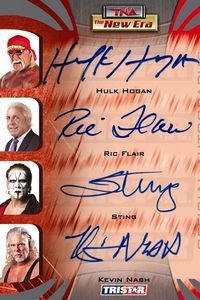 TRISTAR for ESPN.comCheck out the signatures on this trading card.
It's a bit surprising given the fact that the two have a combined 70 years of wrestling experience and that they both made their trading card debuts nearly 30 years ago.
Why is it a first? Historically, Flair has never really been into the whole autograph-signing thing. (My money says that he was too busy stylin'and profilin' while being a limousine riding, jet flying, kiss-stealing, wheelin' n' dealin' son of a gun.)
Flair's first certified autograph -- a card signed for a company and inserted into packs -- came just last year as he signed a relatively limited number of cards for Panini's Donruss Americana non-sports set. It's a release that includes celebrities like Jackie Chan, Michael Madsen, John Cusack, John C. McGinley and the esteemed Fred Willard. (Willard was the one I got out of a pack & go figure.)
Flair signed just 225 cards and they go for as much as $250 on the secondary market. (That's enough to make somebody "Wooooo!") Yet it's not Flair's most valuable card.
In 1998, Topps made cards for the now-defunct World Championship Wrestling organization owned by Ted Turner. It sent cards to Flair to be signed, but for whatever reason he never returned the cards. When one of those cards recently surfaced on eBay (one presumably given to a WCW employee) it sold for $1,175, despite being a bit damaged.
There's the true "Wooooo!" card -- one that wasn't supposed to exist.
Next week, though, TRISTAR does those cards one better as both of the wrestling icons are in the "TNA: The New Era" set.
And the ability to have one of the most-recognizable people in the world help sell TRISTAR's cards wasn't lost on company president Jeff Rosenberg.
"It's all upside for us," said Rosenberg, who started TRISTAR in 1987 as a card show promotion and memorabilia company. "From 10-year-olds to 60-year-olds and everything in between, everyone knows who he is. Hulk Hogan is the biggest name in wrestling, and I'm very excited."
Hogan, who historically is an expensive but available autograph for collectors to obtain, appears on 10 autograph cards to be found in the TNA set where he is paired with other stars. One of those cards, which this wrestling card collector believes is the best wrestling trading card ever made (at least so far), features autographs of Hogan, Flair, Sting and Kevin Nash all on the same card.
What's that sound TRISTAR soon expects to hear from collectors when they find one of these cards again?
"Woooooo!"
Chris Olds is the editor of Beckett Baseball magazine. Check out Beckett.com -- and be sure to get the latest news on sports cards and memorabilia at The Beckett blog. You can also follow him on Twitter.