Commentary
Jacksonville watches Tim Tebow walk
Originally Published:
April 25, 2010
By
Jerry Greene
| Special to Page 2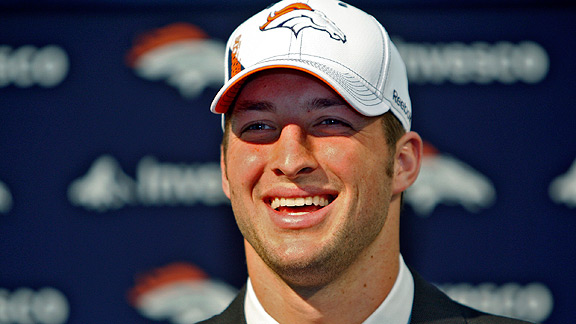 AP Photo/Ed AndrieskiJacksonville, Fla., had the highest TV rating for the NFL draft. Wonder who they wanted?
Something sad about ESPN's overnight ratings for Thursday's opening round of the NFL draft. No, the Sunday Brunch is not talking about the 5.4 metered market Nielsen rating that was up 25.6 percent from 2009 and kicked the stuffing out of the NBA playoff ratings from the same night. That wasn't sad, that was wonderful.
But this is what was sad -- the No. 1 market for the draft throughout the entire United States of America was, wait for it, Jacksonville, Fla. Yes, Jacksonville posted a 10.9 -- twice the national average.
Do we really think all of Jacksonville was watching and praying that their Jags would pick defensive tackle Tyson Alualu of California? No, we don't think so.
And if Mr. Alualu dares tackle the newest Denver Bronco -- Tim Tebow -- in the season opener, his next stop will be in witness protection.
But Mr. Alualu will look great two years from now in his Los Angeles Jaguars uni.
What else is happening?
• Congratulations to Boston Marathon winner Robert Kiprono Cheruiyot from (duh) Kenya. The young farmer won $175,000 and had the best plan we've heard in a long time on what to do with the money: "I am going to buy some cows." You think Sam Bradford has the same plan?
• And then there's Ben Roethlisberger, the Pittsburgh Steeler quarterback who will not be playing in at least the first four to six games this season due to his suspension for unbecoming behavior. Adding insult to suspension, Roethlisberger's life-sized image has been removed from the path to the elephant barn at the Pittsburgh Zoo. Sunday Brunch can neither confirm nor deny that his image has been placed on the path to the weasel cage.
• Talk about romantic. The Auto Club Speedway in Fontana, Calif., will hold a legal wedding and vow renewal ceremony Oct. 10 before the NASCAR Sprint Cup Pepsi 400 with driver Michael Waltrip serving as everyone's best man. And all couples involved will receive "lug nuts tailored for the occasion." Can't you hear the ceremony: "With this lug nut, I thee wed …"
• The good news for the Blue Jays was that Tuesday's crowd of 10,565 for their game against the Royals was just their second smallest ever. The bad news is that the all-time lowest of 10,314 was on Monday night.
• Subway created images of NFL draft stars Ndamukong Suh and C.J. Spiller out of pepperoni, olives, cheese and other edibles. No fair! That's No. 26 on the Sunday Brunch Bucket List.
• But speaking of Suh, it's no joke that he already has announced his plans to give $2 million to the Nebraska athletic department and another $600,000 to endow an engineering scholarship. Good man.
• Sunday Brunch Quote of the Week comes from legendary broadcaster Vin Scully on 60 years of calling Dodgers baseball: "It is still fun. It's not a grind. It's not like you come out here thinking, 'OK, I can't wait until the day is over.' " -- Fortunately for Mr. Scully, he doesn't work for the Baltimore Orioles.
• And for our last Brunch tidbit, the Kentucky Derby is Saturday. They will be selling a mint julep for $1,000 a glass. The ice will come from a glacier at the Arctic Circle that is 10,000 years old. That's a lot of money for really old ice.
Onward and upward to the main courses in the Brunch:
• The first course of the Brunch is a tasty treat from Tom Jones of the St. Petersburg Times, who looks at the good things and bad things in recent sports news. Tom thinks it is a bad thing for NFL Commissioner Roger Goodell to sign off on a Sunday night New Orleans-Pittsburgh clash Oct. 31 when he knows there will probably be a World Series baseball game then. Careful, Tom -- the Judge & Jury Commish knows where to find you.
• Jeff Gordon of the St. Louis Post-Dispatch ponders some Mysteries of the Universe including if anyone in any sport other than golf would call a penalty on themselves that potentially cost them a title and more than $400,000 as Brian Davis did last weekend. And Gordon also throws in a hilarious mascot video that's not to be missed.
• T.J. Simers of the Los Angeles Times went to Oklahoma City to watch the Lakers lose again. Simers thinks Oklahoma City has better fans and even a better team, except for center. And wait to you read what he has to say about Kobe.
• Let's turn to Kansas City's Joe Ponanski for a quick review of the NFL Draft, including the Chiefs using a top pick for safety Eric Berry. Says Joe: "Taking a safety with the fifth pick seems a bit like using one of your three genie wishes to get sensible shoes." And like everyone else, he wonders about what Jacksonville was thinking.
• We'll close the Brunch with Peter Schmuck of the Baltimore Sun giving us his take on numerous things including the Orioles and the Ravens. Well, not really much he can say about the Orioles, is there? Check it out.
Jerry Greene is a retired columnist for the Orlando Sentinel. He can be reached at osogreene@aol.com.