Commentary
For kicks, Jason Elam is an adventuror
Updated:
April 30, 2010, 10:45 AM ET
By
Lynn DeBruin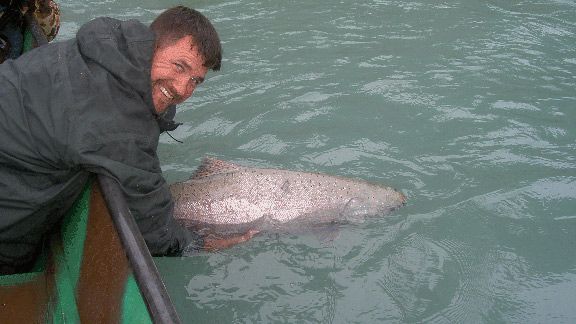 Courtesy of Stephen LeBlanc Jason Elam was a great kicker in the NFL and has lived an adventurous life.
Many players find themselves lost after their NFL careers are over.
That won't be the case for Jason Elam, even if he's piloting his Piper two-seater to a remote bush village in Alaska, hunting in Kenya or doing missionary work in the war-torn Middle East.
"I've got too many things I'm excited about. And I have five kids, too," said Elam, who rates as the Denver Broncos' all-time leading scorer and is fifth all-time in NFL history with 1,983 points and 436 field goals.
Elam, who turned 40 on March 8, rejoined the Broncos for a day in late March so he could retire with the team he was with for 15 seasons (he left Denver after 2007 to play 1½ seasons in Atlanta).
While his favorite memories will be drilling an NFL-record-tying 63-yard field goal, winning two Super Bowls and scrambling to kick a game-winner in Buffalo as fans counted down the clock, his experiences off the field make those look like child's play.
He's dodged bullets in Gaza, grizzlies in Alaska and a gargantuan jewfish while diving off the coast of Florida.
This summer he'll even appear on ESPN2's "Browning Expeditions" with good friend and former neighbor Steve LeBlanc, showing a side of Elam many haven't seen.
There is the practical joker who flicked a 5-inch Golden Orb spider at his hunting partner, the competitive fisherman who once accidentally hooked himself in the lip and a guy so seriously afraid of snakes he showered by the light of a gas lamp held by LeBlanc.
"We were like two little school girls, holding the lantern for each other, trying to shower," said LeBlanc, a Denver-area sculptor and avid outdoorsman who has traveled the world with Elam.
"If I had had a rubber snake on that trip, he would have gone absolutely nuts."
Another trip had them camping outdoors on upper Kenai Lake in Alaska several years ago.
"He gets up and I thought he was just going to look around. Then all of a sudden I heard him yelling, 'Hey bear, away bear, away bear,' and I'm thinking, 'I'm not falling for this. No way,'" LeBlanc recalled. "Then I heard him jack one into the shotgun."
It turns out an 8½-foot brown bear was standing about 50 feet away, eyeing them.
They were able to scare it away and laugh about it later.
Other trips Elam takes are more serious.
He's been going to Alaska for about 10 years now, and several years ago bought a home on a lake south of Anchorage (he's also become an Alaskan citizen).
With his small airplane (one of two he owns and pilots), he does missionary work, flying to villages so remote there isn't a paved road within 500 miles.
"We try to do some good up there," said the humble Elam.
That could mean dropping off supplies to natives who live in darkness from October to March or just offering encouragement.
"The conditions are so dark. And more than just in a physical sense," Elam said. "There's a lot of alcoholism up there. There's not much hope, so we go up there and try to encourage the people, do whatever we can."
Elam is as serious about his faith as anything. It's why he's taken Master's level classes in global apologetics, spread the gospel in Kenya and other parts of Africa, and why he's been taking tours of the Holy Land the past 10 years.
"It was so incredibly enlightening. It brought the Bible from black and white to color for me. And I've always been intrigued about the Middle East with what's going on over there," said Elam, who has co-authored four faith-based thrillers and has a brother serving in the military.
It was his brother who sent him a pair of Rhino-skins - military-issue underwear to guard against insect bites.
During one trip to Kenya, Elam put them on and called LeBlanc's attention with a big "Ta-Da" entrance, only to suffer endless ribbing.
"I tell everybody I've seen Jason in pantyhose," LeBlanc said. "He hates that."
Lynn DeBruin, formerly of The Rocky Mountain News, is a freelance writer for Sports Media Exchange, a national freelance writing network.