Commentary
Fans give us Derby horse names
Updated:
April 29, 2010, 2:29 PM ET
By
Jerry Greene
| Special to Page 2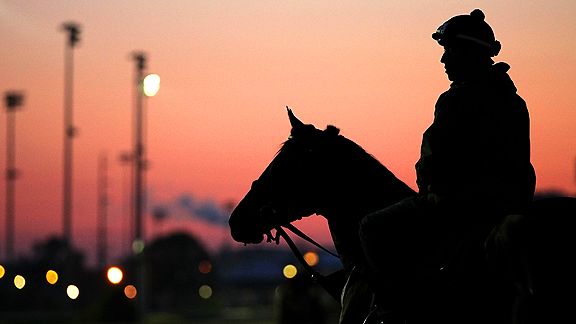 Jamie Squire/Getty ImagesWe received more than 500 suggested names for a Kentucky Derby horse.
"A horse is a horse, of course, of course," but a Kentucky Derby champion should have a cooler name than Mr. Ed or Ice Box, a real thoroughbred that has 10-1 opening odds to win Saturday's Run for the Roses.
We asked you for some great names for the next Kentucky Derby champion, and you delivered big-time.
You had to follow the stringent rules of the Jockey Club, which mandate that names cannot be longer than 18 spaces. If needed, you can run words together to make your name fit, such as this early entry "Tebowleggeditout."
So what's in a name anyway? Are all Kentucky Derby champions as well-named as Charismatic, Spectacular Bid and Secretariat? Hardly.
The first Kentucky Derby was won in 1875 by Aristides, which has that classical feel of a word that makes no sense to most of us. But the next Run for the Roses was won by Vagrant. Really?
Jumping to 1932, the winner was, uh, Burgoo King. We don't know if he sired a horse called Homeofthewhopper.
Last year's winner was Mine That Bird, which doesn't sound very grammatically correct.
So we asked you to do better. Hundreds of creative minds submitted more than 500 names. Tiger Woods was the most popular subject, but Ben Roethlisberger and Tim Tebow were right there, too. We cannot hope to list them all here but have subjectively chosen the top names, broken into "Win," "Place" and "Show" groupings.
• Win: She'sGotANineIron, Matt M., Freeport, Ill.; Kobe's Acquittal, Curt H., Indianapolis; Haulin' Oats, D. Fisher, Lancaster, Pa.; Andy Reid's Diet, Ryan M., Colts Neck, N.J.; LeBronsfirstring, Jim J., Geneva, Ill.; BigBen'sBodyguard, SSgt DeGrasse, Keesler AFB, Miss.; A-Rod's Mirror, Ryan F., Tulsa, Okla.; Runaway Prius, Hampton R., Collierville, Tenn.; Elin's Slice, Gabe M., North Merrick, N.Y.; Theresanappforthat, Brett S., Cincinnati; SamesizeasJaMarcus, Mark M., Apopka, Fla.; Oatcho Cinco, Adam N., New Orleans; Colin Horseherd, Todd M., Zeeland, Mich.; The Big Tebowski, Joel F., Hebron, Ky.; Kenny's Mane, Chris F., New York City; Tebowchangedmylife, Curt H., Indianapolis; Behind By A Neck, Shawn B., Orlando, Fla.; Dukefloplikefish, D. Bell, Pawleys Island, S.C.; Entitled, Dan J., Rancho Santa Margarita, Calif.; HorseThatRuthBuilt, Dustin C., Hershey, Pa.; and, bringing up the rear, Public Apology, Galen P., San Francisco.
• Place: Victorious Secret, John McG, Chicago; BigPapi'sFlatTire, R. Lindsay, Sikeston, Mo.; LeBronco, Pete M., New York City; Rabid Ginobili, Anthony, Cleveland; Philadelphia Spew, Alex S., Huntingburg, Ind.; MaliceInThePalace, Ray S., Lake City, Fla.; The Wanstache, Elliott C., Columbus, Ohio; Butterflystampede, Nancy S., Fresno, Calif.; Looks Like My Ex, Andrew G., Newark, Del.; TooMuchForHoward, Jason M., Neenah, Wis.; Steroid Stablemate, Ray S., Lake City, Fla.; Big Ben's Alibi, Jarrod D., Fort Myers, Fla.; DarkSideOfTheMoon, Bryan M., Grand Prairie, Texas.
• Show: Mint Gallop, Zach M., Atlanta; Doubledowndan, Brent N., Ashland, Ky.; Avatarded, Brandon T., Tegueste, Spain; Crossing The Mound, Dustin C., Hershey, Pa.; Fillyharmonic, Dave H., Toledo; NoDoubtAboutIt, Jorge R., Tulare, Calif.; Millen Draft Pick, Pat V., Plymouth, Mich.; TiredofGoingLeft, Tim P., Rolette, N.D.; Got Ur Back, Michael W., Ocean View, N.J.; Where's My Cesta, David F., Braintree, Mass.; Rose Seeker, Chris H., Bentonville, Ark.; Gimmethebleeproses, Jimmy T., Greensboro, N.C.; and Hoof Hearted -- the first of many to submit this name was Anthony V., Atlantic City, N.J.
• Special Superfecta: Our "Best in Show" award to Bill P. of Tualatin, Ore., for the following four-bagger: Tebow Messiah, SackingSamBradford, LeBronchitis and Favre-atar.
Thanks for playing, and good luck Saturday picking the real name of the next Kentucky Derby champion. Please don't let it be Ice Box.
Jerry Greene is a retired columnist for the Orlando Sentinel. He can be reached at osogreene@aol.com.