Commentary
I beat Jim Courier at tennis, sort of
I beat four-time Grand Slam singles champion Jim Courier in tennis.
OK. It was just one game.
And it was Wii tennis.
And he totally let me win. But let's not get bogged down by technicalities.
Courier is in Boston to participate in this weekend's Staples Champions Cup. A single elimination tournament, the event also features Bjorn Borg (11 Grand Slams), John McEnroe (seven Grand Slams), Mats Wilander (seven Grand Slams) and Mark Philippoussis (2003 Wimbledon runner up and star of the reality dating show "Age of Love").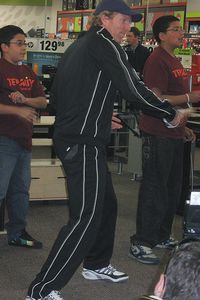 Maria Burns OrtizJim Courier plays Wii tennis and plays it poorly.
The Staples Wii Tennis Challenge kicked off the Champion Series stop, giving kids and fans the chance to face off against Courier and Philippoussis in the video game version of the sport. It also served to promote the tournament's charity partner, Tenacity, a local youth organization that provides after-school, summer and tennis programs.
The kids from Tenacity proved to be worthy opponents.
"Clearly in Wii tennis, the youth movement has a first-mover advantage," Courier said. "They've spent a lot more time playing these games than I have, and it showed. They dominated me. I'm not going to lie. The results were clear. I was dead last."
While Courier admitted he does not own a Wii, it was clearly not Philippoussis' first time picking up a virtual racket.
"I remember when it first came out," the Australian said. "I love gadgets, and I was like, 'I've got to see what this is about.' It's great. You're not sitting on the couch just using your thumbs. You're up, and it's more physical."
Philippoussis certainly got into the game, lamenting missed shots and, on more than one occasion, questioning the virtual line judge's calls. His experience showed as he swept the competition.
"These kids are good," Philippoussis said. "I told one of them, I didn't think he was doing his homework the last few days. I think he was practicing.
"But I took him out," he said of his sixth-grade challenger. "He was tough, but I took him out. So I'm going to sleep good tonight."
Asked about Philippoussis' suspicion, Leo Kotomori balked at such a claim.
"No way," Kotomori said. "No, I do my homework first and then play."
Playing as Roger Federer certainly didn't hurt. Although in the pros' case, choosing as they did to play as Borg could prove even more beneficial.
"I noticed some tendencies in Bjorn's game just by playing as him in Wii that I think I can exploit should I see him on the other side of the net in this tournament, so that's encouraging," Courier said. "It's a two-fold purpose for being here. A little interaction with Tenacity and fan interaction, but it's also some scouting."
As Courier and I both learned, there's also something great about being slightly humbled by a middle-schooler. Kotomori gave me some initial Wii tennis instruction -- "It's really easy: You just push this button here to lob and this one here for a drop shot" -- and I talked to him again after my big win.
"Jim? Oh yeah, I beat Jim," Kotomori told me afterward, as if everyone had swept Courier on the court. "But Mark was hard. I didn't beat Mark.
"But they play real tennis," he added. "We saw a video of them, and if we tried to play them in real life, we'd probably lose."
At which point, I gave him some advice: Sometimes it's best not stress too much over the specifics.
Maria Burns Ortiz is a Page 2 contributor and writes for ESPN Soccernet. She can be reached at mariamburns@gmail.com.
ESPN Playbook
Maria Burns Ortiz covers social media for ESPN Playbook. She began writing for ESPN.com in 2006, covering college soccer for ESPNSoccernet.