Commentary
Jared Dudley loves other side of mike
Updated:
May 7, 2010, 12:23 PM ET
By
Wendell Maxey
| Special to Page 2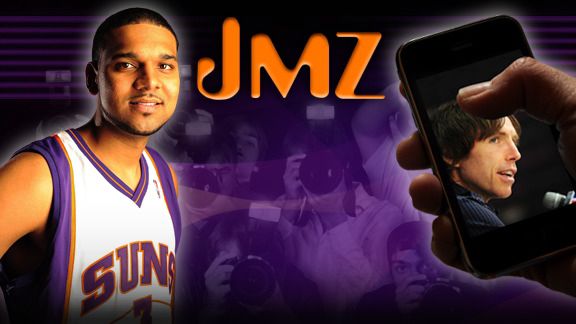 ESPN.com illustrationJared Dudley says he's trying to parlay his experience in iPhone videography into an ESPYS gig.
Jared Dudley is all about the exclusive interview.
Not giving them, but getting them.
The day he started filming his teammates on his iPhone during a preseason trip to Mexico City, his spoofs of TMZ and ESPN -- aptly called JMZ and JSPN -- were born. Now he posts exclusive Suns videos to his Twitter account.
And his goal isn't just to give the inside scoop about his teammates -- it's to land a job working the red carpet at the ESPYS in July.
"I'm trying to get an internship at the ESPYS," Dudley said of ESPN's annual event highlighting the year's best plays and performances across the sports world. "I'd like to do interviews on the red carpet. We'll see if we can make that happen. That would be nice."
The 2010 ESPYS will be hosted by "Saturday Night Live" Weekend Update anchor Seth Meyers and will be televised July 14 in Los Angeles. And while the ESPYS are still a few months away, Dudley's JMZ TwitVid clips stand as his raw footage résumé.
"It's getting a ton of publicity right now," Suns rookie Earl Clark said of Dudley and JMZ. "That's something he lives for. It seems like it's his passion. He'd fit right in on the red carpet. He'd love that."
After beating Portland in Game 6 of a first-round playoff series, Dudley sat in the front row of Steve Nash's press conference, and when there was a lull in questions, Dudley jumped in. On the behalf of JMZ, he asked Nash what it means to advance to the second round after the media wrote the Suns off at the beginning of the season.
"Is this just a big joke to you, Jared?" Nash deadpanned as the rest of the room laughed. "We are supposed to be professionals. We are not here jacking around."
But Nash went on to calmly answer the question in full as Dudley recorded video with a smile on his face.
Dudley started filming guys during the preseason to help keep his Twitter page current. With Phoenix in Mexico City to play the Philadelphia 76ers, Dudley shot video of Nash soccer kicking a basketball into a hoop and running around like he'd just scored a goal. Before Dudley knew it, the video turned up on NBA.com.
After a road win early in the regular season in Philadelphia -- where Phoenix rallied from 10 points down to beat the Sixers in the fourth quarter -- Dudley grabbed his iPhone and interviewed guys on the team bus about the come-from-behind victory.
"That's when I first started it. I got Channing [Frye], J-Rich [Jason Richardson] and Amare [Stoudemire], but he didn't want to be on it," Dudley said. "You get to see everyone's personality and how this team acts."
From there, JMZ heated up like the Suns themselves.
"By midseason, fans wanted more of it. I played off the TMZ thing," said Dudley, whose TwitVid clips can get more than 3,500 views. "They were doing the whole Tiger Woods coverage, and they always get the exclusive interview. So I wanted to get exclusive basketball footage that you can't get on any other Twitter page."
But don't ask Dudley to pick a favorite from his collection.
"There's been so many. I knew when Amare dunked on Anthony Tolliver in Golden State, I wanted to put that on JMZ. I try to keep it current. … Maybe one day I'll do a Budweiser Hot Seat, but [call it] a 'JMZ Hot Seat,' with Steve [Nash]" now that the Suns have advanced to the second round of the NBA playoffs.
And when the playoffs are over, he's not planning to shut down the operation. While playing summer ball at UCLA, Dudley plans to expand JMZ to cover some football personalities he's cool with -- Chad Ochocinco, Terrell Owens and Shawne Merriman.
"I take this serious," Dudley said. "This is about the life of an athlete."
Wendell Maxey is a freelance writer for Sports Media Exchange, a national freelance writing network.