Commentary
Even celebrities have trading cards
Updated:
May 2, 2010, 9:57 AM ET
By
Chris Olds
| Special to Page 2
There have been plenty of unusual sports cards produced in the past decade with celebrities, politicians, historical figures and even inanimate objects making their ways into packs of baseball cards and football cards.
Examples? When Billy Crystal played a spring training game with the New York Yankees a couple years ago, he later appeared on baseball cards made by TRISTAR and Topps. (Crystal's autographed card in 2009 Topps is a tough find -- and it sells for $175.)
Want a card of Fourth of July hot dog-eating icon Takeru Kobayashi? He's in Topps' 2006 Allen & Ginter baseball card set alongside the likes of Danica Patrick, Hulk Hogan, Mike Tyson and, of course, baseball players like Alex Rodriguez and Ryan Howard.
President Barack Obama? He's appeared in countless sets -- autographs, too. George W. Bush? (Yep, along with literally every other president …)
How about already eliminated "Dancing With the Stars" star, Buzz Aldrin? Yep, astronaut autographs are a strong collecting draw. Kim Kardashian? Yep. Cheech & Chong? Yep. Keith Olbermann? Yep. You name them, they've likely appeared on a sports card and signed autographs that can be found in packs of cards as well.
How about a hamburger? No, not the former Redskins linebacker Chris Hanburger … a real beef and bun hamburger.
Yep, it's got a trading card, too, appearing in the aptly named 2009 Topps Mayo football card set.
[+] Enlarge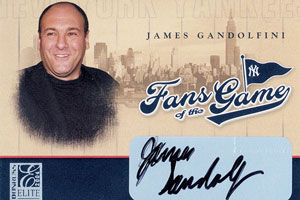 Donruss James Gandolfini of the legendary TV show "Sopranos" even has a trading card.
No autographs there, though.
But where did this trend start with sports sets? Most collectors would point to the Fans of the Game cards produced by Donruss (now Panini America) beginning in 2004. These cards showcased celebrities and other athletes' affinities for certain teams throughout the company's baseball and football products.
The first card was of "Sopranos" star James Gandolfini and when that was relatively well-received the company added more "Fans" into its products, a crop that includes John Travolta, Ray Romano, Charlie Sheen, Michael Phelps, Denis Leary, Shannon Elizabeth, Emilio Estevez, Meat Loaf, Tia Carrere, Bob Saget and comic book icon Stan Lee among many others.
There's even a heavy contingency of current and former ESPN personalities among them as Chris Berman, Rick Reilly, Mel Kiper, Chris Mortensen, Rich Eisen, Linda Cohn and John Clayton signed for Donruss.
When it comes to value, these unique cards often are the person's lone autographed card so that generally can help the value. The most expensive Fans card is Phelps, which typically sells for about $500. (It had been more during his run to Olympic gold.) Other expensive examples include Travolta ($250), Romano ($250; likely because it's rarer than others) and Tony Danza ($250; again because it's a short-printed card). In all, roughly a dozen of the 80 or so autographed Fans of the Game cards fetch $100 or more and even the cheaper ones often sell for as much as $15 or $20.
The interest in these cards was strong enough that, in 2008, Donruss launched a standalone set of celebrity cards called Americana, which brought an even larger list of autographed cards to the masses, but with less of a sports twist. (That's where the autographs of Aldrin, Jackie Chan and even Barbara Bush can be found.)
Despite this explosion of unusual cards, there are countless celebrities and others who just might be household names who don't appear on an autographed trading card -- and they can easily have sports tie-ins.
How about a certified autograph card of the world's biggest Los Angeles Dodgers fan, Alyssa Milano, in a baseball card set? Who wouldn't want a Jeff Bridges autograph card, particularly if he were seen as Jeffrey Lebowski? (He's a great bowler, man.) What about Kevin Costner with one of his countless sports roles? (I'd take Roy "Tin Cup" McAvoy or Crash Davis, myself.) Or how about Quinton Aaron who played Michael Oher in "The Blind Side"? Or how about a card with autographs of both Aaron and Oher together?
Sure, there are business issues there -- licensing fees from studios to use photos we'd all recognize and, of course, getting in touch with the celebs and getting deals those done. They're often not cheap.
Or perhaps we go simpler with someone who many a sports fan would recognize -- and many a "Dancing With the Stars" viewer, too -- someone who is getting a lot of attention these days between both the entertainment and sports media.
Erin Andrews.
Surprisingly, she doesn't appear on a single trading card -- yet. Has Panini, which is the only company presently licensed to produce NBA, NFL and NHL cards, considered her for a possible card?
"I can't say that we have," said Panini Marketing Manager Scott Prusha.
But could it happen?
"We would consider her for Americana or a Fans of the Game card if and when we do it again," said Joe White, Panini's Licenses Acquisition Manager.
The possibilities are out there and there are plenty more examples of cards that don't exist … but a collector can dream, right?
Chris Olds is the editor of Beckett Baseball magazine. Check out Beckett.com -- and be sure to get the latest news on sports cards and memorabilia at The Beckett blog. You can also follow him on Twitter.