Commentary
In NHRA, Forces to be reckoned
Updated:
May 5, 2010, 9:52 AM ET
By
Tracy Hackler
| Special to Page 2
In the official pecking order of sports trading cards, those depicting racing typically rank at the back of the pack. Way back. Past the big four sports, certainly, and probably past those picturing mixed martial artists, golfers and maybe even wrestlers.
Go back and you'll finally get to NHRA cards, which make a blip on the pop culture radar with all the frequency of Halley's Comet (which is to say once every 75 years or so).
It's a sight to behold, sure. But most people go their whole lives without seeing it. Kind of like a $600 Funny Car card.
[+] Enlarge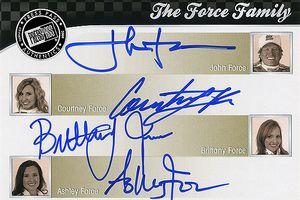 Courtesy of Press PassFor fans of NHRA, this card of the Force family is quite valuable. Yep, $600 valuable.
Leave it to John Force -- with a little help from his pedal-pushing progeny -- to pull off the unthinkable.
Force, who turns 61 this week, is a gregarious, profusely successful everyman who's come to define an entire sport during his 33-year career. He's a 14-time NHRA Funny Car champion who in 2010 is enjoying arguably the greatest season of his career. He's won three times in seven events so far and currently sits atop the standings with 616 points.
Perhaps even more impressively, he's reached a place of prominence in the sports collectibles universe too, thanks to a limited trading card from 2009 Press Pass Legends that includes Force's autograph (an in-demand but readily available commodity) and those of his three drop-dead-gorgeous daughters -- Ashley Force Hood, Brittany and Courtney -- who've followed their famous father into the driver's seat of the family business.
(For the record, Force's oldest daughter, Adria, is married to Funny Car driver Robert Hight and is the CFO of John Force Racing.)
The rare opportunity to possess signatures from all four members of Funny Car's first family on one 2 ½ by 3 ½-inch cardboard rectangle has created a feeding frenzy for the 25 copies of the card in existence.
"I love that I have all of my daughters that are racing on one card with me," Force said. "Having a trading card is pretty cool. The fans love trading cards and having the autographs on them makes them special. I know the one that has all four autographs on it is very popular and that makes me proud of my girls."
It should.
His girls -- co-stars with him on the A&E reality show "Driving Force" -- have helped him create a card that, at $600, is the most valuable in NHRA history. It's also a card that ranks favorably with many of today's most popular NASCAR issues.
Those are prideful feats to be sure, and ones for which Force's oldest racing daughter has a keen understanding.
"Getting all four of our signatures on one item is not the easiest thing to get," said Ashley Force Hood, arguably the most recognizable Force face who has three career NHRA Funny Car victories. "Half of us are in different states most of the time because of our schedules. Brittany and Courtney are still in school at Cal State Fullerton and my dad and I are racing or doing sponsor appearances. We try to do autograph sessions together, but there is never a guarantee we will all be there because of other commitments.
"To be able to get all four of our signatures on one card is a pretty neat deal and makes for a truly unique item. If I was going to pick one piece of John Force Racing memorabilia, it would be that card with all of our autographs on it."
Unfortunately, that leaves just 24 copies for the rest of us. But at least Ashley's in good company; after all, there's likely not an NHRA fan on the planet that would pick something else.
Tracy Hackler is the editorial director of Beckett Media. Check out Beckett.com -- and be sure to get the latest news on sports cards and memorabilia at the Beckett blog. You can also follow him on Twitter.