Commentary
Segways making way on courses
Updated:
May 8, 2010, 11:02 PM ET
By
Lynn DeBruin
| Special to Page 2
ARVADA, Colo. -- They've been used to chase down criminals and tour big cities, even help protect military bases.
Now Segways are hitting the golf course.
About the only thing missing is a cup holder for a beer.
[+] Enlarge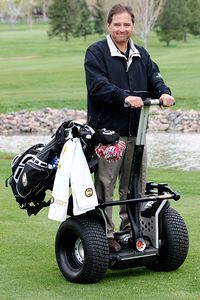 Lynn DeBruinRudy Castaneda, assistant golf pro at Indian Tree in Arvada, Colo., take a Segway for a run.
"We're going to be pretty good sticklers about no alcohol and driving it at the same time," said Alan Abrams, head pro at Indian Tree Golf Course, the first public course in Colorado and only the second in the nation (behind Santa Teresa Golf Course in California) to tinker with the upright personal transporters.
Abrams is leasing four of the machines, built especially for golf, with a rack to hold a golf bag, and other accessories like GPS devices.
The 120-pound unit is much smaller than a golf cart, and can go faster than one. It's also less damaging to fairways.
Unlike gas-powered carts, it's whisper-quiet, with the electric motor plugging in as easily as a cell phone and powering it up long enough to go 27 holes.
So far, the reaction has been positive.
"It's good for the game and anything that gets people playing golf, I'm all in favor," said Ed Mate, executive director of the Colorado Golf Association.
Abrams is hooked. He even drove one through the front door to a board of directors meeting to sell the idea.
"A lot of golf courses are looking at us to see where we're going to go with this and what's going to happen," Abrams said. "We're kind of the beta test for the state of Colorado."
Darrin Bell, an industrial contractor and a 15-handicap, was one of the first guinea pigs, playing 9 holes in early May using a Segway.
"I enjoyed it," said Bell, who usually plays twice a week. "We were playing with a threesome, so it worked out kinda nice with the other two in a cart."
He wouldn't rent one every time as he enjoys walking and the camaraderie of sharing a cart.
But he can see his son being enticed to check one out down the road. For now, riders must be at least 16 years old and have a valid driver's license.
Indian Tree is charging $21 for 18 holes to rent a Segway, vs. $14 for a cart.
Users also must attend an hour-long training session (cost $15) to be certified to drive one.
But judging from a quick test drive, it's like riding a bicycle. Once you get on and feel out the balance issue, it's easy.
Of course, it helps to have the unit turned on, which is what Indian Tree groundskeeper Scott Bullock realized after doing a face plant during a demonstration.
"In my defense, I'm not the only one," quipped Bullock, who kept leaning forward before he tumbled head over heels onto the ground. "The guy who brought them out here had to jump off."
With practice, that's not typically the result.
Gyroscopic sensors are used to detect tilting of the device or a departure from perfect balance. Motors driving the wheels are then commanded as needed to bring the Segways back into balance.
One simply needs to lean forward to go forward or in the direction they want to go.
Doing 360s is easy; just don't try to a wheelie.
After stopping and stepping off, a simple push of the button puts the machine in a sleep mode semi erect while the golfer hits the next shot.
"It's not going to be for everybody," Abrams said. "There's going to be people who say, 'I just don't want anything to do with it,' which is fine. But then there's going to be a whole other group who will come out and say, 'I'd like to try that.'"
Gaylen Seaton, 77, of Arvada, is in the former category.
"I don't want to break my neck," he quipped.
Lynn DeBruin, formerly of The Rocky Mountain News, is a freelance writer for Sports Media Exchange, a national freelance writing network.