Commentary
Boyd Tinsley loves music, tennis
Updated:
May 12, 2010, 11:03 AM ET
By
Shane Mettlen
| Special to Page 2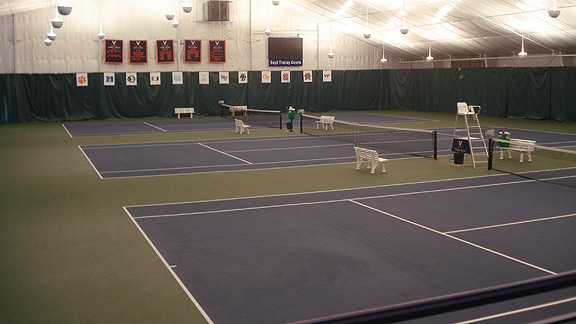 Shane Mettlen for ESPN.comHere's a shot of the court Boyd Tinsley of the Dave Matthews Band sponsored.
Boyd Tinsley has got a thing for strings. And while his buddy Dave may have gotten his name on their Grammy-winning, multi-platinum-selling band, if you're talking tennis, Boyd is the headliner.
Tinsley, violin virtuoso for the Dave Matthews Band, is also pretty handy with a tennis racket and has the same kind of passion for the game he has for music. As a rock star he's been able to use his wealth and influence to help grow the sport.
"I've been watching the game since I was in my early 20s," Tinsley, who turns 46 in May said. "Andy Roddick is a friend of mine and he started sending me rackets and that really encouraged me to go out there and play."
As his love for tennis grew, so did his influence on the game, particularly in his hometown of Charlottesville, Va. In 2006, the Boyd Tinsley Courts were completed at the Boars Head Inn, a sprawling Blue Ridge Mountain resort.
The Tinsley Courts were part of a $7.5 million dollar expansion, for which Tinsley footed most of the bill, and provided his alma mater, the University of Virginia, with a state-of-the-art indoor facility. In February, the Cavalier men won their third consecutive ITA National Team Indoor Title at Tinsley's six-court, 1,200-seat arena.
[+] Enlarge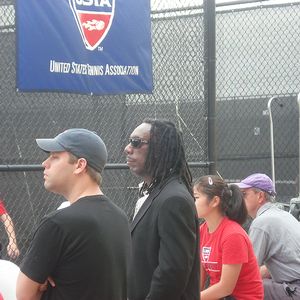 Shane MettlenBoyd Tinsley watches the action on the courts he sponsored.
"Boyd has meant so much to community tennis, UVA tennis, as well as tennis around the world," Virginia coach Brian Boland said. "He has the passion to not only play the game, but get rackets in as many hands as possible. There's no question, without the help of Boyd we wouldn't be at the level we are. We've led the attendance race for years now and that wouldn't be possible without Boyd."
In addition to his work with the Cavaliers, he also created the Boyd Tinsley Tennis Program, which offers instruction and equipment to underprivileged children.
Seven years ago he brought the Boyd Tinsley Clay Court Classic, a stop on the USTA women's professional tour, to the outdoor venue at Boars Head. In late April, he was on hand to see Michaella Krajicek, younger sister of former Wimbledon champ Richard Krajicek, take home the tournament title.
"I was approached to sponsor this and was happy to do it," Tinsley said while watching Krajicek in the finals.
While Tinsley has fine-tuned his art on stage and in the studio, on the court he's less refined and a bit raw.
"My game is power," he said. "I want to get the point over as quickly as possible. My pro is a former college player and he knows nothing but power and that's how I was taught." But Tinsley, who kicks off the next tour with Dave Matthews Band May 20 in Washington D.C., said he can apply lessons learned in music to his tennis game, and vice versa.
"In both you have to be out there in the moment and willing to improvise," he said. "You never know what's going to come up next. It just takes heart."
Shane Mettlen, formerly of the Culpeper (Va.) Star-Exponent, is a freelance writer for Sports Media Exchange, a national freelance writing network.