Commentary
Lindsey Vonn raps about music, charity
Updated:
May 10, 2010, 12:45 PM ET
By
Chris Palmer
| ESPN the Magazine
BEVERLY HILLS, Calif. -- There's nothing more Hollywood glitterati like more than coming out for a good cause. Except looking good while doing it. Over the weekend, celebs from the Hilton sisters to Brooke Burke attended the Nancy Davis Foundation's 17th Annual Race to Erase MS benefit, which raises research money for multiple sclerosis.
There was no shortage of sequin and glam, but the most athletic person at the ball was Olympic gold medalist Lindsey Vonn, who held her own on the red carpet in a dashing pink dress.
The 25-year-old skier from Minnesota got her spokesmodel on and addressed the well-heeled crowd on the importance of MS research. She didn't even miss a beat when the teleprompter acted up.
After introducing Avril Lavigne, who treated guests to a mini-concert of her No. 1 hits, Vonn joined Lavigne on stage (along with '80s all-girl rockers Heart) for a kumbaya rendition of "Lean On Me."
[+] Enlarge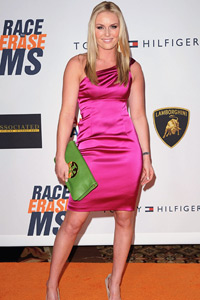 Jon Kopaloff/FilmMagicLindsey Vonn arrives for the 17th Annual Race to Erase MS Gala over the weekend.
Amidst all the air kisses, flash bulbs and goodwill, Page 2 was able to get some quality time with the world's fastest female shoosher.
How has your life changed since winning the gold in downhill skiing at the Vancouver Games?
It's definitely changed a lot since the Olympics and the end of the World Cup season. I've been going to a lot of fun events and meeting all kinds of cool people. I did a cameo on "Law & Order," and got to say a line. A couple nights ago I went to the Met Costume Institute Gala in New York and wore a dress designed by Tory Burch. It was eye opening and pretty crazy to see so many famous and talented people in the same room.
Well, you look like a natural on the red carpet.
I don't know about that! I just like getting dressed up and coming to these events.
What other fun things have you done during your down time?
I went to the White House Correspondents' dinner. Unfortunately, I didn't get to meet the president, but we had a pretty interesting group at our table. There was Alec Baldwin, Mariska Hargitay, Jon Bon Jovi and Tom Brokaw. And my husband, of course. Alec was cracking jokes the whole time and kept everybody laughing. Bon Jovi was pretty quiet, though. We had a great time with all of them and we really enjoyed their company.
Who has been the most famous person to ask you for your autograph?
The JoBros! (Laughs.) The Jonas Brothers came up to me at the White House dinner to congratulate me for the Olympics, and my jaw was pretty much on the ground. Those guys are so awesome and I was floored. I was just surprised that they knew who I was and followed me at the Olympics.
Come on, you were worldwide during the Olympics.
I just never look at myself that way. It's just a completely different feeling when people I admire come up to me and say congratulations. It's just such a big change in my life compared to before the Olympics.
So I hear you're a big Kanye West fan.
Yeah, I'm just a rap fan basically.
So what's your favorite Kanye moment?
Well, it wasn't the Taylor Swift moment that's for sure. I'm not sure about his moments but I just love his music. He's such a talented man and I respect what he does.
What was the last album you bought?
I haven't really bought a CD in a long time just because I travel so much. I just usually download individual songs straight into my iPod. The last song I bought was "OMG" by Usher. I got a DJ Khalid song but I can't remember what it was. Speaking of hip-hop, at the Met Costume after party, Pharrell, Diddy and Usher grabbed the mike and started rapping. It was a very small bar and it surprised everybody. They were just going for it. It was really cool.
Who are your favorite athletes in other sports?
Roger Federer is my favorite athlete. I think he's just so talented and hard working. If you met him, you would never expect that he was No. 1 in tennis because he's just so humble.
You're an NBA GM: Kobe or LeBron?
LeBron.
Wow, no hesitation.
I like LeBron. I like his style.
You own downhill skiing right now, so when are we going to see uphill skiing?
I don't know, but you won't see me. I hate hiking.
Chris Palmer is a contributing writer for ESPN The Magazine.
ESPN the Magazine
Chris Palmer has been a frequent contributor to ESPN The Magazine and ESPN.com's NBA coverage since 1999.