Commentary
Athletes marketing own memorabilia
Updated:
May 15, 2010, 2:03 PM ET
By
Chris Olds
| Special to Page 2
There are countless ways these days that sports fans can get a piece of the game besides in packs of trading cards despite the fact that those cards are often more complicated than ever with autographs and slices of game-used memorabilia attached to them.
Autograph shows, autograph companies and countless other options have made it easier than ever, but perhaps the best way to get an autograph or a piece of memorabilia is straight from the leagues, teams or athletes themselves. And, more often than not, these days that happens via their official websites.
Let's look at a few examples …
Since 2006, Major League Baseball's Mother's Day campaign has been successful in raising attention and awareness about breast cancer as well as raising money for the Susan G. Komen for the Cure foundation. Those memorable pink baseball bats are much rarer than the standard bats that players use (often upwards of 100 regular bats a year) and are tied to a specific date, which help make for pricey items that collectors will battle for on the auction block. In its first year alone, MLB raised more than $300,000 with its auctions and money raised by fans purchasing their own (not game-used) pink bats.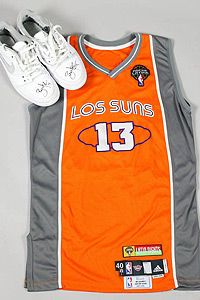 Courtesy of Steve Nash FoundationThe jersey and shoes signed by Steve Nash are up for auction.
This year's slate of Mother's Day games has come and gone, but many players' bats will be arriving at auction.mlb.com soon. There, collectors already can find unusual game-used items like lineup cards right off of the dugout wall, game-used batting gloves and game-used memorabilia along with the more-typical autographed memorabilia and more.
At the team level, countless serious collectors know all about the once-a-year charity events (often ironically dubbed "garage sales") where teams sell off their excess game-used jerseys (yes, the teams often own them when they're done being used) and other items to benefit their community charities. And others with hometown ties know all about the greatness of the stadium team shops where memorabilia can be found & but teams also often sell game-used items via their websites, too.
Minor league baseball teams regularly do this, but there are other more high-profile teams that sell directly to the public as well. For example, the Philadelphia Eagles sell their game balls for $199 a pop. (And they're on sale!)
Getting NFL players' autographs isn't that easy, but the New England Patriots have some readily available autographs for sale on their site. In fact, they can be ordered with free personalized messages to you or whomever else you like (as long as they're tasteful). They're autographs of single-name stars who can often be seen at the games or on the sidelines. No, it's not Tom or Gisele.
They're autographs of Kayla, Jillian, Jennifer and Jessica A -- the Patriots cheerleaders. And they're just $10 apiece -- worth it for a team collector who needs everything (or just wants a cool, funny gift for someone), right?
The official athlete website may not have as much of a place as it might have at one time in an age of Twitter (it's easier to Tweet than manage a site), but there are plenty of athletes (young and old) who sell their own autographs, items and other memorabilia.
A few that come to mind? Pete Rose, Chad Ochocinco (though he just sells custom t-shirts and a whole lot of iPhone apps -- for now), and WWE Diva Maryse, who sells everything from her used clothing to autographed photos on her website with a portion of the proceeds benefiting the Montreal Children's Hospital.
And, of course, there are countless more sites, which can often be found via all of those Twitter pages. (Don't be fooled into thinking this is just a sports trend, either -- many celebrities have gotten into that arena as well, giving their fans what they want.)
Athlete charities or foundations are often another way for fans to get something that's unquestionably legit directly from a player. In the past, charity auctions were often tied to community or team events, but -- like many things in the collecting community -- the internet has made it easier to find and own a cool memorabilia.
Little over a week ago, Steve Nash and the rest of the Phoenix Suns suited up in "Los Suns" jerseys for their Cinco de Mayo game against the San Antonio Spurs. Just days later, his signed jersey (as well as his shoes) from that game has hit the auction block with proceeds going to The Steve Nash Foundation, which benefits children in both the U.S. and Canada.
Memorabilia-wise the "Los Suns" jersey is distinctly tied (there's no question of to what game it was worn in) to a memorable postseason performance where he scored 19 points and dished out six assists in a 110-102 victory. And now it can be owned by one deep-pocketed (and charity-minded) collector. Bidding already had topped $3,500 with several days to go for an item that is a one-of-a-kind gem.
It's just one example of many out there. Literally, with a little work (that's code for "Google") it's easier than ever to find some really unique memorabilia for a collection.
You just have to start looking.
Chris Olds is the editor of Beckett Baseball magazine. Check out Beckett.com -- and be sure to get the latest news on sports cards and memorabilia at The Beckett blog. You can also follow him on Twitter.