Commentary
We give LeBron James new nickname
Updated:
May 21, 2010, 12:26 PM ET
By
Jerry Greene
| Special to Page 2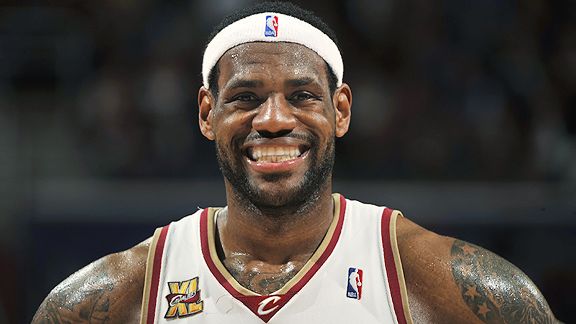 David Liam Kyle/NBAE/Getty ImagesLeBron James might be smiling here, but Page 2 fans have some ideas for a new nickname.
The King is not dead -- but that nickname is.
Hundreds of you provided many hundreds of suggestions for a new nickname for LeBron "The King" James. You spent equal energy reflecting on where he will next play and just how tarnished his reputation may be because of what the Boston Celtics did to his Cleveland Cavaliers.
But most importantly, you stressed that a man cannot be a king without a ring.
Peter from Parts Unknown may have best summed up your current view of James when he wrote: "The Best in the Business but not in the Game."
And Eric Y. from, uh, Cleveland best expressed the angst there when he suggest James be called LeBron "I think I'm a superstar but I'm too busy entertaining and being famous to win championships and I will retire with no rings and a lot of regular season wins with egg on my face" James.
A tad too long to be a nickname but we feel your pain, Eric.
Meanwhile, our selection committee -- comprised mostly of me -- disqualified some nicknames for being a little too common -- LeBronze, LeBrick and the ever popular LeChoke.
And now the list:
Page 2's Top 10 New Nicknames for LeBron James
10. -- LeBron "Ryan Leaf" James -- M. Vincent, Birmingham, Ala., who adds "Oh, sorry, still stuck on Tim Tebow."
9. -- LeBron "Knickname" James -- Alex R., Littleton, Colo., and Jeremy, North Carolina, who may have taken our contest a touch too literally.
8. -- LeBron "Clippership Down" James -- Bill P., Tualatin, Ore., who must read books.
7. -- LeBron "LeBorn Again" James -- Peter M., New York City, who probably sees him as Saint Knick (See how I sneaked one of my own in here?)
6. -- LeBron "LeBrontosarus" James -- Terry S., Louisville, Ky., who knows how to sell some T-shirts.
5. -- LeBron "LB-Dontist" James -- Bin S., Squamish, British Columbia, who likes this because of the pain James inflicts on others and because Bin is a dentist. Way to sell your profession, Bin.
4. -- LeBron "LeThargic" James -- Kyle S., Ada, Ohio, who wins our "Best Use of the English Language" award.
3. -- LeBron "Madison Square" James -- C. Bobo, Sikeston, Mo., whose suggestion just has a great sound.
2. -- LeBron "Deep Dish" James -- Mark K., Oceanside, Calif., who came up with the perfect nickname if James moves to Chicago.
1. -- LeBron "Lord of No Rings" James -- Matt G., Weymouth, Mass., who is our winner for a suggestion that plays off the old nickname of "King" and references a classic fantasy -- much like Cleveland's belief that it would win a championship this year.
There were many more that would have made someone else's Top 10. A few of the "just missed" include: "BULLdozer," Dan L., Chicago; "KnickerBronner," Brian M., Palmerton, Pa.; "Bronx Bronner," Ben M., Peoria, Ill.; "Pal of Coach Cal," Kenan S., Pikeville, N.C.; and "LeBrottoman Empire," Dan F., Washington, D.C.
We close with a suggestion from Michael M. of Gresham, Ore., that had no chance of winning but may be the final word on the Cavs' season: LeBron "LeBraless" James "because he had no support."
Jerry Greene is a retired columnist for the Orlando Sentinel. He can be reached at osogreene@aol.com.