Commentary
Tim Tebow's arrival excites Gator
Originally Published:
May 26, 2010
By
Lynn DeBruin
| Special to Page 2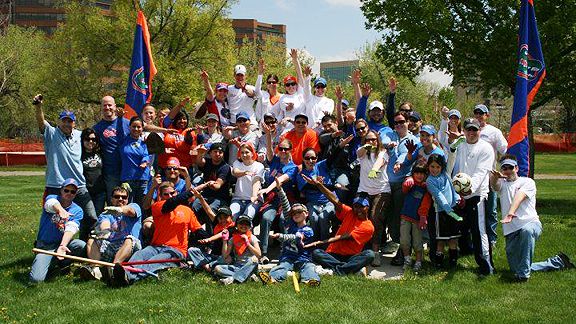 Courtesy of Rocky Mountain Gator ClubGator fans in Denver gather to show their support of Florida.
DENVER -- Members of the Rocky Mountain Gator Club are accustomed to Saturday parties at Jackson's Hole Sport Grille to watch their beloved University of Florida team take on opponents.
"We've all kidded the manager that he better fire it up for Sunday now, too," club founder/treasurer Steve Crider said. "He better open up the top deck because it'll be Gators times two every weekend."
Indeed. While much of the national media and many Broncos fans have been highly critical of Denver's decision to draft Florida quarterback Tim Tebow in the first round last month, Colorado Gator fans are jazzed.
"It's fair to say the excitement has been stirred up. We're almost seeing the same level of passion now as we see when Florida plays Georgia or Tennessee," said Nick Bokone, president of the Rocky Mountain Gator Club.
University officials say there are 2,400 people with University of Florida degrees living in Colorado.
The regional Gator club officially has about 340 dues-paying members, though Jackson stopped counting at 600 when the Gators faced Oklahoma for the national championship two years ago.
Now, it seems Gator Nation has joined Broncos country, a perfect melding of orange and blue.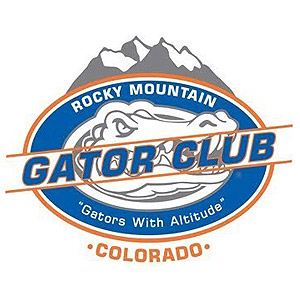 Rocky Mountain Gator Club
Tebow, who will start the season holding a clipboard, didn't rule out hanging with the Gator Club, especially Saturdays.
"I've heard a little bit about how large of a following the Gators have here in Denver, and their support of the University of Florida is a wonderful thing," he said. "It just shows you how far-reaching Gator Nation is. It makes me proud to be a Florida Gator."
Whether Tebow helps the Broncos return to prominence remains to be seen. But the attention will certainly be focused on him.
Crider can attest.
The Broncos were all the rage when John Elway was quarterback and the team won back-to-back Super Bowls in the late '90s.
Since then, they've won just one playoff game, changed quarterbacks 10 times and dumped coach Mike Shanahan in favor of thirty-something Josh McDaniels.
"They've been mediocre at best and I've tried to stay engaged, but life goes on and the Gators were my priority," Crider said. "If it was a nice day Sunday, I'd be out biking or skiing. But now I'm definitely re-engaged. Now it will be a whole weekend of football instead of just Saturday. We'll have to recover from those hangovers quickly. Everybody will want to see if [Tebow] gets in in the third or fourth quarter."
Tebow was arguably the greatest player in college football history. He helped the Gators win two national titles and made history as the first sophomore to win the Heisman Trophy. He finished his career with 88 passing touchdowns and 57 rushing.
But many have questioned how he'll fare in the pro arena.
Gators fans have no doubts, especially looking at how the Broncos have struggled near the goal line.
"How many times was it field goal, field goal, field goal? The last eight, 10 games were so brutal to watch because the Broncos left so many points on the board," Crider said. "Tebow brings a whole new dimension in the red zone."
While the group hopes the college legend will seek refuge at future Gator Club gatherings, be it a picnic or game-watching party, Crider jokes with his college-age daughter that he has one other goal.
Like so many other parents, he'd love to introduce her to Tebow.
After all, he says, Kelsey Tebow has a nice ring to it.
Lynn DeBruin, formerly of The Rocky Mountain News, is a freelance writer for the Sports Media Exchange, a national freelance network.