Commentary
Louganis back into pool to help others
Originally Published:
May 26, 2010
By
Sandra Harwitt
| Special to Page 2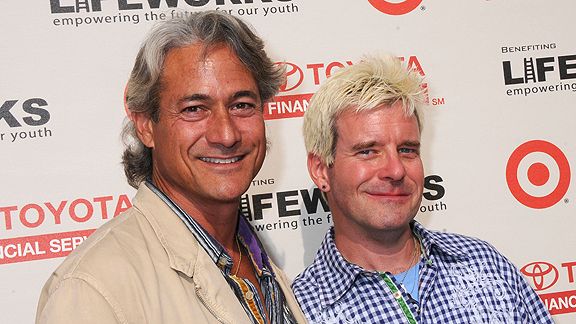 Noel Vasquez/Getty ImagesGreg Louganis and his partner Daniel McSwiney travel the U.S. in their RV. Yep, their RV.
FORT LAUDERDALE, Fla. -- Four-time Olympic diving gold medalist Greg Louganis has spent the past 22 years in places you wouldn't expect to find him -- training and showing dogs, on stage, doing book tours, and behind the wheel of a sleek, black RV.
The greatest diver in American history was nowhere near the pool. He never fit into the diving community, and after he won all those medals, he didn't feel he was wanted. Instead, he pursued a variety of passions, and fell in love along the way. He and his partner, Daniel McSwiney, share a home in Malibu, Calif., but often spend quality time in their sleek 40-foot Supernova RV.
"Home is in California, but the RV, it's a house on wheels," Louganis said. "We always got our four dogs with us, so we've got everything we need there."
Louganis refers to their four pooches as "the kids": Nipper, and son, Dobby, his two champion Jack Russell terriers; Gryff, a border collie; and Hedwig, a Hungarian Pumi. If you detect the Harry Potter connection -- only Nipper, named after the RCA dog, doesn't derive from the books -- it's because Louganis is a devotee.
Louganis wrote an autobiography, "Breaking the Surface," and "The Life of Your Dog," which detailed the time he was breeding Great Danes. As far as his acting résumé, he most recently appeared in the play "The Little Dog Laughed" in Palm Desert, Calif., and played a swimming coach in the 2008 Indie movie "Watercolors." It's a life that has kept him hopping.
This month, Louganis was in Fort Lauderdale. Fla., at the AT&T U.S. Diving Grand Prix following a dog show in Oklahoma. Then he went back to California for the two-week run of the play, and following that, made a return trip to Florida.
"Actually, it was kind of a crazy trip the last month and a half," Louganis said. "We did the AKC National in Tulsa, Okla. I drove Daniel to his parents in Port St. Lucie, Fla., because he doesn't drive the RV, then I flew back to California so I could do the play, which was just a two-week run, and then we came down here."
The best news of the trip: His appearance at the Fort Lauderdale diving meet was in an official capacity. Louganis finally received an invitation to be an insider -- to mentor young American divers -- from a more enlightened leadership at USA Diving.
"The main thing we're trying to do is focus on performing and that's where Greg is so good," said Steve Foley, an Australian who dove against Louganis and is now the USA Diving high performance director. "One of Greg's great quotes … 'All these people have come here to watch me dive so I want to put on a performance for them.' And he always did, he never let anyone down."
One week into being a mentor, Louganis was all smiles: "I'm happy and I'm so happy to be here."
The recent foray into diving has been a different experience than when Louganis was competing and the years in between. Being an openly gay man with AIDS kept him an outsider looking in at the sport he loves.
After retiring following his successful defense of his gold medals in 3-meter springboard and 10-meter platform at the 1998 Seoul Olympics, he moved on with all the agility, twists and turns befitting a diving icon.
Early on, he experienced depression and remained in an abusive relationship because he felt nobody else would take a chance on him. But today, Louganis has become a prime example for how a person with AIDS can live a quality life.
"I wouldn't wish my drug regimen and the stuff I've been through on anyone," says Louganis, who, at 50, sports a shock of silvery hair and a still well-sculpted physique. "It's a mixed blessing: I'm doing well, but that's no reason for others to think they can be reckless."
Sandy Harwitt is a freelance writer for Sports Media Exchange, a national freelance writing network.