Commentary
Amateur action event hopes to catch on
Originally Published:
May 27, 2010
By
Wendell Maxey
| Special to Page 2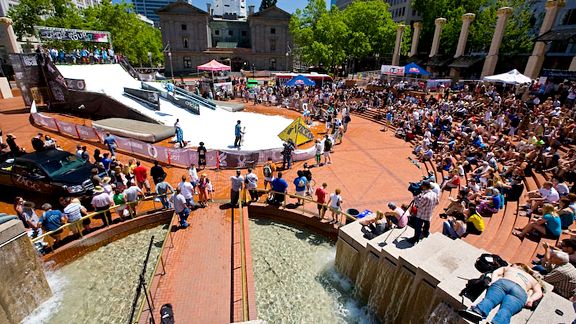 Aaron Rogosin About 25 tons of snow will be dropped on Portland, like last year, for the 2010 Campus Rail Jam Tour.
PORTLAND, Ore. -- Rain is in the forecast for most of Oregon this week, but come Friday at Pioneer Square in downtown Portland, there will also be 25 tons of snow.
It's all part of the final stop on this year's 2010 Campus Rail Jam Tour -- a grassroots X Games-like competition featuring between 60 and 80 amateur skiers and snowboarders from around the West Coast in hopes of spreading a new message about snow sports.
"We're not trying to compete with the multimillion-dollar events. We're trying to create a fun free event for all," said co-founder Dan Genco, whose Galvanic Design produces the Campus Rail Jam Tour.
"Once someone experiences our event, they'll know it and won't forget it."
The man speaks the truth.
About five years ago while attending Oregon State University, Genco and fellow OSU alum Ryan Kirkpatrick were looking for ways to get the school involved in free activities for students. The two students threw a lot of ideas against the wall. Countless college campus stops and tour events later, the Campus Rail Jam Tour continues to stick.
Their vision remains the same: Bring in tons of snow where there shouldn't be any, and let the up-and-coming riders shred away.
"We were just trying to get work. We were trying to get events and grow the sport and have fun," admitted Genco, who left a job at Red Bull to focus full-time on the tour.
After the first tour stop at the University of Colorado in 2006, Genco knew they had something. He just wasn't sure what.
"Guys were doing whatever it took. We were living off of Top Ramen and peanut butter sandwiches and there were more than eight guys jammed into a rented RV. No one was getting paid. Everyone was there because they cared about the sport. I didn't know if it was something that could break even or sustain itself."
Now the Campus Rail Jam is one of the premier amateur free ride events around.
This year the tour kicked off in February at the University of Arizona, one of 10 stops on the 2010 tour that culminates in Portland, where a $5,000 purse plus some gear awaits the winner of the four-hour event.
"I definitely think the tour is unique, especially on the amateur circuit," said Randa Shanin, who took first place for women's snowboard last year in Portland and has competed on the Campus Rail Jam Tour the past four years.
"I can't think of another competition that uses a scaffolding rail setup, not located on a mountain and that is not for pros only or invitation only."
The event may be for amateurs, but there are professional aspirations. Even in this grassroots experience, getting the overall event to look and feel polished took time to achieve. The budget was slim. Sponsors were subpar. But now it functions as an entertaining and major branded machine instead of a construction site.
"It used to look like just a bunch of metal and snow," Genco said with a laugh.
Whereas ice machines are used at stops like Tempe and San Diego, the Campus Rail Jam Tour truly brings the mountain to the city. Truckloads of snow from nearby Timberline Lodge at Mount Hood will be brought in for the Portland stop, with crowds expected to reach anywhere from 3,000 to 5,000 spectators.
"Everyone always thinks X Games, Dew Tour and the Olympics," Genco explained, joking that people always ask whether famed snowboarder Shaun White will be on hand. "It is unfortunate those are the only things that are mainstream in the action sport industry."
With any luck -- and lots of snow -- the Campus Rail Jam Tour plans to change that perception one event at a time.
Wendell Maxey is a freelance writer for Sports Media Exchange, a national freelance writing network.