Commentary
Pat Tillman's football cards not forgotten
Originally Published:
May 31, 2010
By
Chris Olds
| Special to Page 2
There are countless examples of where military service and the sports world have entwined as we celebrate Memorial Day and remember America's fallen soldiers.
Greats like Boston Red Sox slugger Ted Williams, Pittsburgh Steelers halfback Rocky Bleier, San Antonio Spurs icon David Robinson and former world heavyweight boxing champ Gene Tunney are among the countless examples of American pro athletes who served in the military.
However, only a handful of those athletes died defending the Stars and Stripes.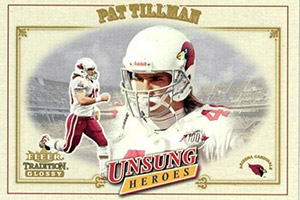 Fleer for ESPN.comFormer Arizona Cardinals Pat Tillman appeared in the 2001 Fleer set of Unsung Heroes.
The most memorable of those athletes for this generation is Pat Tillman, the former Arizona Cardinals safety who turned down a multi-million dollar NFL contract extension to enlist in the U.S. Army in the wake of the September 11, 2001, terrorist attacks. Less than a year after he was deployed overseas for a second time, he was killed in Afghanistan.
As a result of his death in 2004, what little sports memorabilia Tillman appeared on at the time skyrocketed from pocket change values into a name-your-price feeding frenzy that drew plenty of critics. (Meanwhile, it's a natural occurrence in the collecting world as fans who put off picking up memorabilia often are among those looking to find an item after a notable achievement or an athlete's death.)
Today, more than six years after his death and days after he was announced as one of this year's group of College Football Hall of Fame inductees, Tillman's place in the hobby remains secure.
Tillman played parts of four seasons for the Cardinals after a successful career at Arizona State but he wasn't one of those "name" rookies who appear on countless football cards immediately after signing a pro contract. He graced just five football cards made in 2001 -- three years after his rookie season. (Compare that to Jets quarterback Mark Sanchez, who has 1,213 cards as he readies for his second season and to Tim Tebow who already appears on nearly 100 cards -- with plenty more to come before he even takes a snap.)
The fact that Tillman has just five cards, all classified as his Rookie Cards, is something that helped those values escalate after his death. How? There were so few cards overall to go around.
That's a collecting fact also helps them remain valuable still today -- and there have not been any new football cards made featuring Tillman, either. It's easy to collect 'em all as Tillman's cards range in value from $15 to $20 on the high side and can typically sell for as low as $6. Despite his place in football history, piecing together a collection is much, much easier (and, of course, less expensive) than countless other players.
Pat Tillman football card checklist
2001 Fleer Tradition No. 325
2001 Fleer Tradition Glossy No. 325
2001 NFL Showdown First Edition No. 13
2001 Upper Deck MVP No. 7
2001 Upper Deck Rookie F/X No. 122
Ironically, his 2001 Fleer Tradition cards include him as part of the Unsung Heroes subset. That product was released well before Tillman's decision to enter the military and yet its focus is on players who helped make a difference away from the field. Instead of listing statistics, it tells a story on the back of the card, titled "Grin and Bearing It."
"It might be difficult to believe that one of the hardest hitters in the league likes to play with teddy bears," the card reads. "OK … maybe not play with them, but Tillman does create various bears as part of the Cardinals' 'Teddy Bear Ball' program, whose proceeds go towards the team's charities. Pat also participated in the 'Jersey Off Our Backs' raffle fundraiser for the family of a local fallen police officer."
Knowing Tillman's story, this card just adds a small, small piece of the puzzle that shows us who he was beyond the football field. It's one of a few examples showing us something that we unfortunately all learned a lot more about only after he was gone.
Chris Olds is the editor of Beckett Baseball magazine. Check out Beckett.com -- and be sure to get the latest news on sports cards and memorabilia at The Beckett blog. You can also follow him on Twitter.