Commentary
Tim Tebow trading cards rise in value
Originally Published:
June 4, 2010
By
Tracy Hackler
| Special to Page 2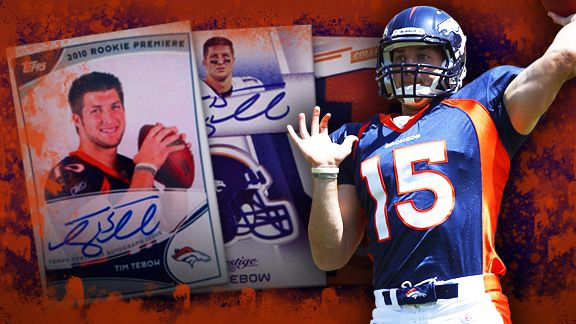 ESPN.com Illustration
SANTA MONICA, Calif. -- Tim Tebow is flummoxed -- and he's wearing a mask of genuine bewilderment to prove it.
One of the greatest college quarterbacks ever created can magnificently negotiate SEC defenses, Heisman Trophy candidacies, national championship pressures, mission trips to the Philippines, and the unfathomable weight of preparing for the 2010 NFL draft with an entire nation watching (and much of it doubting).
But tell Tebow that the average value of one of his autographed trading cards is $198 and the Denver Broncos' quarterback of the future -- and quite possibly of the present -- temporarily short circuits.
In an attempt to comprehend the incomprehensible, the center-of-attention southpaw stops suddenly in mid-scrawl, releasing from his left hand the Staedtler pen he'd been wielding so precisely just seconds before. It's the one he's using to sign fabric letters that Panini America will soon embed into more high-upside football cards.
"Really? For one of my cards? For real? That's crazy," Tebow utters through a bashful chuckle that hints at authentic disbelief. "I mean … that's pretty cool."
Seconds later, Tebow discovers something else that's pretty cool.
With his older brother, Robby, by his side, Tebow intently studies the new issue of Beckett Football (the one with you know who on the cover for the second consecutive issue) as if it were his first crack at Josh McDaniels' playbook. Right there, at the top of page 20, Tebow learns that the single hottest football card in the world bears his name and his autograph.
The card, Tebow's first, is a $120 keeper from Press Pass that's No. 1 on Beckett's 20-card Hot List, ahead of cards featuring fellow rookie Sam Bradford, 2009 sensation Mark Sanchez, Titans running back Chris Johnson and Kevin Kolb, the Eagles' new starting quarterback. For good measure, Tebow's image and inscription also adorn the fourth ($150) and ninth ($120) hottest cards on the list.
Welcome to the football card hobby, circa 2010. It's Tim Tebow's world. We're just collecting in it.
"He ranks head-and-shoulders above everyone else in this rookie class [in terms of collectibility]," says Scott Prusha, director of marketing for trading card manufacturer Panini America. "The industry hasn't seen this much hype surrounding an incoming rookie since 2003 with LeBron James or 2001 with Ichiro and Albert Pujols."
Adds Clay Luraschi, Topps' director of product development: "Tim Tebow is the hottest name in football cards right now. He has succeeded the anticipated hype."
Indeed, while the Brothers Tebow clearly found Timmy's status atop the collectibles universe as somewhat revelatory, those in the trading card industry -- manufacturers and collectors alike -- have been anticipating Tebow's arrival for years. And for good reason.
Tebow Mania, after all, is really good for business.
On this particular night, on the eve of the 2010 NFL Players Rookie Premiere, Tebow is posing for pictures and fulfilling autograph obligations for Panini America and Topps. He'll stay up until 1 a.m. Friday to finish signing, a generous gesture even if he is being paid handsomely for every crossed "t" and dotted "i."
Less than seven hours later he'll be strolling onto the glistening dew on the field at the Los Angeles Memorial Coliseum with 34 other top rookies -- all in full NFL uniform for the first time -- to take more pictures and sign more autographs. The tangible, 2½-by-3½-inch results from this particular weekend undoubtedly will become some of the most sought after football cards of 2010 and, just maybe, some of the most sought after football cards of all time.
"A lot of people have been waiting to see how he does as a pro on the field," Prusha said. "All he did in college was win. Whether or not he can do that on an NFL field, he's proven he can win the hearts of collectors.
"The addition of Tebow's autographed cards to the first 2010 NFL trading card product [Panini Prestige] made it an instant sellout. We are excited at how he helped push sales of that product, so much so that we agreed to feature him on the packaging for our second 2010 product [Donruss Elite]."
Tebow on the box is a clear indication that there's at least a chance of finding a Tebow or two inside the box, and that alone is enough to move a large number of packs to a gaping swath of potential customers from Gainseville, Fla., all the way to the Rocky Mountains.
For his part, Tebow seems to be thoroughly enjoying this aspect of the relentless fame that's dogged him for years. This -- the wholesome innocence and instant gratification of opening a pack of football cards -- he can relate to. As an avid collector himself while growing up in Florida, Tebow knows firsthand the joy that piggybacks pulling a card of your favorite player.
"Yeah, I collected cards growing up … football, baseball, basketball," Tebow said. "I remember one year for Christmas I got the whole Dallas Cowboys football team. They were my favorite team; Emmitt Smith was my favorite player. That was probably my favorite [set] because it had Emmitt, Troy, all the guys on the team.
"We always got to open one present on Christmas Eve. I knew that [Cowboys set] was what the present was so that's what I chose to open because I was so excited. That's the kind of excitement cards can have on kids."
These days, it's not just the kids who get excited to pull a Tebow. The adults go crazy, too. They know that Tebow is liquid on the secondary trading card market. How liquid? During a recent two-week stretch on eBay, 11 Tebow autographed trading cards sold for more than $200, five sold for more than $300 and one sold for more than $400.
Just to reiterate, Tebow Mania is really good for business.
Of course, Tebow the man is pretty good for business, too. After all, without him there would be no mania to ensnare us. No $200 pieces of cardboard to entice us. No extremely likable everyman playing the role of superstar to put things in such perspective for us.
"It's extremely humbling and extremely surreal to actually think that people would want to collect a card with your face or with you playing on it," Tebow said. "It seems crazy. I remember when I was young, I was so excited when I got to get a pack of cards from the store or Mom brought home a pack of cards. It was awesome."
It still is. Especially if you can pull a Tebow or two.
Tracy Hackler is the editorial director of Beckett Media. Check out Beckett.com -- and be sure to get the latest news on sports cards and memorabilia at the Beckett blog. You can also follow him on Twitter.