Commentary
Dirk Hayhurst gives gospel on bullpen
Originally Published:
June 5, 2010
By
Wendell Maxey
| Special to Page 2
Four years ago, Dirk Hayhurst had no money and was sleeping on an air mattress at his shotgun-wielding grandmother's house in Canton, Ohio. And that was better than a life sandwiched between an alcoholic brother and a bipolar father.
Hayhurst thought about giving up his big league dream. He was 26 years old and had kicked around the minors for five seasons after being selected by the San Diego Padres in the eighth round of the 2003 Major League Baseball draft.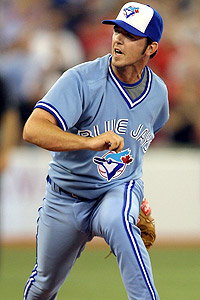 Luc Leclerc/US PresswireDirk Hayhurst wrote a book chronicling his 2007 season in the minors.
But instead of giving up, Hayhurst decided to write it down. The result is a New York Times bestseller, "The Bullpen Gospels," which chronicles Hayhurst's 2007 season in the minors.
"My book is pretty much all about the belief that I'm going to fall to the wayside and how I'm going to handle it when I do," said Hayhurst, whose troubled family life shaped his pessimistic outlook on life.
"I recently realized that this book might end up being my legacy in this game and I never thought I would ever get to think about something as grand as this as a legacy statement."
Published in late March, "The Bullpen Gospels" debuted on the Times' Paperback Nonfiction best-sellers list at No. 19 and remained on the list for seven consecutive weeks.
"If Holden Caulfield could dial up his fastball to 90 mph, he might have written this funny, touching memoir about a ballplayer at a career -- and life -- crossroads," wrote King Kaufman in a review for Salon.com. "Might have called it "Pitcher in the Rye." Instead, he left it to Dirk Hayhurst, the only writer in the business who can make you laugh, make you cry and strike out Ryan Howard."
Intended to be Hayhurst's farewell to the game, the book is now being mentioned alongside Jim Bouton's "Ball Four" and other baseball classics.
Talk about fantasy slamming into reality.
[+] Enlarge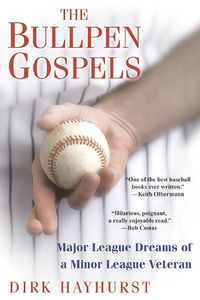 Citadel Press The book became a bestseller since it hit the market earlier this year.
"For someone to say that my story is an American classic on its own, it's almost like I can believe the criticism more than the praise," Hayhurst said. "Everything in the book is true, even the stuff in the bullpen. Look, if we were talking about the fall of the Roman Empire [in the bullpen] I would have written about it. We were not. We were talking about boobs, farts and hermaphrodites."
Before the start of the 2007 season in the Padres' farm system, Hayhurst blogged for Baseball America, and one particular entry about the team drew the ire of management.
Despite being reprimanded by the club for that post, the blog was a success and that success carried over to the diamond. He started the season in Class A ball, landed in Triple-A with the Portland Beavers and made his big league debut for San Diego a year later on Aug. 23, 2008.
That October, Hayhurst was released and claimed off waivers by Toronto -- where he is currently on the 60-day disabled list. He did most of his writing during that time.
"When I first started recording things for the book, I was getting everything from estrangement to full-on death threats from teammates. They thought I was going to ruin their lives," Hayhurst remembers.
"A lot of people come in to [the book] with expectations of what a baseball book should be. … [But] mine is a story about a person in the grand scheme of things that does not matter."
After posting a 2.78 ERA last year, Hayhurst had shoulder surgery in February and hopes to return to Toronto's spring training facility in Florida to regain his health and form.
There's no guarantee Hayhurst will make it back to The Show and he knows it. He is working toward a communications degree at Kent State and on a second book.
"I spend more time behind a laptop now than I do on the ball field," Hayhurst said with a laugh.
"I'll take it to the big leagues in the next book. You'll get to see that shock-value sense of humor. You'll also see that it isn't a dream come true in a lot of ways."
Wendell Maxey is a freelance writer for Sports Media Exchange, a national freelance writing network.