Commentary
Boitano enjoys life post-skating
Originally Published:
June 5, 2010
By
Shane Mettlen
| Special to Page 2
Brian Boitano has long been a hero, whether as the first American man to win an ice skating gold medal at the 1988 Winter Olympics in Calgary or as the guy who embraced being parodied on "South Park."
These days, his Food Network show, "What Would Brian Boitano Make?" has developed a cult following, and Boitano is preparing for a third season. On Monday, he's scheduled to make a promotional appearance on the "Today" show.
"The show itself is a lot of work," said Boitano's manager, Linda Leaver. "We wish there was a downtime … [but] for cooking it's between seasons and time for coming up with new recipes and guests. Honestly, his life never stops."
[+] Enlarge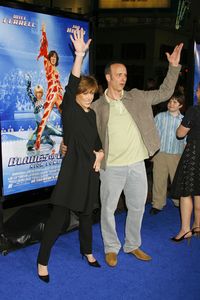 Jeffrey Mayer/WireImageBrian Boitano, along with Dorothy Hamill, made an appearance in the movie "Blades of Glory."
Perhaps it should have been a clue that the skating star has a wicked sense of humor when he named his cooking show after the song "What Would Brian Boitano Do?" from the 1999 movie "South Park: Bigger, Longer and Uncut." The song, which celebrated Boitano as a nearly infallible superhero, relaunched him into the pop culture universe.
A cameo in the movie "Blades of Glory" and several skating specials followed, and in 2009, production for the cooking show began.
"I had an idea for a skating and food show," Boitano said. "I talked to one of the producers at the Food Network. … He said, 'Why don't we drop the whole skating thing and just do a food thing? It seems like you have a personality to really pull that off.'"
Boitano's show opens with him looking devilish in a red outfit and soul patch while skating to the "South Park" song. Each episode is as much about wisecracks and goofball antics as recipes.
"It's the most fun I've had," Boitano said. "Two years ago when people saw the pilot episode, it was like, 'Who knew you had a sense of humor?' When you are working and skating it's really not the time to be a jokester, but I've always had a sense of humor."
The show offers a look at Boitano's personal life, which he otherwise keeps close to the vest.
In one, he lets his nephew, Nate, and his rock band, Asper Kourt, crash at his San Francisco place, where they party, eat and play music. In another, he cooks for a group of friends with children, giving them their first adults-only meal in months. One popular episode features a total remodeling of his handyman's eyesore of a car, and he "pimps" some fries as part of the celebration.
Boitano still harbors a dream of opening a restaurant, but more realistically, he's thinking about trading in coffee-and-doughnut milkshakes and gooey, fudgy brownies for a healthy cooking show.
"Food became a big part of my life after I stopped competing in the Olympics because I was on such a restricted diet before," he said. "I don't really have doughnut milk shakes too much now. … But I've thought of branching out."
Shane Mettlen is a freelance writer for Sports Media Exchange, a national freelance writing network.