Commentary
Matt Cain leads Page 2's All-Faith team
Originally Published:
June 13, 2010
By
Rob Daniels
| Special to Page 2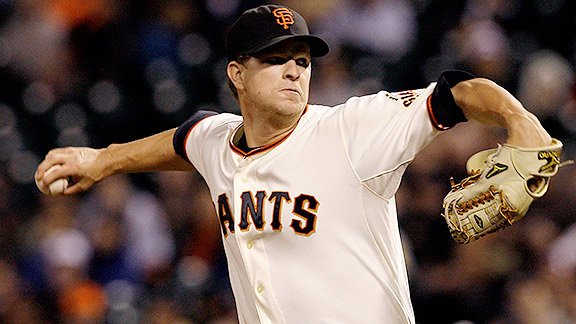 AP Photo/Jeff ChiuSan Francisco's Matt Cain is one of the National League's best pitchers the past five years.
While some wonder when baseball is going to get instant replay, we're here to say that the game has gotten religion. At least in this space. With a tip of the tiara to baseballreference.com, we present the All-Faith Team.
PITCHERS
Matt Cain: The son of Adam and Eve, Cain killed his brother when God endorsed Abel's animal sacrifices over Cain's harvest. Scholars of ancient Greek say Cain means "from the evil one." NL hitters won't argue. Matthew Thomas Cain of the Giants has been one of the game's best pitchers in the past five-plus years.
Monk Dubiel: Walter John Dubiel played seven years from 1944-52 with the Yankees, Phillies and Cubs. And you can't say this Monk shunned contact with other humans. He faced 984 batters in 1944. That was good for the eighth-highest total in the NL.
Noah Lowry: The resourceful fellow from the flood story took animals in groups of two. The unfortunate pitcher gathered injuries in pairs. At age 26, he went 14-8 for the 2007 Giants but was felled by a succession of ailments and hasn't pitched since.
Preacher Roe: This native of Ash Flat, Ark., derived his nickname from a local minister who would take the toddler on horse-and-buggy rides. An All-Star from 1948-51, Elwin Charles Roe went 44-8 for the Dodgers from 1951-53.
Salome Barojas. Let's assume Barojas was named for a female follower of Jesus who was present at the crucifixion. (The Bible's other Salome is the exotic dancer whose stage presence captivated Herod into letting her choose her form of compensation for the performance. She asked for the head of John The Baptist.) In 1982, Barojas got off to the most efficient start for any rookie closer in modern MLB history when he earned saves in each of his first five appearances. Only two others have saved as many as their first three appearances since 1920.
Urban Shocker. That was the name of a pitcher who won 187 games for the Yankees and Browns from 1916-28, but more than 300 years earlier, "Urban Shocker" could have been a tabloid headline. Rome was stunned when Pope Urban VII died of malaria after only 13 days on the job in September 1590. That makes him the shortest-serving pontiff in history. On Sept. 27, 1921, the 331st anniversary of the Pope's death, Shocker shut out the Yankees on five hits to finish his season at 27-12.
HITTERS
Abraham Nunez: Abraham is considered a founding father of Christianity, Judaism and Islam. Infielder Abraham Nunez is known for diligence if nothing else. He played 12 seasons for four NL clubs and is one of only 30 non-pitchers in the past 30 years with 2,400 or more at-bats and fewer than 20 homers. Another member of that club is another candidate for this list: Ivan de Jesus.
Homer Bible: The infielder played 10 games for the Newport (Tenn.) Canners of the Class D Appalachian League in 1937 and '39. If he had a Biblical book, it might have to be Lamentation.
Jesus Alou: In a 15-year career, Alou hit .280, but he's best remembered for his MLB debut on Sept. 10, 1963. In the eighth inning of a game against the Mets, Jesus and brothers Matty and Felipe came to bat in succession for the Giants. They were all retired. Jesus helped the A's win World Series titles in 1973 and '74.
Theophilus Neil: Our ballplayer was an infielder for the 1905 New York Giants who failed to reach base in all of his 13 lifetime plate appearances. According to baseballreference.com, only two other non-pitchers in the past 109 years have had that many trips to the plate in a career without getting a hit or drawing a walk. In other words, little was addressed to Theophilus Neil. The Gospel of Luke and the Acts of the Apostles, however, were addressed to someone known as Theophilus.
Melvin Nun: This nun played 20 games for 1954-55 Ardmore Cardinals in the Class D Sooner State League. He didn't have the habit of hitting; he went 7-for-59.
Babe Ruth: You know that George Herman Ruth had plenty of female company. Ruth from the Bible, on the other hand, is one of only two women with a book of Scripture named for her. (Esther is the other.)
Zacharias Davis Wheat: Played for the Brooklyn franchise when it was known as the Robins, Superbas and Dodgers. A .317 hitter from 1909-27, he was elected into the Hall of Fame in 1959. He shares his first name with John The Baptist's father.
Rob Daniels is a freelance writer for Sports Media Exchange, a national freelance writing network.