Commentary
Page 2 presents 'All-Aquatic Team'
Originally Published:
June 19, 2010
By
Rob Daniels
| Special to Page 2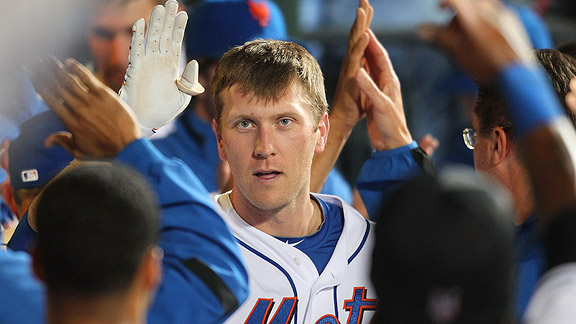 Nick Laham/Getty ImagesJason Bay, the National League Rookie of the Year in 2004, made our 'All-Aquatic' sports team.
With the official start of summer a few days away, it's time to ponder cool breezes and water-focused recreation. And so we present the Page 2 "All-Aquatic Team" for 2010.
Jason Bay: The NL Rookie of the Year in 2004 was a 22nd-round draftee by the Montreal Expos. Only two players with less respect on draft day have won the citation: 62nd-round choice Mike Piazza and unclaimed John Montefusco.
Pat Beach: Don't blame Beach if he felt marooned after his second NFL season. The tight end was on the last Baltimore Colts team, which packed its stuff into moving vans and headed for Indiana under cover of darkness and distraction of snow in March 1984. Beach recovered nicely and had several solid seasons in the new digs.
Ice Box Chamberlin: Legend has it that Elton P. Chamberlin threw pitches with both arms in at least one game. He did know something about the cold -- he was born in Buffalo -- and he won 157 games from 1886-96.
Doug Creek: Sparky Anderson once said, "If you're left-handed and dead, they still want you." Perhaps this explains why Creek lasted 15 professional seasons. The 5.32 ERA and 199 walks in 289 innings of work in the majors can't provide much of a clue into his longevity, but they may clarify why he played for 18 teams in those 15 seasons.
Curt Flood: Although he lost his case in the U.S. Supreme Court 38 years ago this past week, Flood is credited with opening the floodgates for free agency by articulating the case against indentured baseball servitude.
Brook Jacoby: An All-Star in 1986 and 1990, Jacoby produced the seemingly incongruous totals of 32 homers and 69 RBIs in 1987. That's the fifth-fewest RBIs for a season with 32 or more homers since 1910.
Steve Lake: Perhaps the classic backup catcher, Lake stuck around for parts of 11 big league seasons by throwing out an impressive 45 percent of the runners who tried to steal against him. Not particularly fleet of foot himself, Lake attempted only one steal in 476 games. He made it.
Simon Pond: The British Columbia native swam upstream for almost all of his career, logging 1,295 minor league games and only 16 in the majors, all for the 2004 Blue Jays.
Brodney Pool: He'll dive to haul in an interception if necessary, but Pool much preferred the smooth sailing of his 100-yard INT return for a TD against Baltimore on Nov. 17, 2007. (Although dismayed by the result, an opponent that day probably respected the achievement. The Ravens' Ed Reed has the two longest INT returns in league history, 108 and 107 yards.)
Doc Rivers: Glenn Anton Rivers was one win away from his second NBA title in the past three years as coach of the Boston Celtics. But, alas, his Celtics couldn't hold on.
Bill Weir: Although not named for the device that determines the amount of water in a given area, Weir was pretty good at regulating the flow of baserunners from 1936-39. He pitched for Boston of the National League for four of the five years during which the club was known as the Bees rather than the Braves.
Charlie Waters: Born on the coast in Miami, Waters migrated inland for his football success -- first at Clemson University and with Dallas in the NFL. His skills as a defensive back helped the Cowboys to two Super Bowl triumphs.
Rob Daniels is a freelance writer for Sports Media Exchange, a national freelance writing network.