Commentary
Signature moments of Tim Tebow
Originally Published:
June 22, 2010
By
Tracy Hackler
| Special to Page 2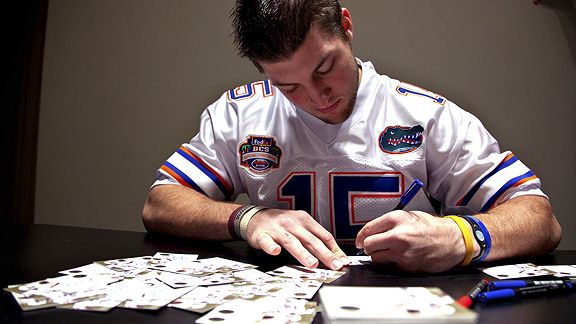 BeckettTim Tebow, new quarterback for the Denver Broncos, is very methodical when signing cards.
Tim Tebow's signature, like the man himself, is a captivating study -- a sweeping, handcrafted series of loops, lines, his jersey number and, if you're lucky, one of his favorite Bible verses.
It's a disposition-improving collection of ink whether it's scrawled on a trading card or an 8-by-10 photograph or a check or a credit-card receipt. It's a personality-baring scribble on any medium and it's absolutely one of the most sought-after autographs in the country right now.
Clearly, his is a sign of the times …
---
Five seconds.
One … two … three … four … five …
That's how long it takes -- give or take a tick or two -- for Tebow to sign his name. The incredible, indelible memories virtually guaranteed with every signature will undoubtedly last longer than that. Much, much longer.
In most cases, they'll last a lifetime.
That's why one of sports' most in-demand marksmen seemingly never tires of leaving his mark, handsomely handwritten for those youngsters gutty enough to ask through star-struck stammers. For Tebow, the benefits of tirelessly doing so far outweigh any fleeting drawbacks.
"It's exciting and it's extremely humbling that people would want your autograph," Tebow said. "But I think also it can get to the point sometimes where people are around you and you're thinking 'Man, I've gotta go' or 'I've gotta do something' or 'I just want to eat my dinner.' But then I think about when I was 6, 7, 8 years old and Danny [Wuerffel] waited to sign my autograph and how it made me feel as a kid.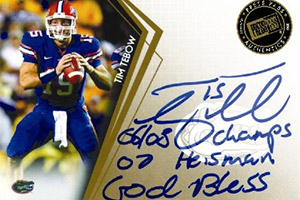 Press PassTrading cards of Tim Tebow's Biblical inscriptions are fetching more than $200.
"I always think of that before I get frustrated or before I want to stop. I think, 'You know what, if this is going to make an impact on this kid or give this kid a smile or inspire him or do something positive in his life, then it's worth it.' That kind of takes the frustration and the edge away."
Wuerffel -- the legendary national champion and Heisman Trophy-winning Gators quarterback (sound familiar?) -- was doing more than flinging footballs for Florida in the mid-1990s. He also was willingly signing autographs for kids all over the state, inspiring with every inscription untold legions of young fans.
Among the countless Wuerffel-wowed firsthand witnesses was a certain starry-eyed southpaw who soon enough would become the face of Florida football, and one of the most wildly successful, surprisingly polarizing athletes in America.
"One year my dad took us to Florida for the fan day and we got a bunch of guys' autographs but we couldn't wait in line long enough to get Danny Wuerffel's autograph because it was so long," Tebow recalled. "But he actually did come to our church when I was younger, so after church all the kids mobbed him and I waited in line and got an autograph on a church bulletin. I still have that framed in my room."
In the years since, Tebow has made a hand-cramping habit of paying Wuerffel's gift forward, filling his own fair share of wall-worthy bedroom frames.
In March, during Tebow's first public autograph signing, hundreds of people paid $160 apiece for his signature, with a portion of the proceeds going to the Tim Tebow Foundation, which exists "to bring faith, hope and love to those needing a brighter day."
That amounts to about $32 a second -- a small price to pay, apparently, for a memory that will last longer than five seconds. Much, much longer.
---
Corporately speaking, Press Pass was like so many of its collecting customers heading into 2010: It wanted Tebow autographs. Badly.
So the trading card company -- a manufacturer of, among other things, football cards of draft picks in their college uniforms released in the spring -- aimed to make him an offer he couldn't refuse.
Press Pass officials approached Robby Tebow -- Tim's older brother and the executive director of the Tim Tebow Foundation who handles all of his sibling's off-the-field activities -- to begin negotiations. The hope was to ink Tim to an exclusive contract, effectively preventing him from appearing in the draft-picks products of SAGE, Press Pass' lone competitor in the niche market.
After all, if having Tebow autographs in your sets is good for business, having them exclusively -- if only for a short six-week window until the big boys' NFL-licensed card sets start hitting -- is even better.
"Although the agreement ranked as one of the most expensive deals we've ever done in football or basketball, it still was a no-brainer," said Nick Matijevich, Press Pass' director of product development. "We were able to deliver Tim Tebow's first autographed trading cards and, for a good number of weeks, his only autographed trading cards. That was a huge coup for us that simply can't be understated."
[+] Enlarge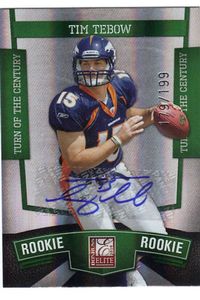 DonrussTim Tebow spent hours signing autographs on his trading cards.
Something else that can't be understated: how the Tebows handled a serious deadline-threatening aspect of the deal. Since the agreement was finalized relatively late in Press Pass' production cycle, company officials needed the autographs returned rather expeditiously if they had any chance of getting them into packs before their first product shipped.
Despite being buried under a building avalanche of potentially career-defining obligations, Tebow managed to deliver his umpteenth positive impression while delivering his cards -- all while working on his own delivery.
"We needed the cards returned really quickly or we jeopardized not having him in our first product, and there was some trepidation because Tebow was in the middle of reworking his throwing motion in preparation for his critical pro-day workout in Gainesville," Matijevich said. "The cards were signed in a matter of days, and it was obvious that Tim had taken great care in doing so; he added a number of unique inscriptions and variations to his autographs."
Most of those inscriptions -- including such personal touches as a favorite Bible verse, "Heisman" or "God Bless" -- have turned out to be breadwinners on the secondary market, routinely selling for more than $200.
But the most heavily inked of Tebow's Press Pass cards includes his signature along with "06/08 Champs," "07 Heisman" and "God Bless." That one sold for more than $300.
"Occasionally, you run across players who realize the value of their name and their lofty draft status affords them the opportunity to receive 'star' treatment," Matijevich said. "Often, these players act in a manner that is best characterized as condescending and boorish. Despite the fact that Tim was the most marketable player in the 2010 draft by far, he was a complete gentleman and simply confirmed that the All-American, boy-next-door persona portrayed by the media is well-founded."
---
Depending on your perspective, 1 o'clock in the morning is either really late or really early. Regardless, it's a time when far too many professional athletes these days are busy writing the wrong kinds of headlines.
Not Tebow, though. On this particular night in late May, he's just writing his name.
Inside a posh California hotel room that's perched magnificently on the sands of Santa Monica Beach, a mere Hail Mary pass away from the Pacific Ocean, Tebow is putting the finishing touches on another autograph-signing session. What he'd rather be doing at this very moment, more than anything, is sleeping.
But Tebow must first make good on a verbal commitment he made earlier in the evening while attending autograph sessions for NFL trading card manufacturers Panini America and Topps during the annual NFL Players Rookie Premiere.
"We told Robby that we needed Tim to sign some additional autographs for us if at all possible," said Joe White, the guy at Panini America tasked with autograph acquisition. "Robby agreed and told me to meet with him and Tim in their hotel room -- at midnight.
"It was obvious that travel and a long day of signing autographs and taking pictures at the hotel had taken their toll on Tim. But he sat down on his bed and graciously signed 500 autographs for our next set."
As the clock creeps toward 1 a.m., and with a wake-up call looming, Tebow manages to keep fatigue at bay. He remains committed to future collectors by continuing to dispense a clean, consistent John Hancock.
But with the end in glorious sight, something unexpected happens.
"He looked up at me and said, 'Hey, Joe, do you think my autograph looks good? I recently started adding my number to the middle,'" White said. "In all my years of handling football autographs, I've never had a player ask my opinion on the quality of his signature."
Ask any collector who's been fortunate enough to obtain a Tebow autograph. They'll tell you unequivocally that his autograph looks good.
A few minutes later, Tebow's autograph obligation finally is fulfilled. With sleep at long last in his immediate future, he hands the autographs -- along with yet one more lasting memory -- to White.
Even in the wee hours of the morning, long past bedtime, Tebow still manages to impress with a pen in his hand.
"Tim Tebow thanking me for the autograph deal at 1 a.m. in his hotel room? Amazing," White said. "I have to be honest: I wasn't sure what to expect from one of the most heralded players in college football history. This kid is unbelievable."
Tracy Hackler is the editorial director of Beckett Media. Check out Beckett.com -- and be sure to get the latest news on sports cards and memorabilia at the Beckett blog. You can also follow him on Twitter.