Commentary
Dana Jacobson making baseball trek
Originally Published:
June 19, 2010
By
Lynn Hoppes
| Page 2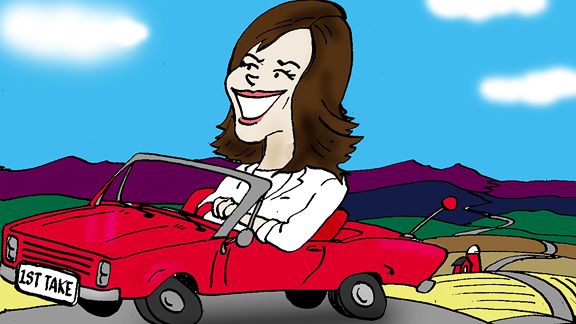 ESPN Page2Dana Jacobson is making a trek through the Midwest to watch five baseball games.
Anchorwoman Dana Jacobson spends five days a week interviewing athletes and celebrities as a host of "First Take" on ESPN. So, next week, while on vacation, you'd think she'd want to get away. But, nope.
Jacobson, a Michigan native who joined ESPN in 2002, will travel the Midwest taking in five baseball games at five ballparks. And she'll be documenting her travels to the stadiums of the White Sox, Cardinals, Brewers, Twins and Cubs for Page 2 and "First Take", and you can follow along on Twitter.
Page 2 chased down Jacobson before she got on the road.
1. What's the reason for doing this trip?
Well, for starters, I had vacation time. I was trying to think of something to do, for the most part on my own, where I might meet people, have some fun and take me somewhere I either hadn't been or hadn't been to in awhile.
I'm ashamed to say, yes, ashamed, that I've never been to Wrigley Field. I grew up in Michigan, went to Chicago several times in college, I work in sports, but somehow I'd never been. So I decided enough was enough, I'd go to Chicago and finally go to a game at Wrigley. Then I started thinking, well, maybe I can get to a Brewers game because Milwaukee isn't that far away, and then it just became a challenge.
I wondered how many Midwest games I could get to at parks I hadn't been to. So I looked up schedules and started crafting my plan. I grew up in a family that did driving trips, and the idea of doing some reasonable drives sounded good. It's not like there's good scenery, but some good music, a cell phone, Diet Coke, a lot of bad singing, and I can be pretty happy for a handful of hours in a car. Bookending Chicago is an added bonus because I haven't been in awhile and I remember always really enjoying the city.
2. What do your friends think about this idea?
Well, my female friends for the most part look at me like I'm insane. I am so excited whenever I tell anyone about this, and quite often it falls flat with my fellow gender. A few seem to get it … but not many. Now, when I tell my guy friends, I can see the jealousy in their eyes. Seriously, every guy I've told is like, "That sounds like the best trip ever."
3. What do you hope to see?
If I said a perfect game, would that be asking too much? Really, I don't think the game matters as much to me on this trip as the experience. One of the games is my team, the Detroit Tigers at the Minnesota Twins … I'd love to see a win. Oh, why not be selfish, how about a no-hitter in that win? At Wrigley, I just want to see everything, take in the whole experience. I'm catching up with a couple friends along the way, but I'm so open to wherever each city/game takes me.
I've gone to a few different sporting events alone and met some amazing people, gone to some great spots where the "locals" go. That's what I want. I hope not to see lights in my rearview mirror during the drives. I have a bit of a lead foot and clearly any state troopers reading this right now working along my route will be on the lookout now, but I hope to maintain appropriate speeds at all times and still make my games on time!
4. What's your love affair with baseball?
It's funny; of the four majors, it's not tops on my list, but there's something about summer and actually going to games that I miss so much. I just like being at a ballpark. It's a great day or night where you never know what's going to happen. I've been to a 16-inning game, rain-delayed marathons, did-I-blink one-hitter, and in all of those, it wasn't just the baseball, it was the whole experience. I never remember going to a ballpark and having a bad time. A summer night or day, a game, a cold drink and some peanuts … not too bad.
5. What other things are on your "bucket list"?
I don't have one, if you can believe it. But, off the top of my head, let me see. Well, since I've jumped out of an airplane, that's crossed off. Sports wise, I'd like to go to a Premier League soccer game, to Wimbledon and to an Olympics. I would love to see the Lions play in and win a Super Bowl, but a lot of that is out of my control. I want to go to Italy, Spain, Australia and about a half-dozen other countries I haven't explored. I would love to go to the Academy Awards; I'm such a movie lover, how could I not? I want to run a half marathon, I want to go in a hot air balloon over wine country somewhere and I want to surf in Hawaii.