Commentary
What a wild, wacky week in sports
Originally Published:
June 27, 2010
By
Jerry Greene
| Special to Page 2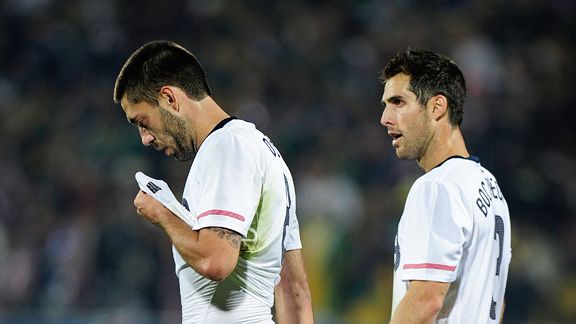 Stuart Franklin/Getty ImagesClint Dempsey of the U.S. soccer team looks dejected with Carlos Bocanegra at the World Cup.
What a wild and wacky week in American sports.
• A tennis match takes three days to complete, which is longer than a Yankees-Red Sox game.
• Millions of Americans were saddened by the outcome of a soccer game.
• And while you may have missed it, a couple got married in a sports memorabilia store during a rain delay at the College World Series. After the impromptu ceremony, they stayed to watch the South Carolina-Oklahoma game.
"Harold, what is that couple doing in the third row behind home plate?"
"Don't worry about it, Martha. They're on their honeymoon."
A few more Sunday Brunch tidbits before we get to the main courses:
• Prince Albert of Monaco got engaged to South African gold medalist swimmer Charlene Wittstock. Older Page 2 readers are struggling with urge to make a "Do you have Prince Albert in the can?" joke.
• Detroit Lions RB Kevin Smith about Dr. James Andrews after Smith's knee surgery: "He's like the Jay-Z of the [sports medicine] world. He made my surgery scar look very nice, and I'm feeling good." -- A nice scar and feeling good. Works for us.
• Tweet of the Week from "Lost" executive producer Damon Lindelof: "I found the ending of Isner/Mahut satisfying but wish they had answered more questions."
• And this tweet from Reggie Bush: "On my way to a Safari with adidas! Told them I need the jeep with doors and a roof! Won't be any mistakes for lunch meat today!" -- Reggie clearly still grieving over NCAA penalties against USC.
• What a bad week for Albert Haynesworth. Fined 10 grand by team, sued by a bank for $2.4 million and named to a $10 million paternity suit. -- We hate to be piling on but his subscription to ESPN the Magazine is due, too.
• Hey, France -- hang in there.
• The Trail Blazers fired GM Kevin Pritchard but asked him to hang around and do their NBA Draft. -- "And with the 22nd pick in the NBA Draft, the Portland Trail Blazers select … Megan Fox."
• Reggie Bush met President Clinton at the U.S. victory over Algeria in Pretoria and they embraced. Bush still grieving.
• Jacksonville Jag announce they will only admit season ticket holders to their Aug. 6 scrimmage. Great strategy, Jags: "We won't let you see us play football!" In Jacksonville, that's got to work.
• And President Clinton said about the vuvuzela: "I can't go home without one of these." -- No joke from us. Z
We're just moving on to the main courses in the Brunch:
• Yes, sports columnists in the United States did write about soccer after this country's growing dream was dashed again by Ghana. Come on, Ghana? Mike Vaccaro of the New York Post feels our united pain.
• And, yes, someone wrote about the world's longest tennis match. Fitting that it was Kansas City's Joe Posnanski. one of our longest-winded sports columnists. Odd, however, that he was writing about the Wimbledon fluke from South Africa. And appropriate, perhaps, that he concentrated on the loser.
• Greg Cote of the Miami Herald leads off with soccer but ends up touching all the bases, including this pithy observation: "The Golf Channel said Rush Limbaugh will be the next celebrity featured on The Haney Project show. Apparently, Limbaugh's problem as an amateur golfer is that everything slices way to the right." There's more where that came from.
• Enough with the soccer and tennis. Let's talk baseball. Bill Plaschke of the Los Angeles Times believes that when Dodgers manager Joe Torre looks at his old club, the visiting Yankees, he is reminded of everything he is not. Such as: "He is not the manager of a team that currently has title aspirations. He is not the manager of an organization that always spends whatever it takes. As he approaches his 70th birthday next month, he is not in a place where it would be graceful to grow old." Sounds like Plaschke also thinks Torre will not be the Dodgers Manager next season.
• With every day we get a little closer to football. So we'll close with the Bleacher Report's Ryan Cook, found at Philly.com, with his 10 NFL storylines that are yet to unfold. And, yes, Brett Favre is mentioned.
Jerry Greene is a retired columnist for the Orlando Sentinel. He can be reached at osogreene@aol.com.