Commentary
Baseball fan cracks code, gets card
Originally Published:
June 28, 2010
By
Chris Olds
| Special to Page 2
When you rip into your first pack of this year's Topps Allen & Ginter baseball cards, you will be surprised.
For the novice collector, it might be the sight of an Olympic gymnast or a celebrity found in a baseball pack.
[+] Enlarge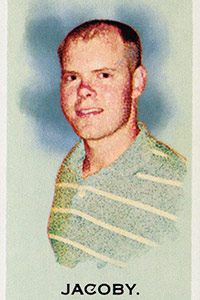 Topps Allen & Ginter cardsNick Jacoby solved the code and got his own trading card.
For the grizzled collecting veteran, it might be a rare autograph not previously added to the ol' collection because the person has never had a trading card -- let alone one autographed -- before.
For me, though, that surprise was different. In my first pack of Allen & Ginter, I got two cards of a guy who had sent me an email last week.
That's something that just doesn't happen every day.
I got a card that said "Jacoby" on the front -- and it wasn't Brook or even Ellsbury. It was a card of Nick Jacoby, a 28-year-old Cincinnati Reds fan and collector of Barry Larkin.
Why was he inside my pack?
He solved The Ginter Code -- a hidden message printed in patterns of symbols and oddly noted letters on some of the cards in last year's set. Think "National Treasure" meets old-time style baseball cards -- only without the bubble gum or Nicolas Cage.
"The code was extremely difficult and Topps didn't expect anyone to crack it for a few months," Jacoby said. "I submitted the final answer within the first week the product was released."
His prize? His appearance in this year's set (card No. 165) and a set of 70 one-of-a-kind autographed cards from 2009 -- an eclectic (and valuable) lot that includes Michael Phelps, Dick Fosbury, David Wright, Cat Osterman, Ryan Howard, Hannah Teter, Scrabble champion Brian Cappelletto and even Billy The Marlin. (That's right, the Marlins' mascot even signed autographs for Topps.)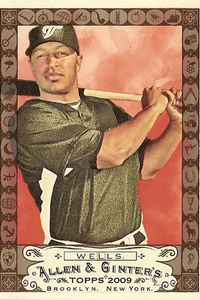 Topps Allen & Ginter Baseball Cards The code around this card was cracked, and the winner got his own trading card.
Jacoby wasn't alone in solving the mystery, though. He had help from another collector, Mike Gellner, who is mentioned on the back of the card in this year's set. They did, however, share the autographs.
"Mike and I split the cards based on a draft format, and I may end up using some of them as trade bait to track down my cards," said Jacoby, who also collects vintage Topps baseball sets. "Having my own card in the set is amazing."
Rather than try to explain how the code unraveled, he has set up a website to explain how they found the message that was hidden in 100 or so cards from the set. It's definitely brain cramp-inspiring material.
While he solved last year's challenge, Jacoby now has two bigger tasks ahead of him -- a crack at deciphering the code in this year's set as well as tracking down each of the various versions of his own card, some of which will be limited to just one copy.
"I believe there are 12 different versions of my card, and I'm going to work hard to track down each of them," he said. "Who wants a card of me, anyway?"
Chris Olds is the editor of Beckett Baseball magazine. Check out Beckett.com -- and be sure to get the latest news on sports cards and memorabilia at The Beckett blog. You can also follow him on Twitter.