Commentary
Road trip heads to Busch Stadium
Originally Published:
June 29, 2010
By
Dana Jacobson
| Special to Page 2
I'm only two ballparks in and I'm already rethinking the whole driving part of my great Midwestern ballpark adventure.
I mean, who was I kidding when I decided to do this and didn't factor in all the summer construction I knew would slow down my lead foot and my trip. Forget the fact that no one seems to know the basic rule of freeway driving: The left lane is for passing.
My dad taught me how to drive, and he had several key phrases: The car is not a Sherman tank, have respect for the snow, and if you're going to drive the left lane, drive it.
People, I beg of you … if you're going to drive the left lane, drive it. If there's a car behind you or, oh, I don't know, five or six lined up, perhaps you should consider moving over to the right lane. I don't care if you're going 5 miles over the speed limit; I might want to go 10 or even 15 over, and again, the left lane is for passing.
[+] Enlarge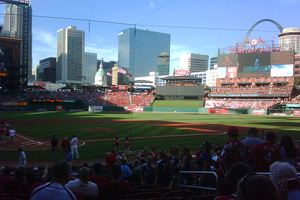 Courtesy of Dana JacobsonThis was my view at Busch Stadium in St. Louis as I took in a Cardinals game.
Obviously, this was an issue for me Monday in my drive from Chicago to St. Louis as I continued my baseball trek through the Midwest. Add in that construction every 15 miles or so, and to say that I was a bit frustrated by the time I saw the famed arch and Busch Stadium would be an understatement.
But I knew that once I got to the ballpark, a sense of calm would prevail. What I didn't know was that it would be heavenly.
Just walking there from my hotel a few blocks away, there was a baseball feel to the city. Others walking to the game in Cardinals gear, signs in restaurant windows, red and white balloons. You know that look and feel, where you have no doubt who the home team is.
Forget the fact that I got to walk past the arch on my way, and don't kid yourself, that is a monstrous masterpiece. Its beauty can't be seen in pictures or on TV. And just as you're picking up your jaw from the sheer majesty of it, you get to what they call baseball heaven. No offense Iowa or Kevin Costner, but it kind of felt like it.
As you enter the stadium, name your food and you'll find it. All the standards from dogs to pizza and then those local picks, like the barbecue joint that greeted me when I walked through the right-field gate, followed by a gourmet nacho stand and plenty of Busch beer. While that alone doesn't make a ballpark heavenly, for Cardinals fans, everywhere you turn there's a place to get Cardinals gear or memorabilia, and then my favorite, a Build-A-Bear store that is Fredbird themed, just for the team. If I were 10, I'd have been all over it. Put it all together, and consider the open feel and the amount of space … that's why it was heavenly.
Now, unlike my White Sox experience Sunday, I went to this game alone. I had some friendly fans around whom I got to talk with, but I still managed to have some realizations:
1. The national anthem or "God Bless America" is always better when a kid or kids sing it.
2. The microphone tribute to Jack Buck at Busch is all class (instead of a number on the wall, it's just a mic).
3. Mark McGwire is still a hero in St. Louis (his jersey was all over fans there).
4. One-hundred twenty bucks on StubHub can buy a pretty good seat for a baseball game, but at $120, I'm not sitting here very often. (See the pic of the view from my seat.)
5. No one looks good eating a turkey leg at a sporting event.
6. Ice cream is a good dinner.
7. Ice cream and peanuts are an even better dinner.
8. Kids under the age of 3 at sporting events, really?
9. Sitting for a nine-inning baseball game after driving five hours in the car is a true test of will.
And now I'll find out how tough my will is when I do it all over again … this time the drive probably will be more like six hours, only six if I'm lucky. Milwaukee is up next, which means sausage races, brats and some kind of cheese no doubt.
ESPN anchorwoman Dana Jacobson, who hosts "First Take," will document her five-game baseball road trip on ESPN.com. You can follow her on Twitter here.