Commentary
Happy Birthday, Canada!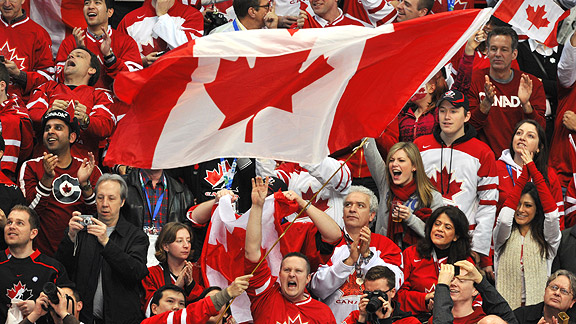 Cris Bouroncle/AFP/Getty ImagesJuly 1 is Canada Day, the national holiday for the country to the north.
Every American knows a thing or two about Independence Day: Stars and Stripes, fireworks, the American Revolution, barbecues, yadda yadda. But as true World citizens, we cannot overlook July 1. No, not LeBron James' free agency -- it's Canada Day!
Sure, they have publicly funded health care and great maple syrup, but here are a few sports tidbits I bet you didn't know about our neighbors to the north:
1. Dr. James Naismith, the inventor of basketball, is from Almonte, Ontario. That's right: We give Canada all the credit in the world for hockey and Mr. Peach Basket himself bleeds red and white. Nearly 120 years after founding the sport, basketball remains most popular outside his native country. No wonder Chris Bosh wants to leave Toronto. 
2. Canadians dominated the first five years of the Boston Marathon. Few cities showcase as much American pride and heritage as Boston, so when Canadian-born Ronald J. MacDonald finished first in just the second annual running of the race (1898), Americans vowed to forever brand him a fast-food clown. Not really. But MacDonald inspired another Canadian, Jack Caffery, to win in 1900 and 1901.
3. Canada has two national sports, hockey in the winter and lacrosse in the summer. So 50 states can decide on one national pastime but 10 provinces and 3 territories have to find a middle ground? That whole constitutional monarchy thing is confusing.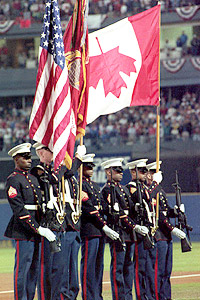 Chris Wilkins/AFP/Getty ImagesMajor league players aren't the only ones with pre-game jitters.
4. Canada lost a potential gold medal in the 1987 World Junior Hockey Championships because of a 20-minute fight in the tournament's final game. The brawl -- started by a Soviet slash to one of Canada's best players -- could only be stopped by officials turning off the arena's lights. Both teams were disqualified, making Finland the winner by default.
5. In Game 2 of the 1992 World Series between the Blue Jays and Braves, the U.S. Marine Corps Color Guard accidentally flew the flag of Canada upside down. Embarrassed by their mistake and eager to make amends, they offered to travel to the SkyDome in Toronto to help conduct the pre-game ceremonies for Game 3.
6. Canadian Steve Nash is producing an ESPN 30 for 30 documentary that has nothing to do with basketball. The two-time NBA MVP, in his first foray into filmmaking, shares the incredible story of fellow Canadian Terry Fox, a bone cancer patient with an amputated right leg who ran two-thirds of the way across Canada in an effort to spread awareness and raise funds for cancer research.
7. UFC welterweight star Georges St. Pierre beat out Sidney Crosby two years in a row for Sportsnet's Canadian Athlete of the Year award. I don't think Brock Lesnar will be beating out LeBron or Kobe for any ESPYS, but good for Canada for embracing an emerging sport.
[+] Enlarge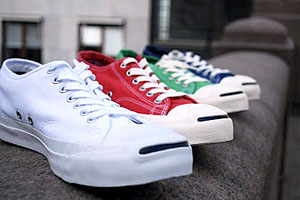 SFD Sneaker Store/Converse 1930's Canadian badminton star Jack Purcell was the namesake for these shoes, originally distrubuted by B.F. Goodrich.
8. In 1996, Canadian Donovan Bailey became only the second person ever to hold a 100-meter World Championship, Olympic gold medal and a world record at the same time. Then the 21st century rolled around and a guy named Usain Bolt made us all feel a little more human.
9. Canadian Thomas F. Ryan invented 5-pin bowling. When customers at his Toronto bowling club complained that the ball was too heavy, he devised a new game with a smaller ball (no holes) and less pins. Dainty fingers everywhere are grateful.
10. World Championship badminton player Jack Purcell was born in Ontario and helped design his own rubber and canvas shoe to provide more protection on the court. The Jack Purcell trademark was purchased by Converse in 1972 and now the Canadian badminton legend's shoe is one of the most popular casual footwear options on the market
11. Twins first baseman Justin Morneau and Reds first baseman Joey Votto are both from Canada and both tearing the cover off the ball. They have a combined .331 batting average and .596 slugging percentage while leading their teams to the top of their respective divisions. Guess the NHL isn't the only professional sport Canadians can dominate.
Kaitee Daley is an editor for ESPN.com and grew up on the border of Vermont, New Hampshire and Canada and can be reached at kaitee.r.daley@espn.com. Scott Miller of ESPN.com also contributed to this article.
ESPN Editor
Senior Editor
Joined ESPN in 2009
Vermont native, Bowdoin College graduate