Commentary
Jordin Sparks, Stuart Scott in card set
Originally Published:
July 10, 2010
By
Chris Olds
| Special to Page 2
Baseball card collectors who rip into packs of the new Allen & Ginter cards when they arrive already know what's in store.
The unexpected. (And that's not even a nod to card No. 130 -- we'll get to that.)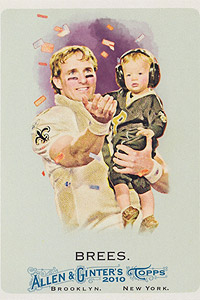 Courtesy of ToppsDrew Brees and his son are in this unusual set by Topps.
You see, since 2006 Topps has turned back the clock to the late 1800s for one of its most popular brands of baseball cards in Ginter. It's a set that celebrates "world's champions" in sports -- and a few other pastimes, too -- in the same manner as the first set of tobacco cards to feature baseball players. The 1887 Allen & Ginter N28s also included boxers, wrestlers, billiards stars and more on cards that were primarily meant to help stiffen up packs of cigarettes and protect the smokes.
The fifth edition of the modern Allen & Ginter line includes a few modern-day celebs, historic figures and much, much more alongside the likes of Derek Jeter and Albert Pujols. It's a 350-card set that's heavy on baseball -- but also on variety and, well, flat-out weirdness.
Here's a look at eight of the interesting cards found in this year's set.
Preston Pittman, turkey-calling champion (card No. 176)
Pittman's card notes that he was born two days after Thanksgiving in 1953 and that he won his first turkey-calling title at age 16. Also on his resume are five world titles and seven national championships -- along with, at long last, an appearance on a baseball card.
Jordin Sparks, American Idol champion (card No. 216)
The Grammy-nominated singer has a pair of albums, one of which went platinum, a dad who played in the NFL (Phillippi Sparks) and, of course, an Idol title. Now, the dedicated Phillippi collectors have something else they need to complete their collections. Dad's Topps Rookie Card from 1992 is worth just a nickel -- something tells us this card will top that.
Shawn Johnson, U.S. Olympic gymnast (card No. 236)
She won Olympic gold on the balance beam and was the youngest competitor on "Dancing With the Stars" -- but now the 18-year-old has a baseball card. We won't say that's a sign that she's arrived -- after all, she has four Olympic medals and all kinds of other elite gymnastics honors -- but the card should be a big hit with the collecting crowd.
[+] Enlarge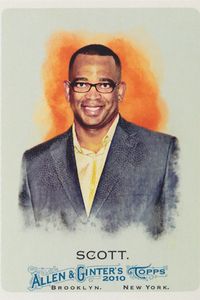 toppsESPN personality Stuart Scott has his own trading card.
Ken Blackburn, paper airplane world record holder (card No. 135)
This aeronautical engineer isn't satisfied with just working on machines. He holds the record for a throw that lasted 27.6 seconds. It's a mark that has lasted since 1998, so the odds of a future Ginter champion replacing him on cardboard aren't good.
Drew Brees, champion quarterback (card No. 287)
Now, it's not unusual at all for an NFL player to appear on a trading card, but this one's still different. The quarterback shares this card with his year-old-son, Baylen, in a photo from the Saints' Super Bowl celebration. Could this card be heavily sought-after in about 2032? We'll just have to wait and see.
Max Poser, domino toppling world record holder (card No. 270)
Among his marks, according to his card, are the longest spiral of dominoes (450 meters) and the "most stacked on a single domino" at 1,002 -- whatever that means. We'll leave it to the ESPN dominoes analyst &
Stuart Scott, ESPN personality (card No. 144)
We all know that this card absolutely must be cooler than the other side of the pillow, but at least he's not alone in being a TV personality plopped into this year's set. Also on the checklist? Regis Philbin.
Tony Hoard and Rory, disc dog champions (card No. 193)
The one carrying the title of "America's most-talented dog" makes the cardboard appearance here -- it's Rory on the card -- but we're not exactly sure what the autographed version will look like. (Everyone mentioned here also signed cards that can be found inside packs of Allen & Ginter.) The card briefly tells the story about the duo, which has won three disc dog world championships.
There are countless other inclusions that will both educate you and make you scratch your head. Among the rest of the set is illusionist David Blaine, skateboarding icon Tony Hawk, pogo stick world record holder Gary Stewart, bench press world record holder Ryan Kennelly, horseshoe pitching champion Alan Francis, target shooting champ Tom Knapp, record-holding fire eater Hubertus Wawra and Tiago Della Vega, who is the world's fastest guitar player, just to name a few.
Oh, and card No. 130?
It's of Area 51.
Chris Olds is the editor of Beckett Baseball magazine. Check out Beckett.com -- and be sure to get the latest news on sports cards and memorabilia at The Beckett blog. You can also follow him on Twitter.