Commentary
Ryan Sutter wants more than reality
As the first "winner" on "The Bachelorette", Ryan Sutter knows a little something about reality TV. But after "The Bachelor" aired the mother of meltdowns on Monday courtesy of Jake Pavelka and Vienna Giardi, Sutter is proof that you can leave the drama of reality television behind.
Ryan and Trista Rehn became America's first famous reality-show sweethearts when she picked him at the conclusion of "The Bachelorette's" first season in 2003. Married at the end of the year, their wedding was televised by ABC and seen by a viewing audience of 26 million, still one of the highest-rated broadcasts in reality-show history.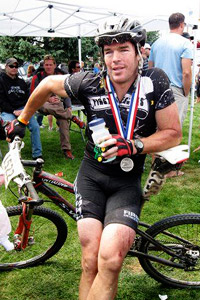 Courtesy of Ryan SutterRyan Sutter wants to be known as an athlete and not just a reality TV star.
But Sutter, who is a Colorado firefighter and had a short-lived NFL career, is also a glutton for punishment. And he's leveraging his celebrity and love of endurance sports to raise money for charity by entering what he calls 10 of America's most grueling athletic competitions. You can read about it at his site.
Now living in Vail, Colo., Sutter has been training 15-20 hours a week, juggling his firefighting job with helping Trista with their two children (Max, who will turn 3 in July, and 14-month-old Blakesley).
When Sutter approached Trista with the idea of his endurance tour, she was torn.
"Half of me was, 'Oooh, we can't do it now,'" she said. "But that's what it is to be a good partner. You need to be supportive of the passions of your partner."
Rehn brings the kids to Sutter's races, and acts as her husband's aid station, carrying energy gels and water.
"She thinks I'm crazy," Sutter said. "She's behind me. I tell everyone I can there's no way I could do this if I didn't have that support."
Sutter's sweat-soaked summer began early -- May 31 with the Bolder Boulder 10K (41 minutes, 36 seconds) running race, followed by the Teva Mountain Games Ultimate Mountain Challenge in June, where he was second overall in the two-day race of kayaking, mountain biking, trail running and road cycling.
It's all to raise a hoped-for $100,000 for non-profit First Descents, which provides adventure experiences like kayaking and rock climbing to young adults (ages 18-39) with cancer.
Sutter's 10.10.10 First Descents Challenge goal is to get at least 10,000 people to donate $10 apiece during the course of his six-month endeavor.
The cause hits home for Sutter. He's the same age as many First Descent members. Last year, friend Ethan Zohn, from the reality show "Survivor", was diagnosed with Hodgkins' lymphoma. He is currently in remission.
"What it made me realize is that there is an inner strength that we all possess that we don't use," Sutter said, "… I could challenge myself beyond what I thought I could really do."
Sutter has impressive athletic credentials for a guy who's known mostly for winning over his future wife on national TV.
In 1998, he was drafted by the Baltimore Ravens, but was cut during training camp. He was picked up by the Carolina Panthers and made the active roster in November, but his pro career lasted only one play (separated shoulder). And he's aiming to better his pre-kids, 2004 Ironman time of 11 hours, 38 minutes, and just three weeks later, lower his personal-best 8½ hours at the Leadville 100.
"Ryan isn't doing this for a stunt. His heart has always been in the right place," said First Descents founder Brad Ludden, one of the world's top professional kayakers. "He's freakishly strong."
Sutter welcomes the chance to show there's more to him than the poetry-writing firefighter seen by millions on TV.
"I would love it if someone one day said, 'Hey, aren't you the guy that did Ironman, Leadville and the N.Y. Marathon in the same year?' instead of, 'Aren't you the guy Trista picked?'"
Meri-Jo Borzilleri is a freelance writer for Sports Media Exchange, a national freelance writing network.
Contributor, espnW.com
Meri-Jo Borzilleri has been a journalist for more than 20 years, most recently for the Colorado Springs Gazette, where she covered the U.S. Olympic Committee and three Olympics before resigning to freelance in 2007. Her work has appeared in The Seattle Times, USA Today, ESPN.com, nbcolympics.com, universalsports.com and The Associated Press.